Hi, I am Larry. Welcome to my Healthy Lifestyle Blog! Here I talk about the most important thing we own, our health. It is my deepest belief that nutrition, exercise, stress management and personal development has a huge impact on the quality of our life. Many know this fact, but very few realize the vast impact it caries with it.
Can you possibly imagine what it would be like if you were living at 100% of your potential all of the time?
Do you want to jump out of bed in the morning full of energy, and excited about the day ahead, knowing you will be performing at your best throughout the day?
If you were already doing this right now, how different would your life be, your career, your health, your personal life and your relationships.?
Where would you be right now if you had control of your life, not under the negative effects of stress, having a passion for everything that you do, leading a truly healthy lifestyle?
Over my lifetime I have discovered information that when used will improve ones physical and mental condition. I saw and heard of so many people in bad states of health – lacking the correct information, having no understanding of their situation, with no know-how of how to improve their mind, body or soul, just suffering to the debilitating effects of ill health.
Getting healthier is not rocket science! You can do things right now to help yourself. It comes from being given the right information that you can understand and apply for yourself.
I enjoy teaching people about healthy lifestyle living and personal development, through my speaking, coaching and writing.
Over time, I will be using this blog to share knowledge, experiences, reviews, quotes, links and reflections relating to stress management and healthy lifestyle living. You will find many tips and articles, which can help you create a healthy lifestyle. Read inspiring quotes.
Ultimately the information you find here will help you take back control of your health and your life.
Thank you for taking the time to check out my blog. I hope that over time you will find it of help in your quest to achieve and maintain a healthy lifestyle.
Score Your Way To Good Health - With Our Healthy Lifestyle Plan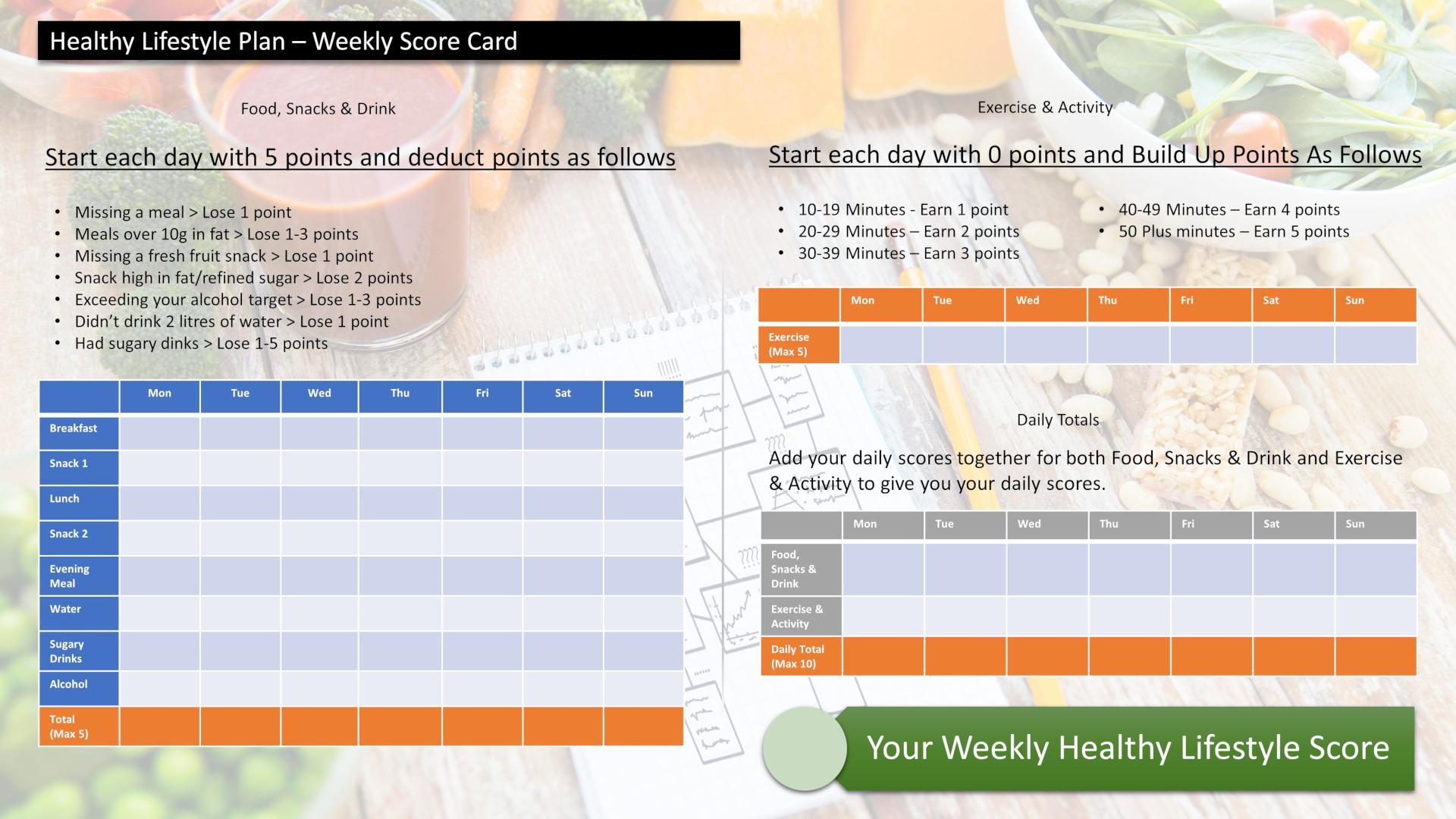 Score your way to good health with our healthy lifestyle plan and it's unique 70 point weekly scorecard!