A man's true life is the way in which he can put himself out there, and say it as it is. Stripped, naked, bare his soul, he is what he is. A man who doesn't hide behind any pretence, who is happy to rant, crack a joke and let you know when he is feeling pressured.
When we carry a load on our shoulders, at times we become ragged; struggling trying to make our way through, feeling as we are climbing uphill. That devil sitting on our shoulder shouting at us to "Go faster, try harder, reach the top! On these days we just feel like life is throwing to many curved balls at us.
Reading an article a few mornings ago I found that one of my favourite bloggers was having one of those days. Now I shouldn't admit to liking bald Charles, not because he has no hair, or because he smokes, drinks loads of coffee, no doubt has a shit diet, and is rude about my beloved fruit. Yet he makes me laugh, and seems a genuinely nice guy, and his blog Baldy Chaz is good entertainment.
Charles talked about whether or not he could go on blogging.
I think any blogger would agree: it's not exactly a cake walk blogging. When you're trying to balance everything in your life, such as your full time work, family, working out your body in the gym, social life and blogging, it can get very pressurised on your time. I'm sure most bloggers have gone through that time when they have thought about throwing in the towel.
For many blogging starts as a hobby. A hobby that it is easy to become passionate about. You set your own hours, you write what you want to write about. Other bloggers begin with the hope of making it big and changing the world with their blogs. On the start up they are full of confidence, excitement and anticipation. Yet only a few months after they started, many just stop blogging.
What makes bloggers think about quitting blogging completely?
1. It can be very stressful
Maintaining a blog can be a very stressful experience. You want to write excellent content time after time. You want to see big numbers of people reading your blog. Also you try to build quality relationships with your readers and other bloggers. You feel like you are having to juggle so much when you are a blogger! There will be days when you can't find the time to blog, or where you are interrupted non-stop. Times when your creativity just dries up, when inspiration doesn't come, when your screen stays blank because you can't find the words. Days when you have technical problems that really start making you lose it.
2. Not really their thing
Many start blogging thinking, this could be fun, I'll give it a go. Very quickly they start to see it as an extra burden, getting in their way of doing other things, which begin to look far more attractive and fun. They find out that writing their blog becomes a really time consuming job. They can now think of many others things they'd rather be spending their time doing.
3. Run out of things to say
Many people set off concentrating on a particular niche. It is the essence of what their blog is all about. After a time, choosing the subject to write gets harder and harder. When you are sitting their day by day just trying to think about what to write about, the fun, the motivation just vanishes. Writing quality content is challenging to do over the long term: Writing once a month is easy. Writing once a week is harder, but not much. Writing every day is challenging. They find writing daily is no fun, and soon they can't even find anything to write about.
4. Blogging can be hard work
Building a blog, writing articles and attracting a large audience is hard work. It can be like a second job. It takes attention away from other aspects of your life, like your career. It can interfere with other aspects of your life and lead to late nights. Nights where you have to work late at your 'proper' job, you still feel the need to write a blog when you finally get home, even though you're already exhausted. It becomes more of an obsession than a passion, an easily an unhealthy one, if you end up burning the candle at both ends.
Blogging is not just about writing. Particularly not if you get into the mindset that you want to start earning from it. There are so many other things you have to do. Like reading other blogs, commenting, linking, networking, facebooking and Twittering. You have to keep abreast of current events in your niche, and driving traffic to read your blog.
5. Interference with your day job.
Blogging can interfere with your day job big time! Sometimes bloggers can be facing a mountain of stuff to do at work but feel they have to spend time on their blog. If your time is limited and you can't find time to blog, your work is taking up all of your time, you start getting frustrated, anxious, disappointed.
6. Interference with family life
Many bloggers have day jobs and blog at night and on the weekends. When you are married and have a family, this time need for blogging can cause issues and tension in the relationship. You get home from work, but instead of sitting down with your family, you lock yourself away in solitude to work on your blog. This can cause disagreement and arguments because of spending too much time on the computer.
The family want more of the bloggers time. How often do you say just "One more minute?" Before you know it that minute invariably turns into one or more hours – at the cost of more friction with your loved one's who you ignoring because of your blogging.
7. Life Events take over
Often a number of life events can take your attention away, or force you to take yourself away from blogging. Illness, job loss, starting a new job, medical emergency, loss of a loved one, divorce, getting married – are all things that can make you give up blogging. Any dramatic event that shatters your life will create moments of soul searching and the reassessing of priorities.
8. Nobody reads my blog
You write a post and you sit back, anxiously, waiting for your readers to come along.. No clicks, no visitors, and thus no comments, trackbacks or links. You are just unable to build awareness, attracting visitors to your site. If this goes on for to long, you question what are you doing it for. Why write when nobody is reading what you have to say.
9. Making no Money
If you go into blogging hoping to make a quick financial killing, there's a big probability that you're going to be disappointed, and soon looking for pastures new.
10. Too Many Distractions
It is very difficult to keep focussed on your blog when there are so many distractions. If you are an internet addict, you have chat rooms, facebook, twitter, other social networking sites, together with online games channels, gambling sites, you name it, it exists out there in cyber space. Some find it very easy to be absorbed in these other past times, and it eats up their time, leaving none left for blogging.
So do you think you just can't handle blogging any more? Stop for a while, maybe just a minute or two. Take a slow and mindful breath to energize your mind and body. Pull yourself together.
Life maybe tough right now, but you have within your mind, the tools and ability to rise above all our obstacles. Cut out all your negative thinking. Never give up. You know deep down you just love blogging too much.
Blogging can be stressful, but it can also be fantastic, fun, stimulating. It can be a great way to meet new people, contribute and receive. It can bring opportunities and teach you many things. It can be a wonderful adventure.
But remember if your lifestyle isn't balanced, you will suffer from great amounts of stress, so take some time and go thorough an inventory of your life and how you spend your time, and make the necessary changes to create balance. Maybe instead of seeing your blog as a 'must do', see it as a 'want a do'. Take the pressure away by just remembering, blogging is fun and is your way to rant, rave and write. If you can't blog today, tomorrow, for the next week, so what.
Have you ever thought about quitting your blog? What made you decide to carry it on? Share your experiences!
Score Your Way To Good Health - With Our Healthy Lifestyle Plan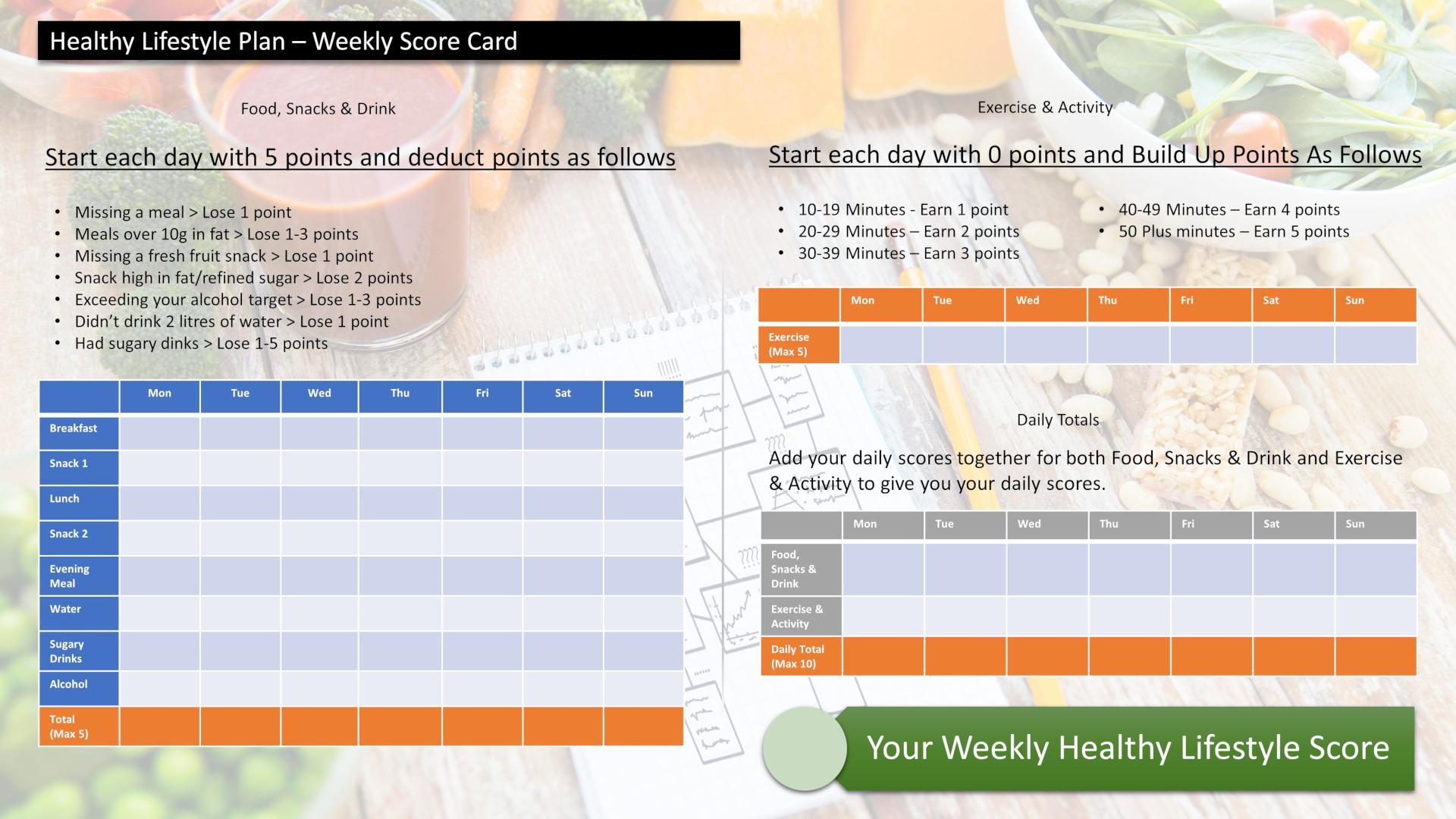 Score your way to good health with our healthy lifestyle plan and it's unique 70 point weekly scorecard!