I want to start by thanking everyone for all of the support, visits and great comments you have provided me with here since I started this blog.
Also, I want to thank everyone for reading and spreading the word. We've now got thousands of daily reader.
I also want to thank someone who doesn't have a visible contribution to this blog, but whom this blog owes a lot: Neil Haywood. Without Neil I wouldn't have been able to achieve half of what I have done. His very much in the background, but what he does is indispensable. Neil has been a big supporter of this site, providing lots of input and advice. Without him, the changes you can see here would not have been possible.
The regular readers of this blog know this site isn't only my personal blog but also my stage for talking about my passions. It has given me a way to share my knowledge and information directly with many people across the world.
Today, I want to talk about where we're going with Healthy Lifestyles Living.
I started this site back in April of 2010. It has exceeded all of my expectations and passed all of the milestones more quickly than I could have imagined.
As I'm sure you've noticed, I love blogging. I love being able to spread ideas, make a difference, and connect with amazing people. While the most important thing on a blog is the content it's not enough, there needs to be more. So, I started thinking about alternatives.
Now it's time to take the next major step. If there is one thing that I cannot be accused of, it is lack of ambition. Big things are expected from this site. I can't tell you how excited I am.
My blog is entering a new phase, it's evolving, it's going to be bigger and better, making even more of a contribution to the people that read it.
It is already filled to the brim with info and articles on … stress relief, finding inner peace, self-actualization, relationships, health and fitness , diet, and everything else regarding healthy lifestyle living and personal development, creating a better life for YOU!
What's New
New contributors – We will be introducing a few regular featured authors who will be joining the team and I'm excited to be working with these guys and I know you'll enjoy their work too.
New Forum – To continue the dialog and expand upon information within the blog for questions and answers. It can even create its own unique discussions based upon articles from the blog. A place where people can come together to help each other in a positive and supportive environment.
Support Group – Come and meet, chat, discuss your path, learn and grow, all online. The type of topics that we will cover will include Personal development and self improvement, physical fitness and personal health, stress management, positive mindset, nutrition and diet, with so much more.
Wellbeings Store – We offer you Wellness and Healthy Living products for body, mind & soul to promote greater health & well-being.
This blog will keep growing, and its value as a resource for healthy lifestyles and personal development will expand, because our mission is to continue to make the difference.
Score Your Way To Good Health - With Our Healthy Lifestyle Plan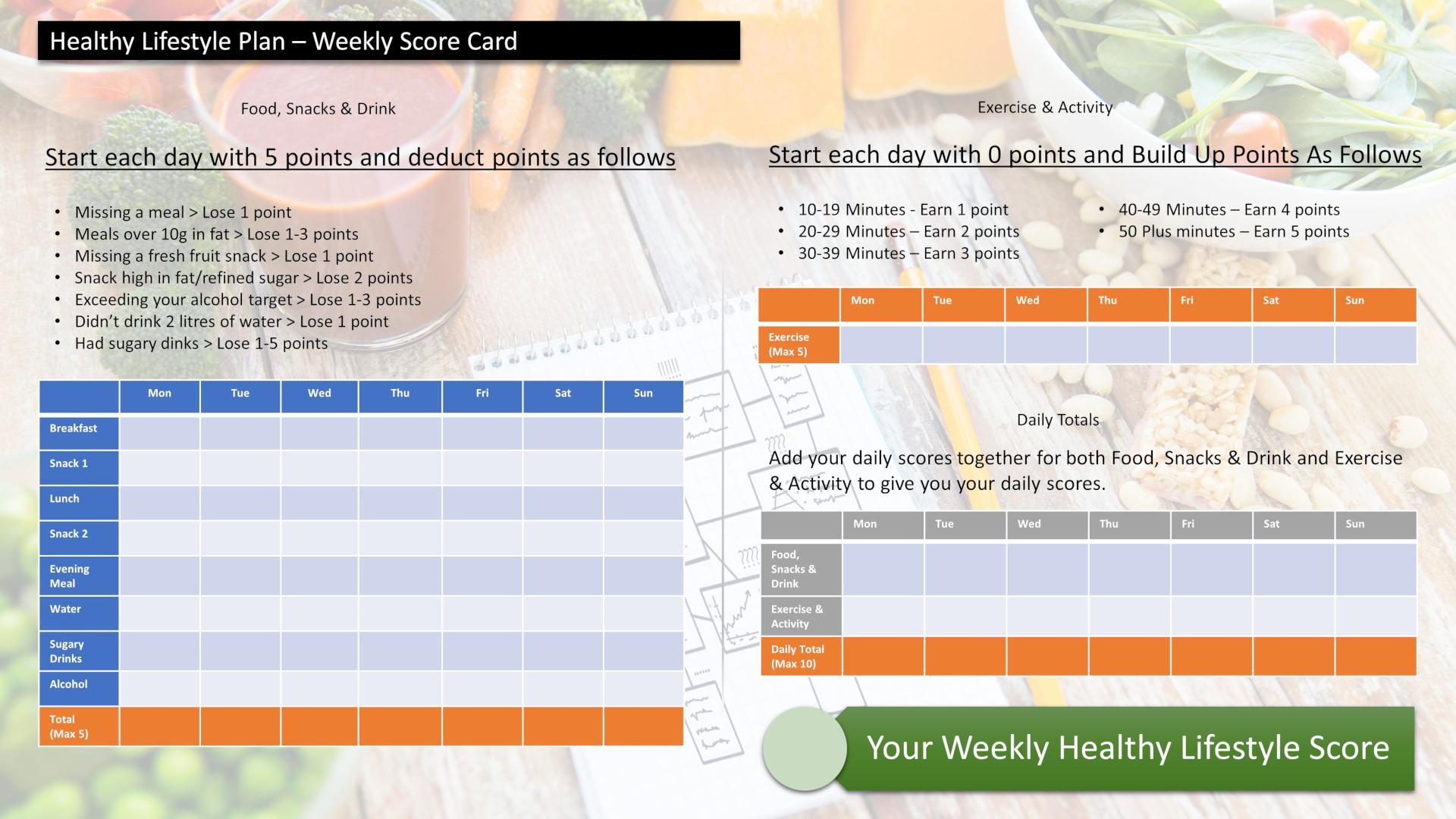 Score your way to good health with our healthy lifestyle plan and it's unique 70 point weekly scorecard!