Sometimes being the owner, writer and editor of a blog isn't that easy. Now there is an understatement if ever I have written one. I write about healthy lifestyles because I know the subject and have a passion for helping other people. Blogging is a great way for me to share information, to help others and provide ideas or opinions about healthy lifestyles. Two of my favourite subjects are self help and stress management. Boy did I need to use everything I know last night, and this morning.
There are some days , as a blog owner, you have to operate and maintain your blog, instead of doing the part you love which is writing. For me, last night was one of those days and this proved to be a big learning experience, not one that I enjoyed. I thought I would write a little about it so if anyone noticed my blogs disappearance last night they'd understand why.
Monday morning blues is a saying that comes to mind. Monday is synonymous with the start of the working week, the end of the weekend, and to many it's stressful, it's inconvenient, it's something you dread. I normally love Mondays because I love working in my gym, and love getting back to blogging on a Monday evening. But not this Monday.
So what happened to my blog? I was simply in the middle of responding to some comments on my latest post, when the message came up that I could not post this comment because the database could not be found. After a couple of minutes of unsuccessfully trying to get my reply posted, I decided to refresh the page and start again. Everything had vanished, an empty void remained where my blog was meant to be. For about five minutes I kept writing in my address and it kept coming back as not existing.
Being a stress management coach, I wouldn't say I panicked, but I will admit to showing concern. Missing was all my content, about 150 posts, 300 comments, everything. All the content that I had built up over this time, had gone. I knew something was wrong but couldn't think what it could be.
I knew I hadn't done anything that could result in my blog disappearing into a black hole, so I contacted my seo specialist. And this is when my problems got worse, and hands up, panic set in.
I'm not going to give you all the details, but he had been in our web site management control panel sorting out a few things on some of our other websites, and inadvertently he had deleted my blogs database. Let's just say that didn't relieve my mind. Particularly when he informed me that the restore facility didn't seem to be working, and he could do nothing further until the web provider opened at 9am the next morning.
The next 12 hours from 9pm when the problem started to 9am this morning were a painful and frustrating time. Of course the fear of having lost everything, and maybe not being able to get it back was strangely 'awful'. Would I be able to get back to doing this thing called blogging that I so much enjoyed, would I still have this place where I could voice my opinion? Would it be like losing your long term pet, where you say 'Nobody could replace him, I will never have another Dog again'. I'm sure every pet owner knows how that feels. The realisation then sets in what blogging had come to mean in my life. And here was I facing the prospect of everything I had built was gone.
My head was awash with thoughts of doom and gloom. Not good for a personal development coach. I then of course began to analyse the situation, and to understand my feelings. My professional training at last kicking in.
The bottom line was that blogging now plays a vital role in my life, and I have taken it all for granted. In particular I had done nothing, well very little, to understand the platform I was on and all that stuff that happens in the background. I hadn't even bothered ensuring I was backing my blog up, let alone at regular intervals, but at all. For now I was a blogger without a blog.
If I had to could I really imagine myself starting from scratch? Rebuilding my blog post by post. If not, what would my life be like without blogging?
I could not imagine what my life would be like now without blogging. I love to write, teach, opinionate, speak, and blogging helps me to achieve all these things in a very creative way.
I am now an addict to blogging. It's a part of my life. It would be impossible to give it up now. I also enjoy visiting all my favourite blogs, researching for my articles, checking my statistics in the morning, and chatting to my blogging buddies. I love roaming through the blogging world seeing what's happening, what the buzz of the day is.
The only thing i was sure of is that there would be a big change in my life if I had to turn my back on blogging, and I wasn't prepared to do this.
I enjoy blogging so much I would have to be prepared to start over if I had to. Slowly but surely my mind started to prepare myself to have to start over again. In fact my creative juices started flowing. I began asking myself what I would do differently if I had to start my blog again today?
When I started I never imagined how it would become such an integral part of my life. I didn't for one minute expect to be enthused by the desire to create something big out of my blog.
When I started blogging and took my first tentative steps I was not concerned about setting up the "perfect" blog or worried about making mistakes. Who needs that type of pressure? Haven't we already got enough stress in our lives? To be I have the choice of what to write, how my blog would look, and what I wanted on there. This hasn't changed, even though I know a lot more.
It reminds me why I blog. Because it's fun. I blog about what I want to blog about. If I want to post on another topic, who is there to tell me I can't, nobody.
I actually have few things that I regret not doing when I started out. I would have balanced my activities more equally between content production and promotion/marketing. I would have put more emphasis into promoting my blog in the early stages. When I first started blogging, I spent a lot of time on the visual appearance of my blog. While the look and feel of a blog is important, I didn't do enough to get the word out and drive traffic to it. If I had to start over, I would work more on marketing and building backlinks to my blog.
The one thing I've certainly learned today is to schedule a back up everyday. Thanks to my provider my blog, as you can see, is up and running again. They were able to send me a backup from April 1st, and a new restore download, so I had only lost 3 days worth of entries, alas that included some wonderful comments from my readers.
What about you. If you had to start your blog all over again, what would you do differently?
Score Your Way To Good Health - With Our Healthy Lifestyle Plan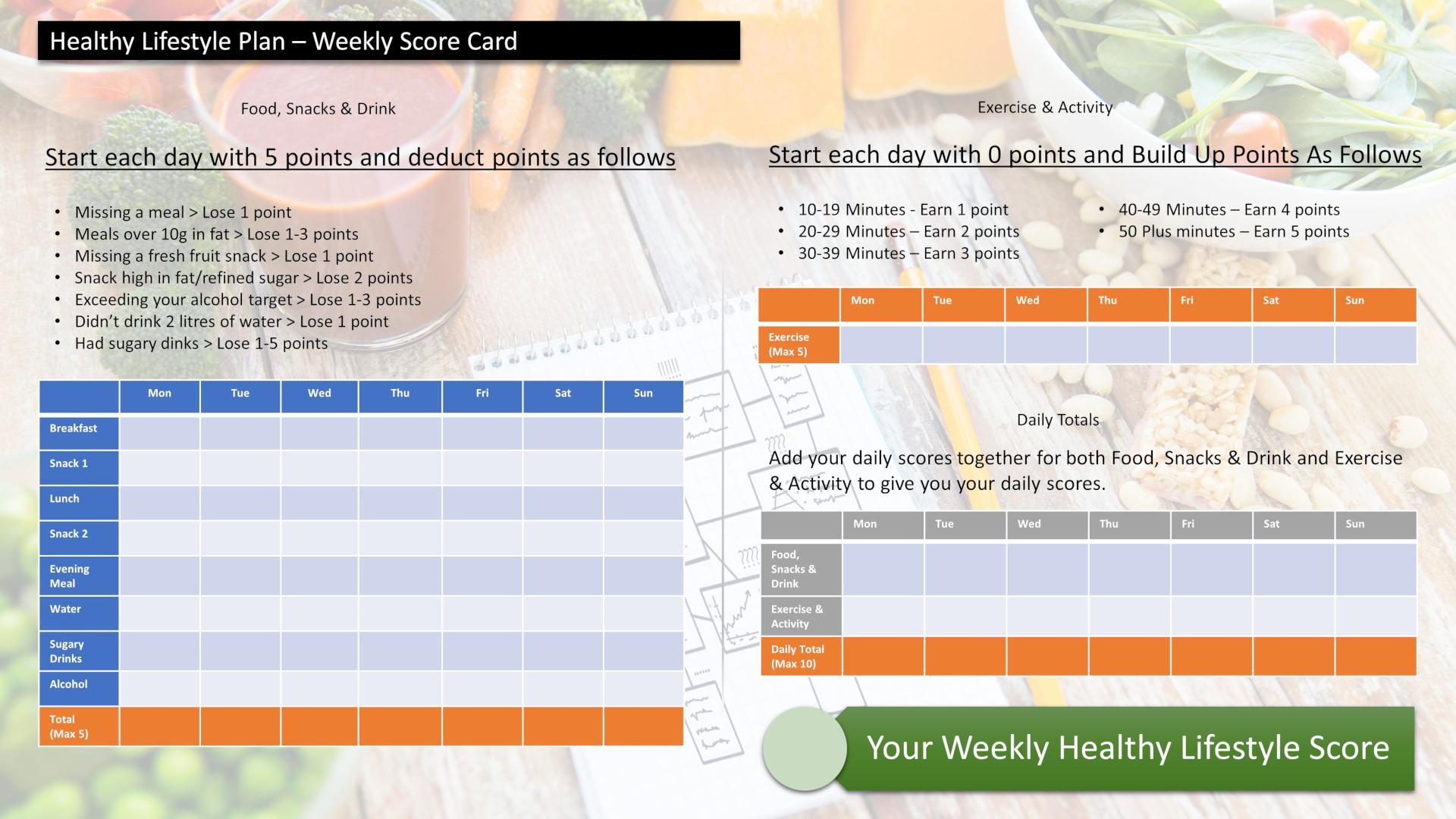 Score your way to good health with our healthy lifestyle plan and it's unique 70 point weekly scorecard!