I am well aware that many of my readers are not bloggers but today this article is very much aimed at all of you that are.
Have you yet reached that point where you have been blogging for quite some time now, and you're now asking yourself the question is blogging actually getting you anywhere? Is it achieving anything? Is it bringing you results?
Maybe the key question should be "Is blogging worth the time it takes to do it?"
In my case I work a full time job as well as run my blog, support in various ways two other blogs, and work as a Life Coach, all of which together definitely stretch me. Sometimes it's hard juggling everything.
I find it important for me to remember why I'm blogging in the first place. Blogging at the outset was the perfect medium to establish myself as a credible expert in my field.
It gives me the opportunity to share my knowledge, my ideas and my passions, to make an impact with a potentially massive audience. It provides me with a way to positively affect the lives of other people. I personally find it extremely rewarding and a fantastic creative outlet.
My blogging goals have grown. They are ambitious, but at the same time realistic. I've achieved so much from blogging so far, it's natural for me to widen my expectations. Who knows, this may ultimately include devoting 100% of my working hours to blogging while travelling the world, or residing in a hot climate with my home overlooking the sea. But this article isn't about me, it's you my reader I'm interested in.
"Is blogging helping you reach your goals?" Have you even taken the time to ask yourself how it's working out for you? Maybe you are avoiding the question "Would spending your energy elsewhere be better?"
Blogging can take so much time and energy. Many bloggers I interact with are constantly struggling with time. When they analyse the time they spend blogging they are really shocked. Often they cannot find enough hours in the day for all they want to do. It throws their life out of balance, with the other important things in their life, like friends, family, job, health (mental and physical), and other hobbies and activities getting ignored.
So ask yourselves these questions:
Are you spending to much time on your blog?
Do you need to get away from your blog and get on with other things?
Are you letting other areas of your life slide because of the amount of time you spend on your blog?
Do you have other things to do and other activities to put your time into but you just can't drag yourself away from your blog?
It is so easy to slip from something you are passionate about, to something you become obsessed about. I touched on this subject in a previous article.
Are you sliding towards a serious blog addiction:
Are you always obsessed with thinking about the next post you are going to write
Are you thinking about your blog just before you sleep and then again first thing in the morning
Do you wake up in the middle of night and rush of to check the statistics or activity on your blog
First thing in the morning and multiple times throughout the day do you check:
Your traffic numbers
Your twitter account
Your Facebook fan page
Your email
Your link backs
Your google analytics
Your google adsense
Your dashboard for comments left on your post
Even worse, if you discover that your readership drops, your traffic drops off , people don't tweet or like your articles in your social networking groups, and nobody is commenting oin your blog, you begin to panic.
There is no doubt that Blogging can be a very addictive past time. If we allow it to, it can consume an unbelievable amount of time, stealing us away from the other important areas of our lives. So, if you spend too much time blogging or fretting about your blog, and it effects the other areas of your life, you now need to do something about it.
Here are a few tips of how to get yourself back into control, and stop your blog taking over your life.
Just make the decision. In my opinion, everything you do, and don't do, is all about the decisions you make. You made the decision to blog and decide how much time you dedicate to blogging. When you see that blogging is interfering with other important parts of your life, then you just have to make the decision to cut back on the time you spend doing it.
No blogging Sunday. Sunday is my no blogging day. I don't go into Twitter, facebook or do anything with my blog. I don't turn on my computer at all. I get on with my life without blogging taking any part of it. Monday, it's back to it, I have lots of new blog articles to read and people to interact with. No matter how much we love blogging it is important to step away from it and spend time with your loved ones, devote some time to your health and other areas of your life.
Schedule the time you will do certain things, and only do them once a day. I admit there was a time where I would constantly go back and forth to check my google adsense, my traffic on google analytical or stat counter, and in and out of my blog's dashboard to see whether I'd received any comments. Now, I do this only once a day at 8pm of an evening. That way I am able to focus more on my other tasks, including my personal and career responsibilities.
Set aside a maximum amount of time for blogging. You have an article to write, comments to reply to, other blogs to read and comment on, and let's not forget your networks in facebook and twitter. You also may want to be redesigning something on your blog, or maybe adding some new widgets. For you to do this, but also to keep all your other responsibilities in order, set aside a specific amount of time each day that you will set aside for blogging. Give yourself a start time and end time. Now stick to them.
Find help. For a start invite guest bloggers to contribute. Your readers would benefit from reading a wider range of topics and opinions. (Now lets check how much attention you bloggers are paying – this is also an invitation to you … want to contribute … come talk to me). This also takes pressure of you having to meet your set schedule of the number of weekly posts you make. Within this I also believe you can delegate some of your work. Neil of Slim Express Blog takes care of much of my SEO work, and is a big help in working on the appearance of my blog.
Maintain a blog/life balance. Your health is more important than blogging. You have to maintain a balance between your blogging and the time you spend on your other activities and responsibilities. I wrote in a previous article "As I've said, I love blogging, and love being part of the blogging world. But after all I am a healthy lifestyles blogger, and I owe it to my readers and my community to remind you of the importance of living a healthy, balanced life". Throughout your life you constantly try to juggle so many things, which is why you need to learn to prioritise and learn how to say "STOP!".
Stop Burning the Midnight Oil. Do you know when to quit for the day? How often do you find yourself at the computer and suddenly realise it's 2am in the morning. Burning the midnight oil gets you nowhere. You just end up burning yourself out.
In worst case, if you can't get control over your blogging addiction, stop blogging!
Time is free, but its priceless. You can't own it, but you can use it. You can't keep it, but you can spend it. Once you've lost it you can never get it back. Harvey MacKay
So how much time do you spend on your blog daily? What if you add the time you spend engaging with other bloggers in facebook and twitter?
Score Your Way To Good Health - With Our Healthy Lifestyle Plan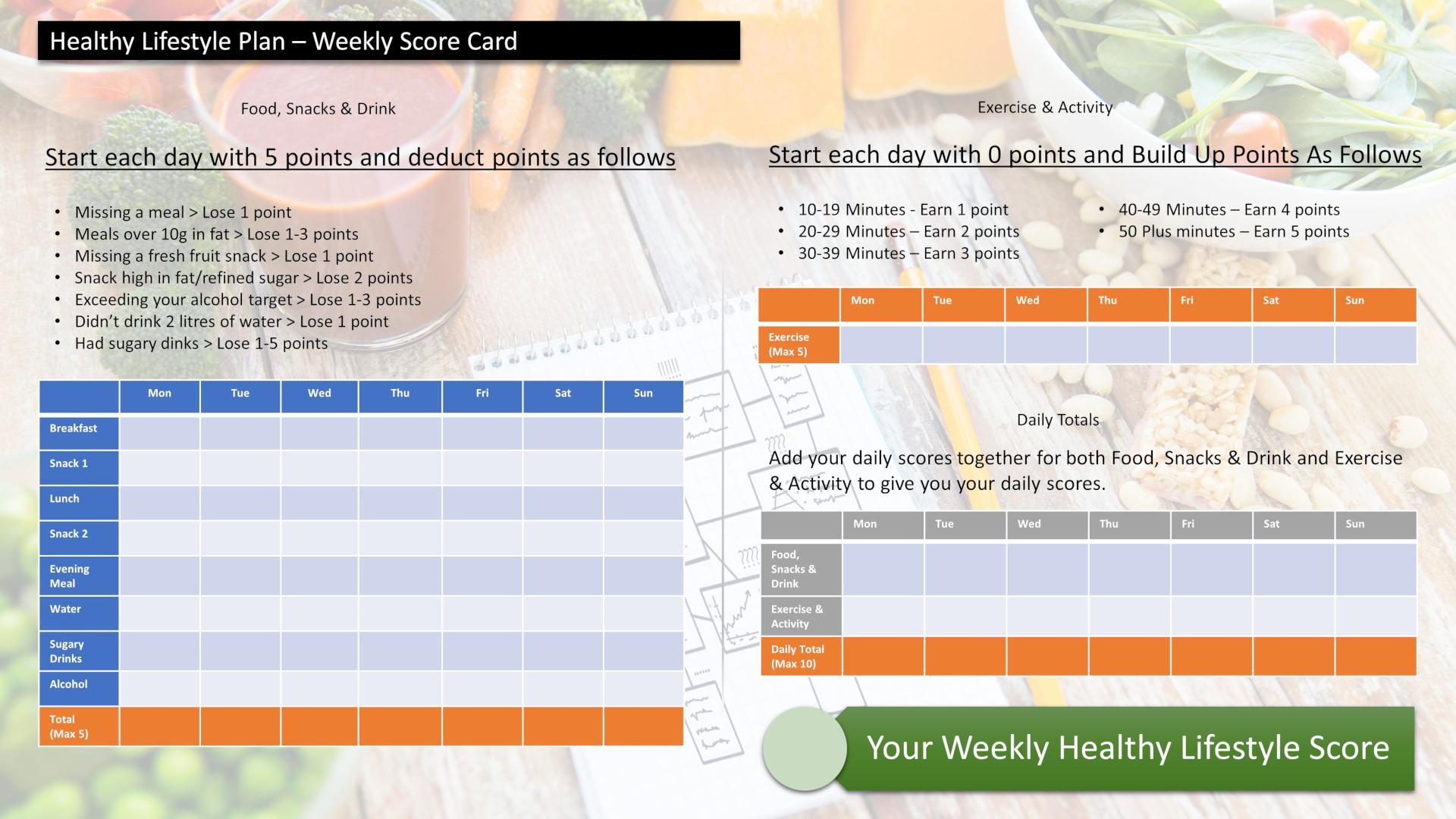 Score your way to good health with our healthy lifestyle plan and it's unique 70 point weekly scorecard!