In a previous post I introduced and discussed the importance of the Alexa Traffic Rank . Whether you value your Alexa position or not there are definite advantages to having a high ranking.
Well this morning I received a text from Neil, congratulating me at breaking out of the 200,000 level, having climbed to 185,726. This is my position as of today, on the 1,000,000 sites list, which is updated daily. When I started blogging, I didn't really know much about what all the rankings meant. At that time it didn't really matter to me.
When I first started blogging I had one purpose in mind. It was not getting to the summit of the blogosphere. I never set out to be one of those blogging just for money, or driving my Alexa or Technorati ranking up. Many bloggers who have those type of intention s straight from the start usually provide poor information on subjects they know very little about.
I blog about my passion – personal development and healthy lifestyles living – and if I can make a bit of money out of it, all the better!
Blogging opened the doors for me to start writing about the things I am passionate about. Blogging has become part of who I am. I still find it surreal that I can just sit at my computer one minute, and the next, the article that I have just written becomes immediately visible to the entire world.
"Choose a job you love, and you will never have to work a day in your life." – Confucius
I am a long way from being at the top in the blogging world, but if I did not have a passion for what I write about, I certainly wouldn't have got as high as I have so far. Three months ago I wouldn't have believed it possible that I would get over 5000 unique visitors in a month.
When we want to succeed at anything it takes hard work and passion. I work, and work, and work, all the time. For me the only way I can do this is having a passion for both blogging and my subject matter.
With so much competition in the blogging world, how are you going to stand out from the crowd? Simple… be the best at what you do. There is no doubt that taking the time to write quality posts can do wonders for your search rankings among other things. By writing regularly your blog gets spidered by Google often, and increases the chances of increasing your rankings considerably. There is big potential if you do things the right way. Updating your blog multiple times per week definitely in my mind brings major benefits. The more new stuff you add, the more of an authority you make your site, and this helps to improve your overall search rankings. Only if you bring passion to blogging can you succeed at doing all this, and only with passion will your blog attract and retain visitors. If people really like your blog, they will spread the word, resulting in even more visitors. Passion is what makes or breaks a blog.
When at first starting a blog, many people have making money online as their sole purpose or at least it is one of the main reasons they enter the blogging world. In my mind, you must blog about something you're passionate about, or you simply won't succeed. You have to be prepared to keep blogging without being paid for it, and keep your passion alive. Without passion, if you don't make quick money, before to long your blog will join the thousands and thousands of previously abandoned blogs.
When your passion comes across in every article, every sentence, every phrase you write, you win the hearts of the people reading your blog. Passion is something that inspires as it brings across the genuine interest that a person has in whatever field he or she is in, and engages those who want to read what is being written about.
A multitude of blogs are created every day. For your blog to stand out from the millions that are out there in the blogosphere you have to be passionate about both what you are blogging about, and the 'art' of blogging itself. It takes time, lots of it, there is so much to do, but with passion you just keep going. You can't create constantly updated unique content, and fulfil your marketing requirements if you don't have the passion. Simple! If you do have passion for blogging, readers will engage, they will keep coming back for more.
Following my passion has always been at the very top of my to-do list. I am filled with passion every single day, feeling the excitement, enjoyment and love of doing what I really want to do. It makes me keep going, no matter what problems get in my way. It gets me to put in the extra hours and be happy doing them
I've only been blogging just over a year. I am constantly learning about all things blogging every day. I believe wholeheartedly that if you are passionate, the money will follow. This won't happen overnight. Already for me my coaching business has acquired new business from blogging, and I do make some money from my blog through google adsense. But I repeat, this is not the be all and end all of blogging for me. First, I am passionate about my subject matter, and secondly I have something to offer, and I am determined to do what I love. Passion is a strong motivation to keep at it before the profits start rolling in.
I believe it's that passion that will get you out of bed in the morning when times get tough. It's the passion that is going to motivate you to write day after day. It's passion that will keep you from giving up and throwing in the towel.
Here is my formula for blogging success:
Passion + Purpose + Perseverance = Success
This can be applied ton anything you do in your life. Find what you are passionate about, and see your life improve day by day. Passion and purpose are your rocket fuel, while perseverance is your accelerator. So fuel up, and lift off.
Are you passionate about blogging? Please comment!
Score Your Way To Good Health - With Our Healthy Lifestyle Plan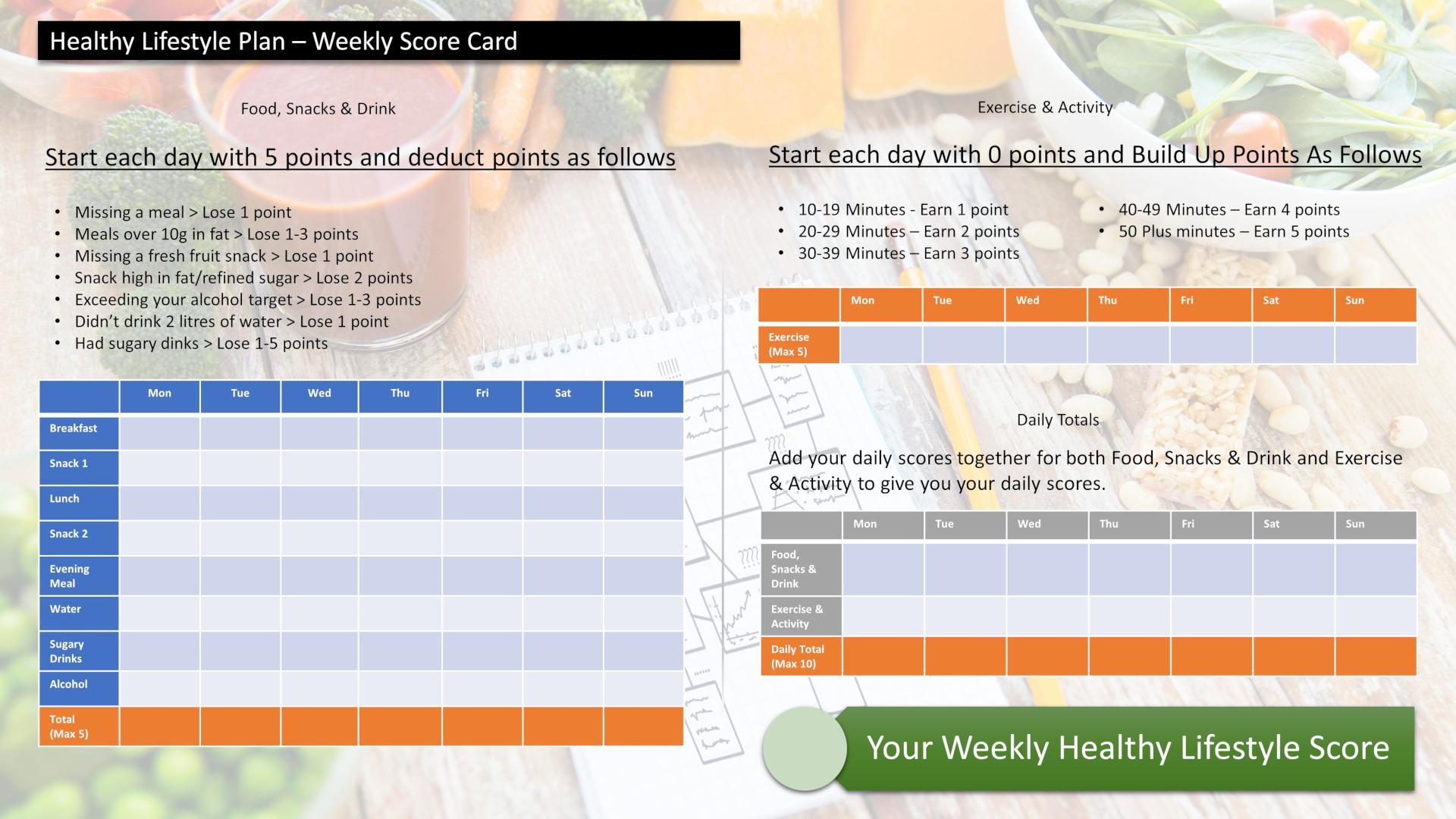 Score your way to good health with our healthy lifestyle plan and it's unique 70 point weekly scorecard!