They say pregnancy affects ladies in very strange ways. This has recently been demonstrated to me by Sarah-Jane. She's an awesome blogger and to many a social networking guru. She writes the Almost There blog. But her hormones must be shooting all over the place as she mentioned in a comment to me that she looks forward to my 'Mr Motivator' Videos.
With us both being from the UK, this can only mean one thing. She sees me as a big aerobic based Jamaican gentleman wearing a tight brightly coloured Leotard sporting a very tight Lunch Box, wearing a bum bag. This Mr Motivator performed a daily fitness workout on GMTV, ITV's morning breakfast show.
He made a brief return with GMTV in 2009, and here is the video. The first 30 seconds will definitely remind you guys from the UK who he is.
As you can see that's not me. I've got bigger muscles for a start. And I definitely can't wriggle my butt like he does, and nor would I want too. My dress sense is also somewhat different. I may wear slightly tight clothing, but it is more often than not black. I just wouldn't look good in yellow, orange, and for certain not pink.
Truthfully though, I do love motivating people. As both a life coach, and a personal fitness trainer it is my responsibility to motivate my clients to action, to get them out their comfort zone. Motivation can be defined as all those factors, which make people act and move toward certain goals. According to Webster's dictionary, (Webster, 1976) to motivate is to provide with, or affect as, an inner drive, impulse, or incentive that causes one to act. A motivation can be a cause, purpose, or idea according the Thesaurus. (Webster 1997). Motivation causes behaviour, incites action. Personal motivational drives may include pride, desire for greatness, competitive spirit, serving others, doing the right thing, overcoming all odds.
These are the personality traits I believe are needed by a good Motivator:
Courage: being able to get others out of their comfort zone
Decisiveness: being timely on decision-making and clearly communicating necessary actions in a timely manner.
Dependability: doing tasks accurately and on time.
Judgment: logically weighing facts when making a decision.
Sensitivity: understanding peoples differences and personal needs.
Loyalty: being faithful to others.
Enthusiasm: being concerned and prepared for others
Integrity: being honest; letting others know where they stand.
Endurance: mental and physical.
Initiative: trying new ideas, seeing what needs to be done and doing it.
This blog is about showing you how to implement a healthy lifestyle and a positive mindset. The reason most people never realise their full potential is simply that no one has ever shown them how to! All of the skills or attributes required for success are learnable. You simply need someone to show you what they are and how to apply them – that's it! That's what this blog is about. If I can just motivate one person to make positive changes in their life, then all the work that blogging involves is worth it.
The starting point of all change is in the mind – or more precisely, how you think! All you have to do is improve the quality of your thoughts and you will increase the quality of your life. Here's how it works:
1. Your success comes from your results.
2. Your results come from your actions.
3. Your actions come from your thoughts.
So, when you think more effectively, you take better actions, which leads to better results. As you are the only person who is responsible for your thoughts, you decide how successful your life will be. It is always down to you, because only you have control of your mind. All I can do is bring information to your attention, and help to provide you some motivation to help you along.
To most people, motivation is something of a puzzle. They know that it exists; they know that they themselves get motivated from time to time – yet they seem unable to switch motivation on, whenever they need it. Hopefully through my blog I can provide the motivation to get you started, and at other times keep you going.
It has been the fact since i started blogging, one of the main aims as a blogger is to motivate others. When you understand the practice of inspiring your people, there is an energy behind the work produced, and I do hope this shows through. I honestly think that motivation must come from within. That being said, I can provide the inspirational spark that may ignite the flame within in you. I love my subject, and I have no qualms about standing on a soap box, providing information I believe will help.
As a final thought, as I can't change my personal make up, or adapt my in your face maximum output required boot camp classes, so I here provide Sarah-Jane with workout advise for pregnant ladies.
I cannot say whether my blog motivates my readers, particularly when it comes to adopting a healthy lifestyle or implementing personal growth techniques. Only you can answer this. All I can do is put my passion into my blog, write what I believe in, and hope that it helps others make life changing actions.
What I do know is I love blogging, and have found many other bloggers who have both inspired and motivated me. Sarah-Jane is very high on that list, and the group Blogplicity that she created has become my blogging home.
Score Your Way To Good Health - With Our Healthy Lifestyle Plan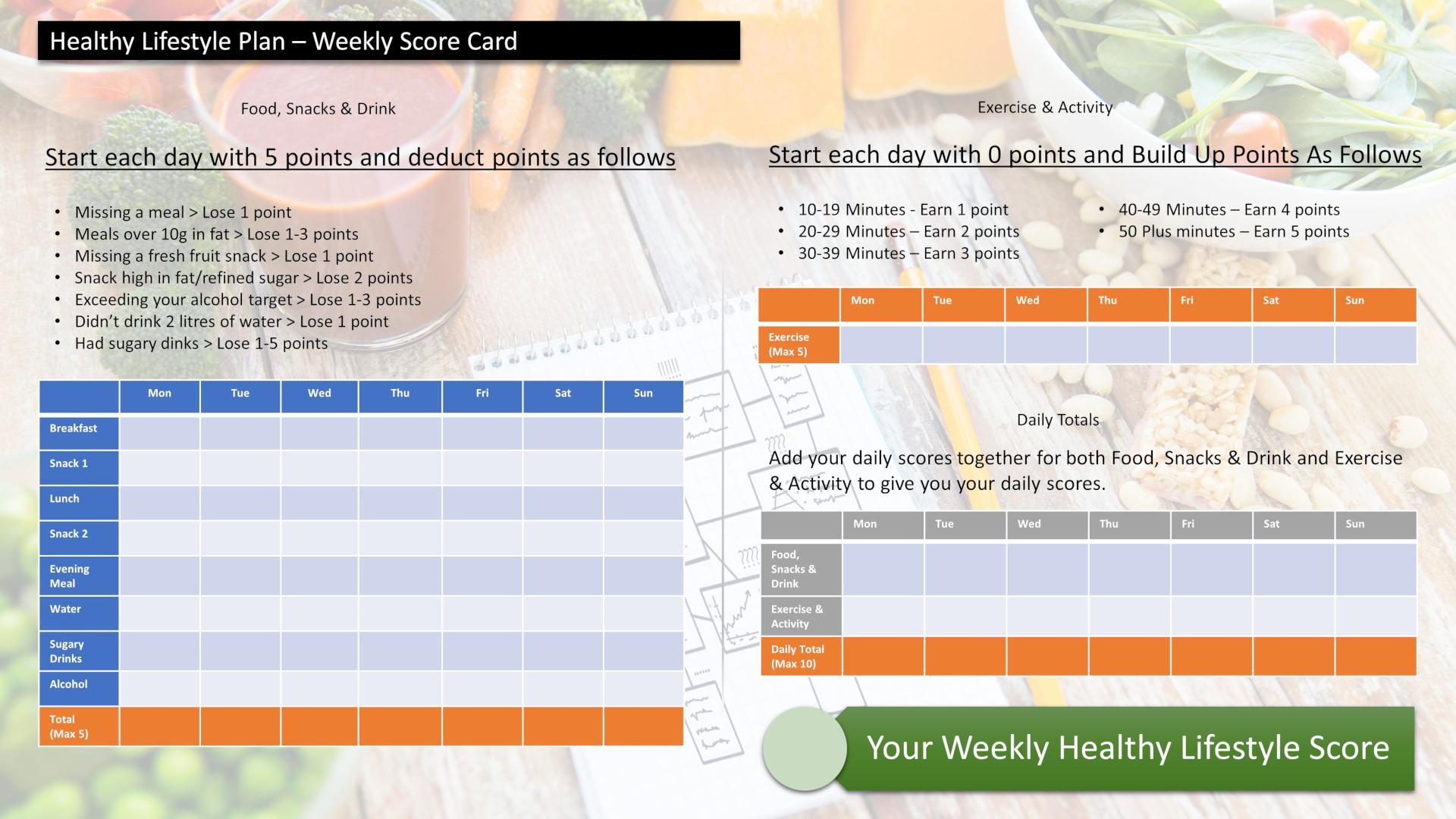 Score your way to good health with our healthy lifestyle plan and it's unique 70 point weekly scorecard!