I created a Healthy Lifestyle Blog for one important reason, to help people enjoy their life to the fullest by being in control of their health. Achieving a healthy lifestyle is the goal of so many people and there are so many others who are trying to offer advice on how to achieve one.
At the turn of the year I found myself assessing the year that had just gone and thinking about my expectations for this New Year in front of me. I then set about determining the goals I wanted to direct my attention to. One on those, as mentioned in a previous article, is to become in the future an A-Rated blogger. So as I now regard myself as a blogger, I may as well aim to be the best blogger that I can be. There's no point doing something, and not aiming for the top. So my goal is simple to try and become an A-list blogger.
The best thing about blogging is that it stands for who I am, it's become an integral part of me. The toughest challenge for any blogger is to be able to do everything that is required, particularly when doing it as a side line, having to do it as a part-time thing, in between having a day job and a social life.
Is it worth all the effort? My blog to me is the place where I can write about things that interest me, that I am working on in my life, and that are working for me, and that I hope will make the difference to others. I have nobody telling me what to write, or how to write it. Yet I can get instantaneous feedback from my readers particularly through their comments (mind you I'm not getting enough of these yet).
I have just spent four days moving house. Oh the Joy of Moving. It's hell. Yet the biggest nightmare for me was the fact I couldn't blog or communicate through my facebook account. It felt like going cold turkey. It really showed me how blogging, and interacting with others through this medium, had become a very important part of my life.
To be able to spend time on something I love, to work on something that I'm passionate about is reward enough, but if I can turn my blog eventually into a success making a living out of doing so would just be out of this world.
Since entering the blogosphere writing my blog, I have read many other blogs, and paid particular attention to those bloggers able to teach me how to be a more successful blogger.
Four that I read on a regular basis are:
What I do know is that those existing A-List Bloggers are head and shoulders above me, but I also know they had to start somewhere, and that would be at the bottom of the ladder. Developing a blog takes unbelievable, committed effort. No matter where on the bloggers scale you are, you already know this. We have to put a lot of work into our blogs, and work our way, inch by inch towards the top of the ladder.
If I believed everything I read, I wouldn't bother starting. Firstly, my age is against me. Blogging is a young persons business. The New York Times stated that 53 percent of bloggers are between the ages of 21 to 35. I'm 48 years old, must then be a blogging pensioner.
Secondly, most blogs fail, never achieving more than a handful of readers. I am sure that many of these blogs were started by people with a similar goal to me. Many of them, just after a few months of hard work, time and effort, having achieved no obvious results, give-up and abandon their blogs to the blogosphere black hole.
Thirdly. The blogosphere is an ever increasing competitive market. Most existing niches already are full of blogs, with a handful of key bloggers dominating their specific field. So to enter these niches and climb the ladder of success is no easy matter. In my particular fields there are some outstanding bloggers sitting deservedly at the top of the pile.
Here are a few that I deem to be right up there:
Fourth, I have read that there is no way to create a sustainable top blog if you are the only person doing the work on the blog. You need a team, each fulfilling particular roles if you want to get to the top, not be a one man band trying to do the lot on your own.
If I do eventually wake and realize that I am never ever going to get famous through blogging, will I stop writing my blog. No never, its now part of me, and something I love to do
To achieve any target, you have to be able to clearly measure it. A very simple classification of an A-Rated Blog would be the number of inbound links to their blogs, the number of visitors and the amount of revenue that they generate. Another indicator would be ascertained from blog statistics such as their Alexa rank, the number of Technorati back links, and their Google Page Rank. The number of their subscribers is also a good indicator, as are the number of comments their posts receive.
In my vision, for me to ultimately achieve the position of an A-Rated Blogger I will be inspiring and motivating others to achieve a healthy lifestyle and successfully achieve personal growth. I want my writings, and my blog to help others reach their goals, to motivate them to reach for their dreams, and assist them in moving forward towards their attainment. My New Year's resolution is that I commit to building an A-Rated Blog that people use to power their own change. So even if I don't achieve the upper heights of being an A-Rated Blog, if I can help others on my journey then that is enough reward in itself.
To finish of for now, what I know for sure, is that to get my blog read, to climb the bloggers ladder, my blog has to inspire people and change the lives of those who read it. This is my vision, and I am passionate about it. I also know that helping other people succeed is the best way to succeed yourself.
As Napoleon Hill put it "It is literally true that you can succeed best and quickest by helping others to succeed."
What are your blogging goals?
Score Your Way To Good Health - With Our Healthy Lifestyle Plan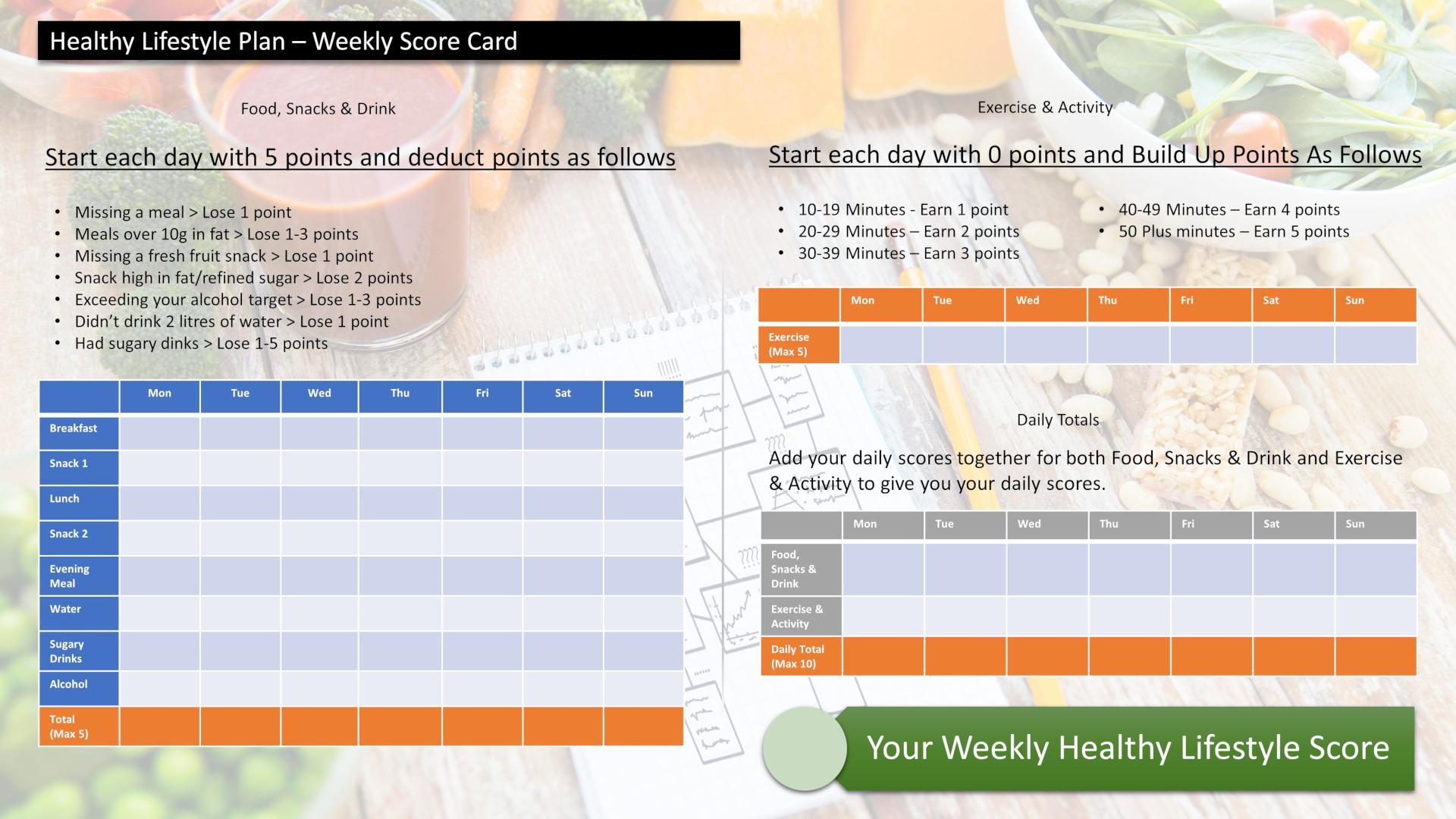 Score your way to good health with our healthy lifestyle plan and it's unique 70 point weekly scorecard!