There are so many potential distractions lurking in wait for us bloggers. We work day by day in front of a computer with our internet access available 24/7. If we allow distractions to take our focus we can end up achieving very little of what we set out to do, interfering with our work schedule, and standing in the way of our progress.
Every time you waste an hour surfing or chatting online that's an hour you've lost forever. It's an hour you could have made some money, got a post published, improved your search engine optimization, or done something equally constructive. It's an hour that you don't spend doing those productive tasks you know you needed to get done. Have you ever popped on to facebook to check what's up with your friends for five minutes and before you knew it, that five minutes has turned into five hours.
You need to take control over your time. You have to limit the distractions that you will allow yourself. You have to become the master over your online activities making every second count. You have to avoid becoming lost on the internet in that vast world we know as cyberspace. If you're not careful, you could spend all of your time completely unfocused. Have you ever looked up at the clock and realised you just spent the last 2 hours lost in cyberspace?
Online distractions can ruin your day so easily. We have all given in to their temptations at one time or another. Examples of some common online distracters include:
Social Networking Websites e.g. Facebook, Twitter
Youtube
Online Gambling
Chatrooms
Gaming Sites
Skype
Constantly checking your emails
Checking affiliate earnings
Instant-messaging
Endless surfing sessions
Avoiding these online distractions can be a constant daily battle that each person must deal with. We bloggers have so many things that need to be done, and therefore we really don't have the time to waste. No matter how appealing some of the above activities may be to you, you know that time spent doing them, means less time doing what's truly important.
At times it can be very tempting to get off those important tasks that we have at hand, but when blogging it's critical to keep focused, setting time aside for consistent work related activities, allowing yourself no distractions of any sorts. Your success in the blogging world will be directly related to your ability to focus and follow through, as well of course to your level of motivation.
Staying focused can be a big test for us at times. Here are some tips to make sure you make the best use of your time when online.
Get your Priorities Right – what's most important to you? Work or pleasure? Success or Failure? Making something of your life, or not? There are only 24 hours in a day. There is so much to do to achieve your goals, dreams and aspirations. Every day you should be working towards these goals. You should be setting out to make the best use of your time possible. Determine what you want to accomplish day by day, and protect your time from all possible distractions, so you can make the most of it.
Allocate time for your tasks – Set time limits for each of your tasks. There's no better motivation than placing a deadline on to ourselves. Giving yourself tight deadlines is a great way to stay motivated and focused on the task. It's astonishing that when we don't allocate a time period for certain tasks, we can end up taking for ever getting them completed, but once we set a tight schedule, amazingly we find a laser beam focus and manage to get it done in quarter of the time it would normally take. Setting a time limit upon ourselves is a great way to get the best out of yourself.
Plan your day – Make a list of all the tasks you need to do and make sure you follow through on your plan. You need to plan your time constructively, staying focused and learn to become more organised and effective with your day. Look at your task list and identify the things that require your full attention. You want to do these tasks when you are most focused, and least distracted. Other tasks, like social networking and checking your email can be done in scheduled breaks .
Do the most important thing first – Start out your day by doing the most important jobs. Get them out the way. Do them while you're fresh, and have your most enthusiasm. Don't proceed to the next thing until you have completed what you've been working. In this way, you could accomplish a lot. Start a job, finish it, then on to the next. If you need a break, take one. Walk away from your computer, then come back refreshed.
Limit time spent on social network sites – Whenever I'm writing my blog, or working on it, I make sure I shut down Facebook, Twitter and my Windows Live messenger. These sites can consume so much of your time if you allow them to. They simple can suck away your day. It can be so tempting to talk with friends, read what they have to say, check their blogs, but this can devour most of your time.
Reward yourself – After getting something important done, you should reward yourself. Once I've got my blog post written for the day, I will then stop, and for half an hour do something completely different and rewarding. It may be to go to the café across the road and drink a skinny latte, or get on a bench and do some weights. Then it will be back to work, and on with the next job.
Use Power Hours – With so many job roles and responsibilities I try to design my day around power hours. During my blogging time, particularly when writing my post, or reading other blogs and commenting, I turn off my email, phone, and avoid all other possible distractions. I will close all the computer programs that are not related to what I'm working on and set a timer for one hour. I stay completely focused on that one task until either it is complete, or the hour is through.
So do you avoid those distractions that throw temptations your way? Why not test yourself? Knowing how much time you spend every day constructively doing what you need, and how much on time wasting activities will help you greatly. Keep a notepad on your desk. At the top, label it with the words 'Time Log' and the current day of the week: "Monday". You should keep this consistently for a week, noting the time and what you are doing – and how long it takes. At the end of the 7 days, analyze your Time Log and take notice of "habits". You'll be able to see at a glance what it is that's distracting you, how much you've accomplished in a week and how much time you've wasted on certain things. Make sure everything you do is recorded. Hey even include your toilet breaks. You've got to see exactly how you spend your days.
It's good to play, it's good to do networking, it's good to do all of these things that I've talked about which can be distractions, but it's also good to limit them, and learn to focus yourself to make the best use of your time.
By prevailing over all obstacles and distractions, one may unfailingly arrive at his chosen goal or destination. Christopher Columbus
Score Your Way To Good Health - With Our Healthy Lifestyle Plan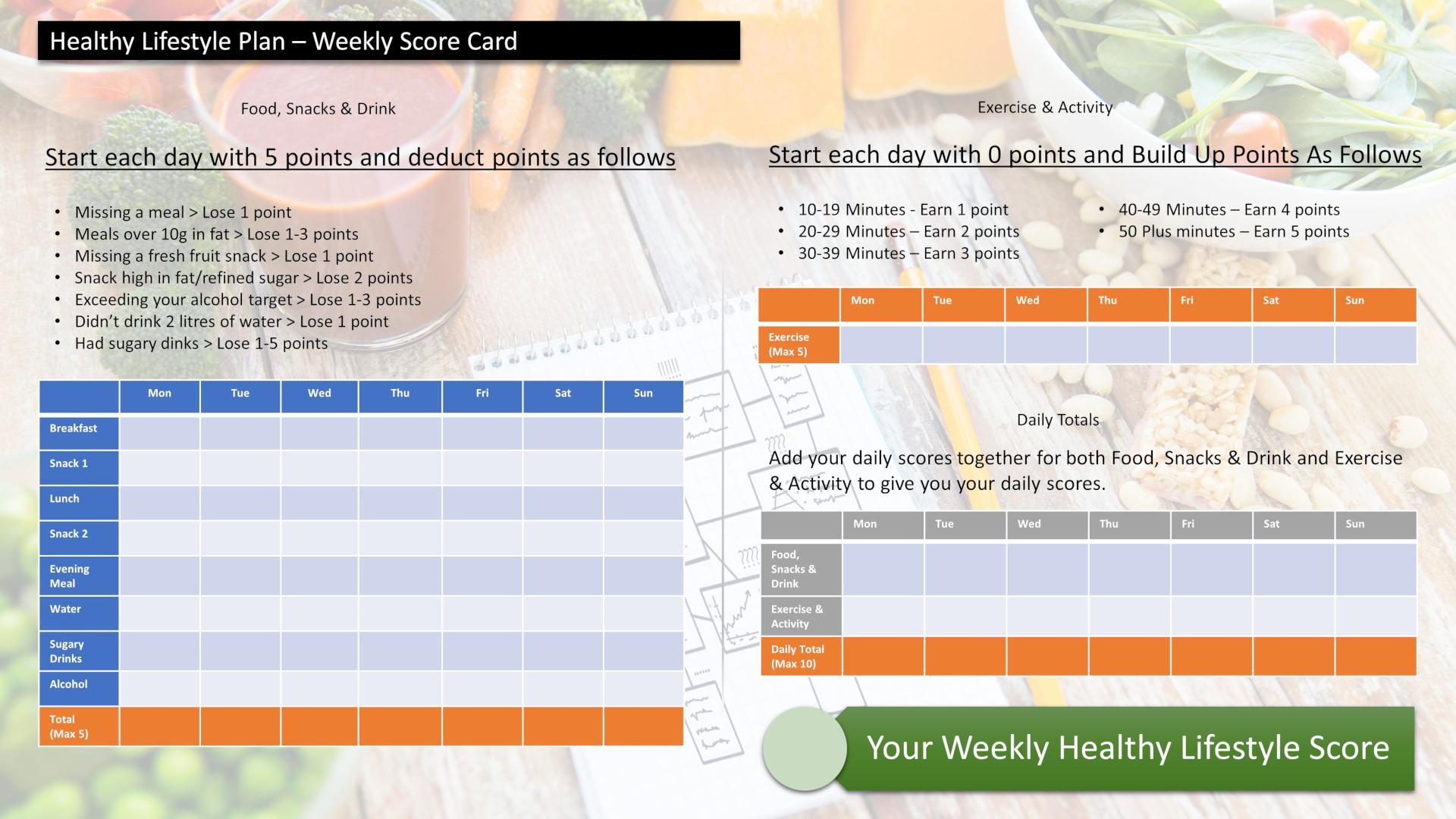 Score your way to good health with our healthy lifestyle plan and it's unique 70 point weekly scorecard!