Today I will be presenting a Free Training Webinar for The Nana Team – The Sakura Project at 15:00 UK time. My topic is Successful Blogging.
John Jarvis the organiser of this Webinar, and a good friend of mine, has been getting a lot of questions from people on blog strategies and the like.
Do you want to be a successful blogger?
You've undoubtedly read about how having a blog can build your reputation in your field.
You've undoubtedly read about how some blogs seem to attract massive Search Engine Traffic
You've undoubtedly read about how some people make a 6 figure income from blogging.
What you probably haven't read is that while blogging is easy, creating a successful blog can be HARD!
Achieving blogging success is a matter of learning the essential skills you need and putting together a consistent blogging system that includes every essential element.
There is no shortage of "free advice" on the internet regarding blogging. However, building a successful blog is like putting together a jigsaw puzzle.
You CAN do it. You can make your blog a success. You just need to know what to do.
The benefits of blogging are countless and in my mind so remarkable. Blogging requires persistence. If you want to achieve success in blogging, you have to prove that you want it, time & time again. You will be tested! But if you can stay the course, defeat all the trials & tribulations which come your way, you will be rewarded.
One of the measures people use to assess a blog's success is the Alexa Ranking. Their ranking is based on three months of aggregated historical traffic data from all of Alexa Toolbar users and is a combined measure of page views and users. As a first step, Alexa computes the reach and number of page views for all sites on the Web on a daily basis. The main Alexa traffic rank is based on the geometric mean of these two quantities averaged over time. So that the rank of a site reflects both the number of users who visit that site as well as the number of pages on the site viewed by those users.
Whether you value your Alexa traffic ranking or not there are definite advantages to having a high Alexa Rank, such as credibility.
My current ranking is 103,353 according to the top 1 million listing which is available as a daily download here – .
Here are the methods I have used as a blogger to build up my site:
Content:
#1 Define Your Niche – There are literally, millions of blogs out there. Finding the right path is critical to staying on it. A niche is a main topic or category, sort of like a general overall theme. A great way to define your niche is by defining what you're passionate about. Blog about what you know and not what you think you know. What are you passionate about? What things do you have personal experience with? What types of books do you read, and what type of shows do you watch on television? The main theme that runs through all of this is passion; if you have passion for what you do in abundance, the pathway to success is easy. To blog successfully you must have passion about your subject matter.
#2 Become a Leader in Your Niche – become an authority in your blog's niche. Get your readers to see that you are an expert in your niche, that you really do know your stuff! What matters most is your expertise and the type of audience you have, if you are trusted by your audience and you are seen as someone who knows what he is saying then you will create a successful blog.
#3 Content is King – Write high-quality content that will appeal to your blog visitors. You need to produce new, unique content. The information that people come to a blog for is its content. Generally the more useful and interesting content a website has the more successful it will be. This is because more people will want to visit it again and again, this is especially true if a website is constantly adding more and more content on a regular basis be it articles, tutorials, news and opinion or whatever.
#4 Get your headline right – One of the most important aspects of your content that makes it easy to market is your headline; this plays a very important role in making your content a success. When writing headlines use eye catching words, and try to feature your important keywords.
#5 Design Matters One very important element that has a lot to do with your blog's success is your blog's design. It has to be user-friendly and make your content presentable.
#6 Update Your Blog Regularly – As you gain regular blog readers, you're going to need to provide them with valuable information and resources. You want them to keep coming back. Try to update your blog regularly, with articles that are relevant to your niche. Daily posts are ideal, but if you have a full-time job it's easy to see how that may be difficult. If that's the case, try to post something new every other day.
Traffic
#7 Don't be afraid of Marketing – When you first start your blog it's highly likely the only people reading it are you and your mum. You have to do everything in your power to bring people to your blog. I spend 70% of my efforts on writing content and 30% on marketing my blog.
#8 Guest Posting – This is a very effective traffic generating method. Just be sure that the guest post is new content; there isn't much of a point in re-posting an article that already appears on your own blog or as a guest post elsewhere. You want to drive traffic from other blogs to yours, so show off your knowledge and writing skills.
#9 Blog Commenting – If you spend an hour or two each week reading and responding to other blogs in your niche, the other bloggers will most likely begin reading your blog. Their readers may also check you out once they see that you have been leaving appropriate comments. Take the time to leave a useful comment often enough, don't just write "great post" or "thanks".
#10 Network! – If you are consistent with social media engagement, you will see great results. Share useful links from outside your blog. You've got to network with other bloggers, read, comment, and share other people's information if you want to get looked at yourself. Share information on twitter, connect with people on facebook, and engage in the comments section of your favorite blogs.
#11 Consider a collaborative effort – Sometimes two is better than one. It takes some pressure off you as you're not the sole blogger. I've found it so useful to partner up with Neil and I'm so thankful to have him as a blogging partner. It certainly lessens my load for one thing and when it comes to seo work he is so much better than me. I'm going to give you a sneek preview of our new blog which we started on Monday, take a look at Call the IT Guy.
#12 SEO – I never knew the power of this until I started working with Neil who taught me about optimizing my headline and Meta description, using the right keywords, and creating anchor text. This is definitely one of the most powerful ways to generate large traffic.
#13 Join a Blogging Tribe –The idea is to get together with other bloggers, comment and share each other's posts. Come talk to me and I'll share the secret.
Attitude
#14 Be Helpful – If you expect to receive anything from your efforts you need to give, and give without condition. Continually helping others to get where they want to go, serve them well. Are you the kind of person who really enjoys helping people? This will be hugely helpful in writing posts that more people want to read
#15 Plan ahead – plan out your posts. It helps to be organised. It saves both time and lessens frustration. I try to plan out my posts at least a week in advance creating an editorial calendar.
#16 Have a SMART Goal – One major difference between the success and failure of many bloggers will be determined by their goals. Goal's keep you motivated, they keep you going. By setting an attainable series of goals for your blog each month, you'll be able to greatly increase your motivation. This really helps finding a purpose and will also speed up your blog's growth, as you'll get more and more ambitious as you set ever higher stats. Traffic, number of comments, alexa rating, number of articles posted are the type of things I set myself goals for.
#17 Patience and persistence – Blogging is not a get rich quick scheme and you might not even get results after you have been blogging for months, you have to keep encouraging yourself while waiting patiently for results to come If you are persistent you will be able to get what you want. Blogging is like climbing a mountain and you might fall off at some point, and by remaining persistent you will eventually get to the top. You don't know when you will succeed, you don't know how close you are to your blogging desires; it isn't time to quit, keep trying and keep waiting!
#18 Stay Dedicated! – There are going to be times when you're not going to get a lot of traffic. When you'll wonder if anyone is reading your blog at all. But, you have to stay dedicated. You've got to keep at it.
#19 Treat it like a business – As a blogger, you are happy to give everything away for free on your blog. Yet it still makes sense to monetize it in some way. One very effective way to make money from your blog is by offering consulting services through your blog. Another great and effective way to make money from your blog is by promoting other people's product as an affiliate. You can also profit from your blog by creating your own products; such as an ebook.
Last, but not least
#20 Alexa Site Widget – For Alexa ranking to boost don't forget to install the Alexa site widget on your blog by visiting the Alexa Site.
These are just a few tips that I've discovered through trial and error during my own blogging career, and I think they can be of benefit to you.
This list is not all-inclusive. What advice can you offer to help others become successful bloggers? What things do you do to get your blog noticed? Please share your comments below!
Score Your Way To Good Health - With Our Healthy Lifestyle Plan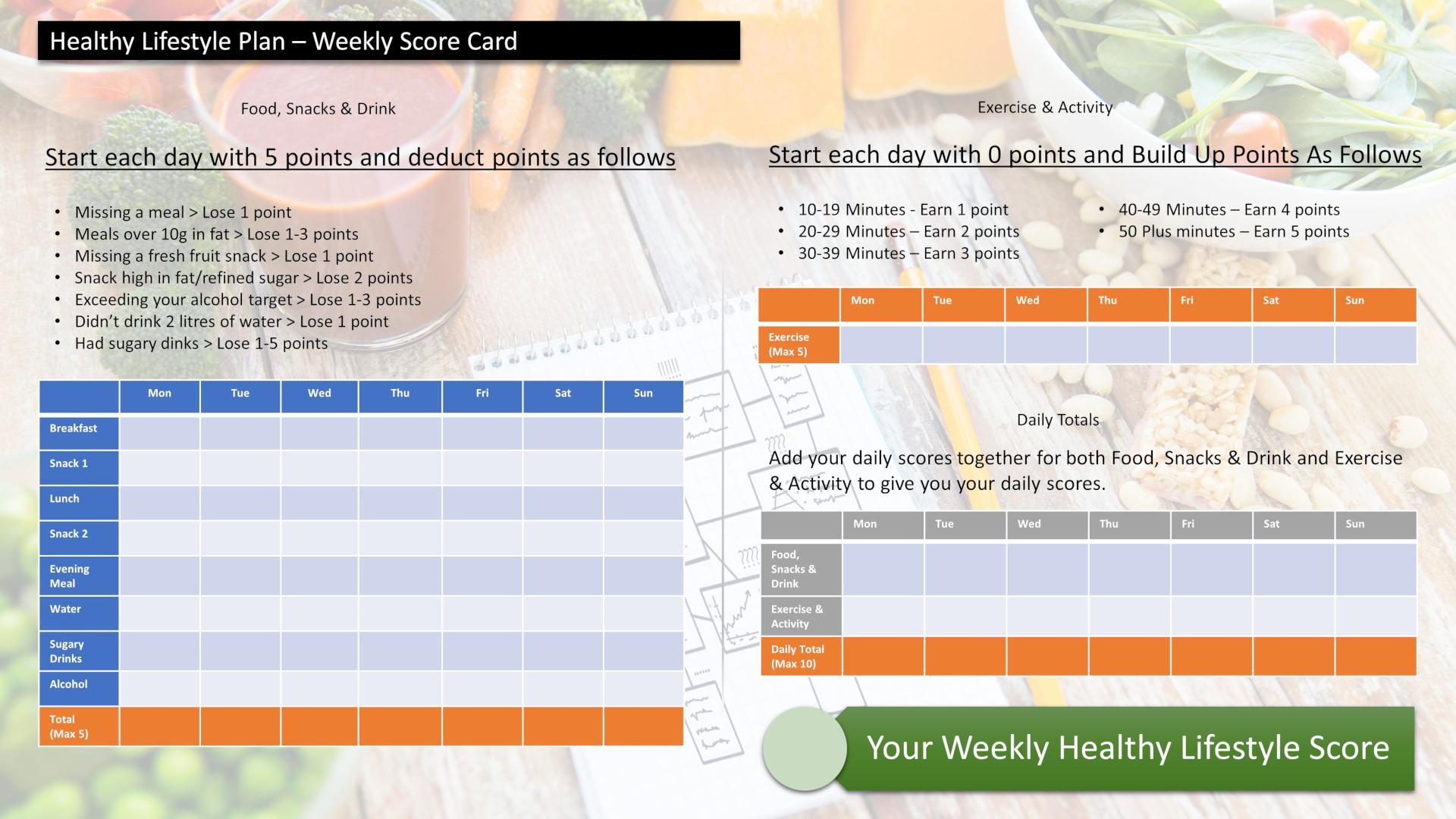 Score your way to good health with our healthy lifestyle plan and it's unique 70 point weekly scorecard!