Do you get your five a day of fruit and vegetables? Today I will show you how to get your 5 a day the easy way. More people than ever are now aware of the importance of eating more fruit and vegetables. Yet many of you are still not eating enough! The Department of Health in the UK recommend eating at least five portions of fruit and vegetables every day. Despite this, in the UK many are typically eating far less than this.
Owning a gym, as well as being a lifestyle coach I hear many excuses for not eating your 5 a day. These include:
Lack of time for healthy shopping
Rushed snacking due to busy work schedules
Healthy food is to expensive
Dislike all fruit and vegetable
Eating a wide variety of fruit and vegetables every day can make a significant contribution towards your overall health. As well as being low in fat, fruits and vegetables are crammed with essential vitamins, minerals, fibre and 'phytochemicals'- naturally occurring plant substances that are vital for good health.
Fitting 5 a day into your day is not as difficult as you may think; if you eat one or two portions with each meal, a glass of fruit juice or the occasional fruit snack in between meals you might be surprised at how easy it is to eat 5 a day.
The "Five-A-Day" message is of great importance as eating at least 5 portions of fruit and vegetables has very real health benefits such as:
Helps increase fibre intake, reduce fat intake, maintain healthy weight and reduce consumption of refined sugar.
Reduces risk of many cancers.
Reduce the risk of deaths from cancer by up to 20%.
Reduce the risk of coronary heart disease and stroke.
Aid lower blood pressure, lessen the risk of cataracts and symptoms of asthma.
Helps maintain a healthy gut and prevent constipation and other digestion problems.
Getting at least five portions of fruit and vegetables a day is the building block of a healthy diet. Not only are fruit and vegetables a good source of nutrients, they also tend to be low in calories and full of fibre and so help us maintain a healthy weight.
Here are some recommendations you can follow to make it easier.
For a Healthy Breakfast:
Take a glass of 100% pure, unsweetened fruit juice
Cut up some fresh fruit over your breakfast cereal
Mix a handful of dried apricots / raisins into some Yogurt.
Drink a luscious fruit smoothie made from fresh fruit.
Add mushrooms or tomatoes to scrambled eggs.
For Healthy Snacking
Handful of dried fruits
Try carrots batons, celery sticks, baby sweet-corn, asparagus tips
Keep a piece of fresh fruit on hand, eat it before you reach for high sugar / calorie snacks
For Lunch
Make sandwiches using tomatoes, cucumber, mixed salad leaves
Making vegetable soup yourself is also a good option
Eat a healthy salad with some protein
For Evening Meal
Include at least one vegetable in your evening meal
Have a salad or vegetable side dish with your main meal
Make a fresh fruit salad for dessert
So as you see there should be no more excuses why you can't consume your 5 a day. Also you have to be able to see the health advantages to yourself too.
Score Your Way To Good Health - With Our Healthy Lifestyle Plan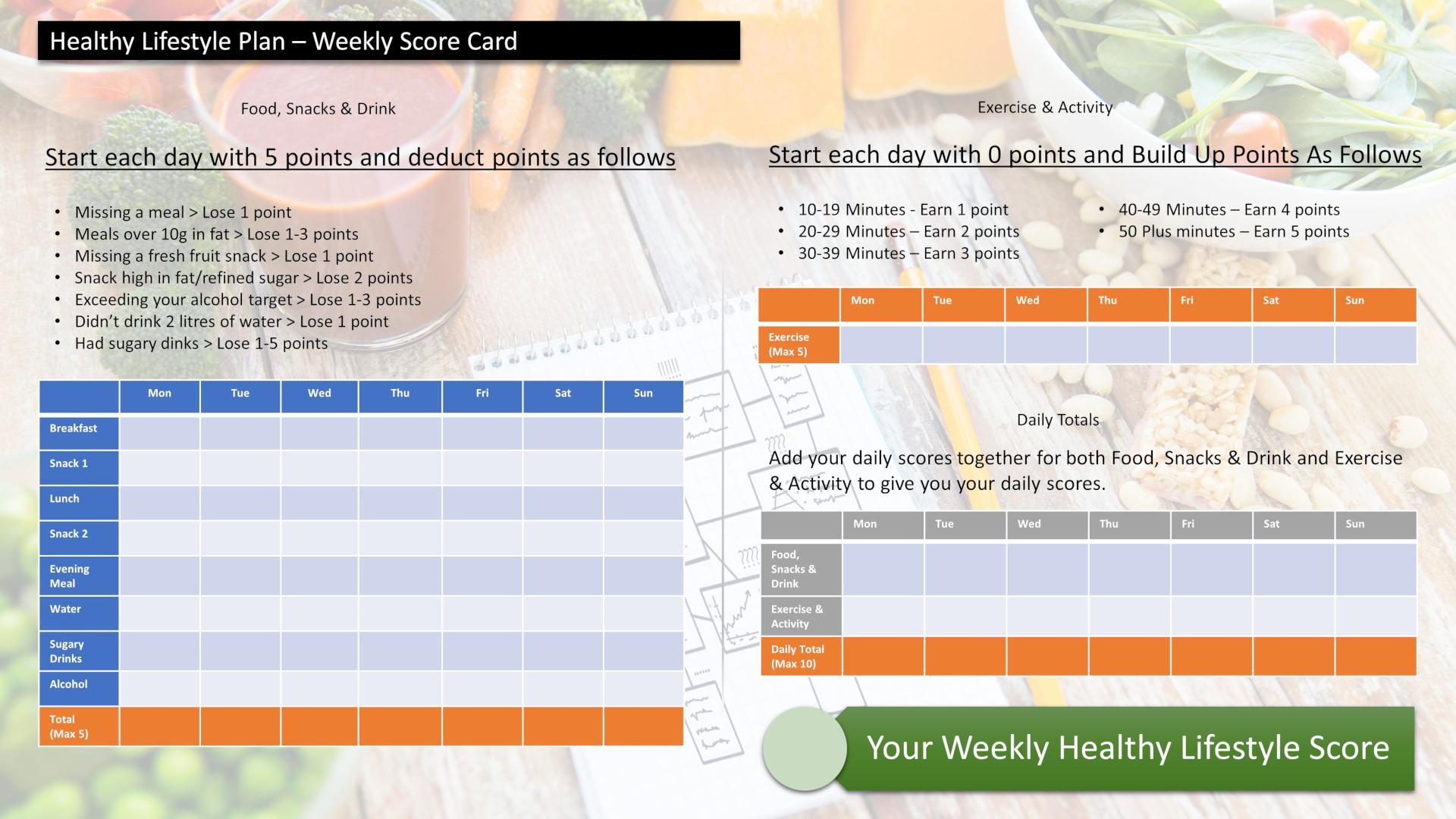 Score your way to good health with our healthy lifestyle plan and it's unique 70 point weekly scorecard!