Taking the time to look after yourself is a vital part of healthy lifestyle living. Your daily routine can be exhausting and stressful. So many people run themselves into the ground, over extending themselves trying to juggle all their responsibilities. Almost everyone is juggling more than one thing at a time. It can so easily get to the point where you are tempted to just throw everything into the air and let it all come crashing down? Warning. Don't let this happen to you!
It can be so difficult to find the time or energy to look after yourself. Life can be physically and emotionally demanding but it is so important for your own mental and physical health to cope and carry on.
Looking after yourself may be right down on the bottom of your to-do list. That's if it even appears on there at all. But you can't achieve anything in the long run if you don't take care of yourself.
So how good a job are you doing currently?
• Sleep – are you getting enough?
• Health – how is your health in general?
• Relationships – are they fulfilling and happy?
• Work – Are you creating a healthy work/life balance?
• Time – are you able to have any time for yourself?
Looking after yourself is essential; otherwise you may become overwhelmed, stressed or depressed too. By looking after yourself, you will be more able to handle all your responsibilities.
I'll let you in on a little secret. It's been a really busy week, and today I've been feeling slightly under the weather, a little sorry for myself, and totally exhausted. Long ago I would have forced myself to push forward, struggling on, feeling like a martyr for the cause, and whinge just a little. But I know better now.
It is absolutely essential for my health, and performance in all my roles to promote my own physical, mental and spiritual well-being. If I don't my internal resources would become totally depleted, and I'd end up staggering from one day of exhaustion to another.
So, give yourself permission to have some fun and some 'me' time. Think about what you could do each day, even if it is only for 15 minutes a day, to support your self-nurturing.
A long walk in nature?
Curling up in front of a roaring fire listening to music?
Taking time to soak in a warm bath with scented candles and salts?
A relaxing massage?
A glass of wine (red) and a chat with a friend you haven't seen in a while?
Playing your favourite sport?
Spending time doing your favourite hobby or pastime?
A trip to a gallery or exhibition?
Reading for pleasure?
A good movie or play?
Dancing?
What would make you feel happy and relaxed?
Your body and mind need time to relax and recover from the effects of everyday activity and stress. All of the above can help you to wind down and recover from your stressful life. But ordinary relaxation exercises, practised every day, are also very beneficial. Read this previous article for a great way to relax your mind and body through Progressive Muscular relaxation , or Meditation .
Exercise can also help make you feel relaxed and energised. It has beneficial effects on the heart, helps you to reduce anxiety and depression, lose weight and feel fitter. Vigorous activity stimulates the body into releasing endorphins, the body's natural antidepressants. For the greatest benefit for your general health try to do 30 minutes or more.
Also remember if you eat healthily, you will be healthy, if you don't, you won't.
Looking after yourself means being nice to yourself. So start today. No more blogging for me till Monday. Have a great weekend
Score Your Way To Good Health - With Our Healthy Lifestyle Plan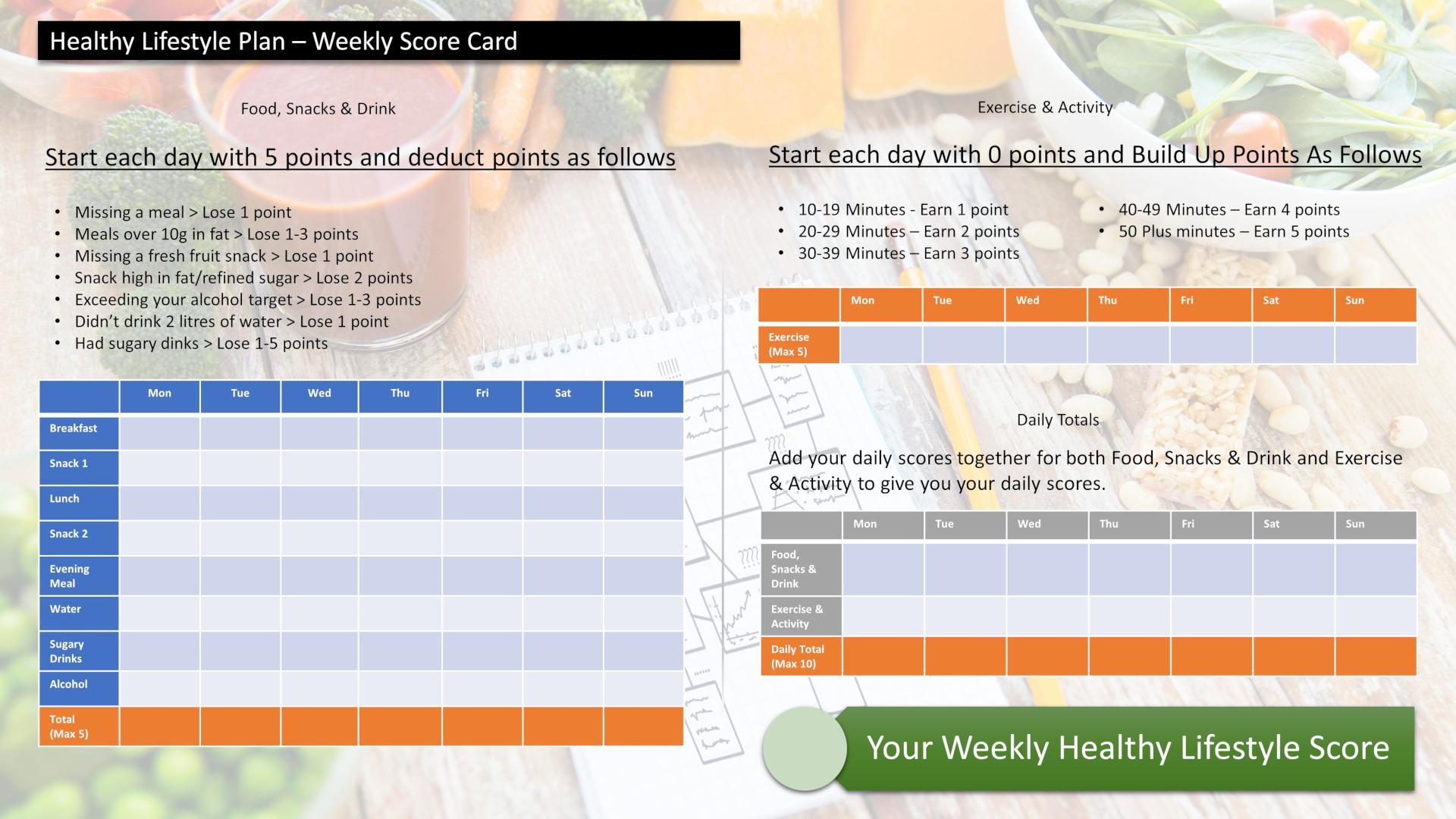 Score your way to good health with our healthy lifestyle plan and it's unique 70 point weekly scorecard!