Perhaps one of the hardest parts of being a father is letting go. The liberating of those that we've created, raised, cared for and built our worlds around is never going to be easy.
I'm sitting on the edge of my "empty nest". It seems the time has arrived where I now have to let my daughters go and allow them the freedom to make their own choices and grant them their independence.
So many years of fatherhood, then, one day, they're gone! Time flies by. You have to live every moment as though it is the only one. Enjoy your children all along the way. No father wants to see his offspring hurt and therefore we try to guide them into safer harbours. Yet we know our children are the master of  their own destinies. Both my girls have grown up with common sense and a responsible value system, and it is almost time for me to let them go. All children grow up, we fathers have to accept that.
My youngest daughter Carly goes away for a month next week. I've never been apart from her that long before. Not even when I was frequently away on business, travelling the county was I separated from her that long.
We have just shared a magic moment, having returned from a couple of days away together. Yesterday we enjoyed the day at Alton Towers, an amusement park. From our arrival we had just a lovely day. We went on plenty of rides including the Rapids and The Flume where we got wet through, but it certainly didn't dampen our day. It was for me an adventure to remember for ever. It was strange not having her Sister, Laura-Jayne with us. But she has only just started her new job and so couldn't get away. We had the pleasure of Carly's best friend Nicky. It was a relief to me having her there because she was very pliable to Carly's request to join her on the rides I wouldn't go on.  It was just a great day, and I'm sure Carly will have a fantastic month when she's away.
No parent wants to let their child go. It's human nature to want to hang on tightly to your offspring where you can protect them and keep them safe.
A daughter is a gift of love. Author Unknown
I can no longer cling to the perceived safety of seeing them as children, afraid to let them go letting them climb the ladder of life, and not let my fear of them falling off it effect my actions towards them.
Laura-Jayne in September will be returning to university to complete her third and final year of Forensic Science and Criminology. Just writing that makes me so proud. She is a hard working girl, as well as being a social animal. I certainly don't spend the time with her that I would like, and just hope she knows how proud of her I am.
I know that in order for both my girls to reach for the next rung, indeed to climb that ladder to greater achievements I have to relinquish my grip on them, granting them the opportunity to soar higher than I had ever imagined.
I have played my part in their development and my responsibility now is to empower them by giving them a little push and watch them grow.  I can no longer protect them by seeking to keep the umbilical cord intact by keeping them dependent on me for direction, I simply must give them the freedom to cut loose to grow and fulfil their potential.
All parents want what is best for their child. We need to let them live their own lives. Once a child is an adult, they have the right to make their own decisions, to do the things that make them happy. We the parents have to let them cut the cord.
Of course they will make mistakes sometimes, but it is valuable learning that they have to experience first hand for themselves in order to fully understand how they need to improve.
They will face a mix of challenges, joys and disappointments. Of course, a part of me will always be there to catch them if they fall and can't find their way back up. Nothing can compensate for the thrill that comes from leaping off the edge of that cliff with bravery and resolve and powerfully forging a new life for ourselves! I thought of these words as I was diving down the huge drop on the flume ride that the photo with this article shows.
The possibilities are endless for both my girls. They can achieve anything they set out to. All they need to do is launch themselves into a  journey of discovery and endless success.
It is time to release my children, and dare to let go of their hand to allow them to fly free to choose their own destinies. It not only takes courage, but it takes trust in the processes of life to give wings to their future and our own. I will be there biggest fan for ever more.
So now it's time for me to simply allow my children to grow up, spread their wings, and fly away. In Carlys case she is flying away next week. So soon. Through this process of saying goodbye to my children as children, will create an empty space within my life, but I know they will fill it with more joy from the pride of seeing their achievements.
I will take pleasure in watching them both grow up and look forward to the occasional cuddle, kiss and your words telling me that they love me. I will never want to stop telling them 'I love you', and 'that you are my life, my reason for living, that your smile lights up my world. I feel for both of you exactly the same as I did on those two happiest days of my life, when the midwife put you into my arms that first time'.
A father is always making his baby into a little woman. And when she is a woman he turns her back again.  Enid Bagnold
I will always be here for them. I will be watching them as they grow and will be there to laugh, cry and cheer them on.
As a father, all I have ever wanted for them both is to be happy. I have made many mistakes but know I still honour the privilege granted to me of being their Father. I love them so much like only a father can love his daughters
I hope they will be able to find the courage and the strength to go anywhere, do anything and to accomplish greatness. I am already so proud of them, always and no matter what, and they are both very special.
No one can see the future or know what it holds.  Life will be what you make of it. Think for yourself, follow your heart, and make a beautiful life…the kind of life you deserve.
Now I can sit back with such pride watching my daughters grow and develop into beautiful women.
Are you a parent who can't let go or a child who can't escape the control of your parents? So what do you think? Please tell us your thoughts in the comments section, we'd love to hear from you!
A daughter is the happy memories of the past, the joyful moments of the present, and the hope and promise of the future.  Author Unknown
Here is a song I dedicate to them

Score Your Way To Good Health - With Our Healthy Lifestyle Plan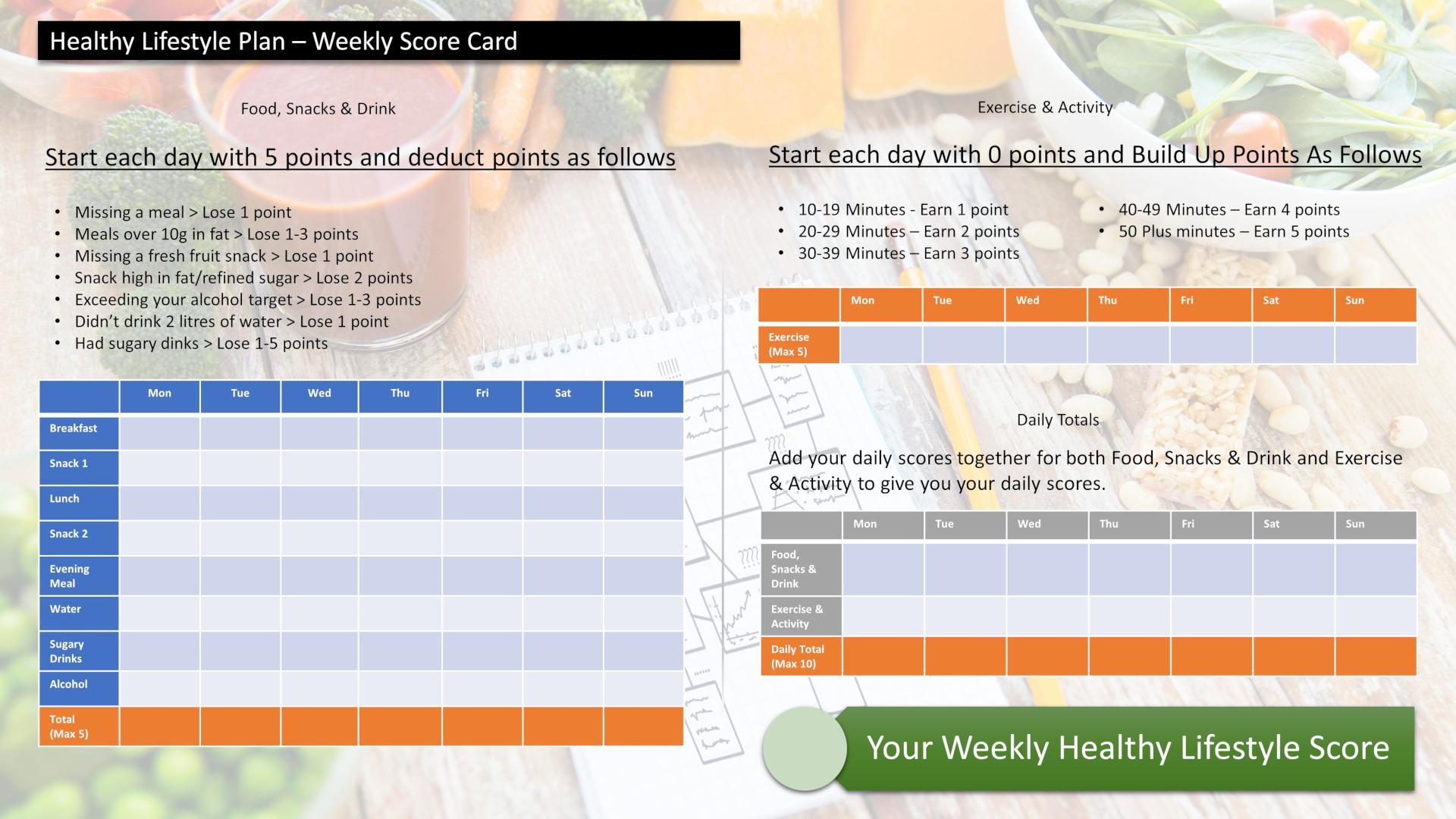 Score your way to good health with our healthy lifestyle plan and it's unique 70 point weekly scorecard!