So here we go — you are all set to storm into 2011 with great fitness resolutions. So what are your goals? Are your resolution to get fit? Lose weight? Feel more energetic?
So you just can't get into the Gym! You really have no time to workout! Between work, commuting, and spending time with your family you barely have time left to get 7 hours of sleep per night.
In my 15-plus years of working in the fitness industry I've learnt nothing sets a person up for success as much as body weight training.
For as long as man has realized that intentional physical movement can improve health and fitness, bodyweight exercises have been integral to training.
It's a fantastic method to burn body fat and you can do it in your own bedroom…with no trips to the gym, weights or any equipment whatsoever.
There is no better training then with your own body weight. You don't have to spend money on gym memberships and special equipment to get a good workout. There are plenty of bodyweight exercises that can give your body a real challenge, building up your strength and fitness in the comfort of your own bedroom. In fact, you can do these exercises anywhere, at any time, so it's easy to fit in to your daily schedule.
Here are my Top 10 favorite bodyweight exercises:
· Push-ups
· Crunches
· Planks
· Sit-ups
· Squats
· Triceps dips
· Jump squats
· Mountain climbers
· Burpees
· Lunges
If you choose the right mix of activities, you can get a real workout all in the comfort of your own bedroom, with no need for extra equipment.
You can create quite a challenging workout using just your bodyweight. There are so many different moves you can do to work all your major muscle groups, so you can use bodyweight exercises to tone your body all over. And if you increase the speed, you can get a decent cardio workout as well- so your overall strength and fitness will improve.
Over the next few months I will provide you with a variety of 30-minute body weight training circuits. You can easily find videos of each of these exercises on YouTube if you're not sure what to do.
The Gymz Body Weight Cardio Circuit
This first training circuit will help you burn fat as well as start toning some muscle. Do each exercise with as little rest as possible between each.
1. 60 Jumping Jacks
2. 10-15 Pushups
3. 10-15 for each leg Walking Lunges
4. 60 second hold Plank
5. 50 Squats
6. 10 Burpees
7. 20 Sit ups
8. 25 per side Running High Knees in Place
Rest One Minute and then do it 2 more times depending on your fitness level. You can do this 30 minute workout 3 times per week.
Now get your body moving!!
Score Your Way To Good Health - With Our Healthy Lifestyle Plan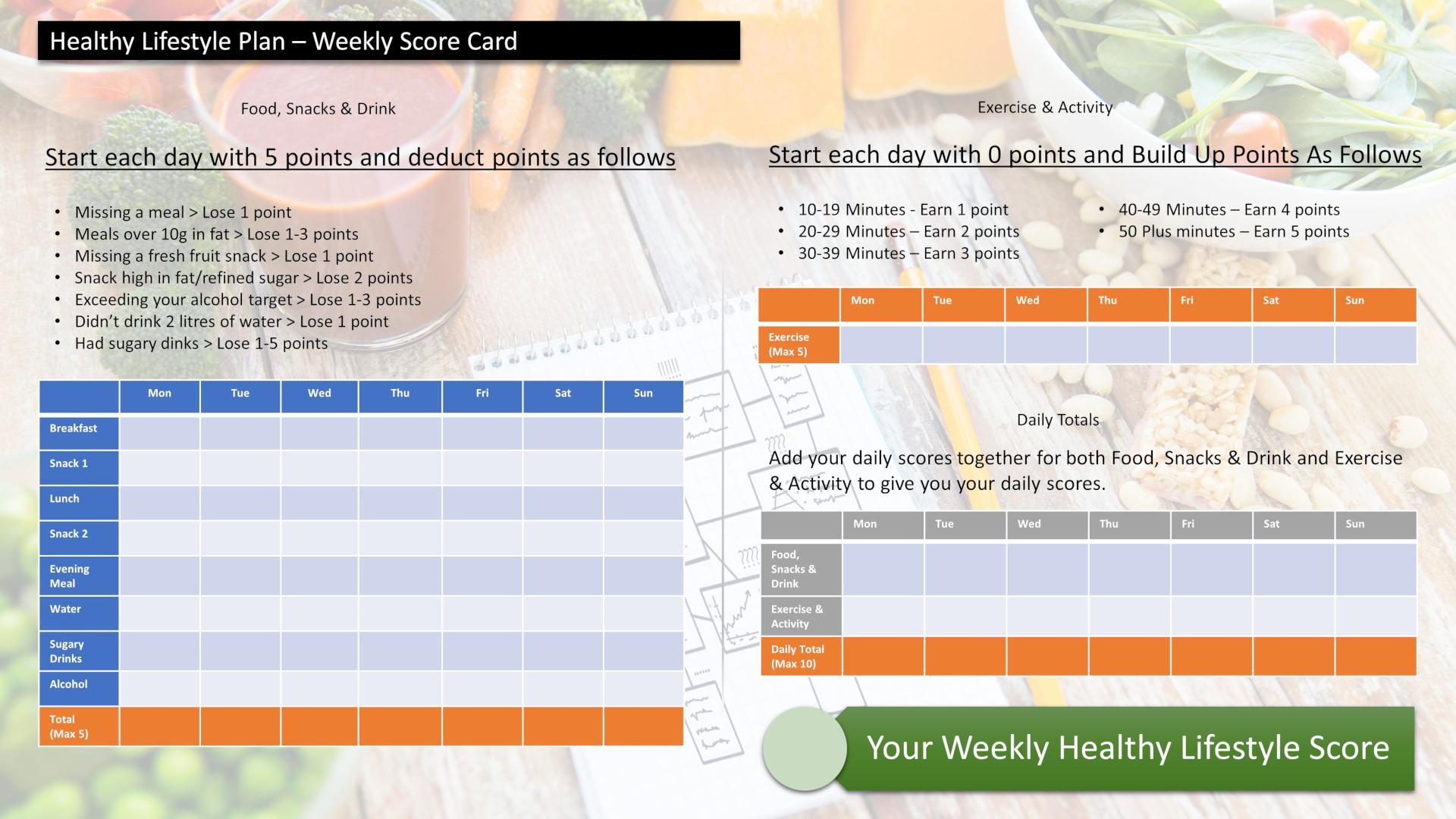 Score your way to good health with our healthy lifestyle plan and it's unique 70 point weekly scorecard!