Well I have made a start, today was my first badminton lesson. I made an important discovery today. Readers of this blog will already know that one of my biggest passions is for sport. I have sport in my blood with the fact that if my Dad wasn't talking about sales and marketing which were his work, then he would be talking about sport.
Ever since I can remember I have played one sport or another. One of my problems has always been that I only play to win. Whatever sport it was that I may have played, I would love the sport, but I'd love winning more.
My business has led me to work very close with Peter Walton a Badminton Coach, as well as Andreas Sievers of Victor International and we are also now beginning to work closely with Carlton, two of the major brands in the badminton industry.
In my mind you can't spend all that time working in a field and not immersing yourself actively into it too. So I made the decision to pick up a badminton racket some twenty years after the last time I did. With the fact I work with one of the best coaches in North England it was a no brainer for me to ask him to help me 'improve my game.'
Well today by badminton coaching started. Off to the Virgin Wearside Health and Racquet Club in Sunderland for coaching session number one. It was harder than I imagined it would be. Badminton is quite simply one of the most awesome sports you can play. I'm hooked after just one lesson. What a great way it is to get fit. Despite the fact that I've been in the gym daily for the last 2 weeks, at the end of our session I was completely exhausted, but at the same time exhilarated. What I know is that badminton can provide a great, fun way to build upper body and leg strength, increase your flexibility and agility as well as it's a great fat burning sport to. My legs are already killing and its only been 3 hours since I left the court.
For an hour Peter helped me establish the proper way of holding the racket. He taught me how to grip it for a forehand shot and the different way for a backhand. He also showed me how not to hold the racket as though it was a 20kg weight that if I dropped it, it would smash my toes. You hold it with a light grip, which at first felt so strange. Then he showed me proper forehand and backhand strokes, and how to use my wrists. We practiced hitting shuttlecocks over the net, and he gave me some exercises to do such as bouncing the shuttlecock on your racket head, and hitting the shuttlecock with the racket behind your body. I am sure this one was thrown in to bring me to my knees, and he was nearly successful.
For me then to gauge my level I asked him to allow me to play a game against him. Me and my big mouth. Whilst I was just learning to hit the shuttle in the right direction he was hitting it at speeds that my eye couldn't cope with, and he had this nasty soft touch where he could just drop the shuttle over the net so it trickles over and hits the ground quicker than I could get there from the back of the court.
My humiliation was complete at the end of two very close games, when Peter finally scraped through by a score of 21 to 1 and 21 to 1. I'm convinced he gave me the point in the second game otherwise I came out with a truly blitzing backhand and it was completely brilliant. The benchmark has been set. I'm hooked. I know me and that silly winning mentality that I love so much. I will not stop learning now till my game improves and the day comes when I beat Peter, not just get two points a game. If you read this Peter, I lay the challenge, but you've got to keep coaching me because you're an awesome teacher. Your passion for the game has definitely rubbed of on me.
So my message to my readers. If you're a little bit bored with your inactive lifestyle then do something to break the habit of vegging out on the couch. Take up a brilliant game like badminton. From what I've already learned it's a great way to get fit, have fun, vent your frustrations, and make some friends.
Score Your Way To Good Health - With Our Healthy Lifestyle Plan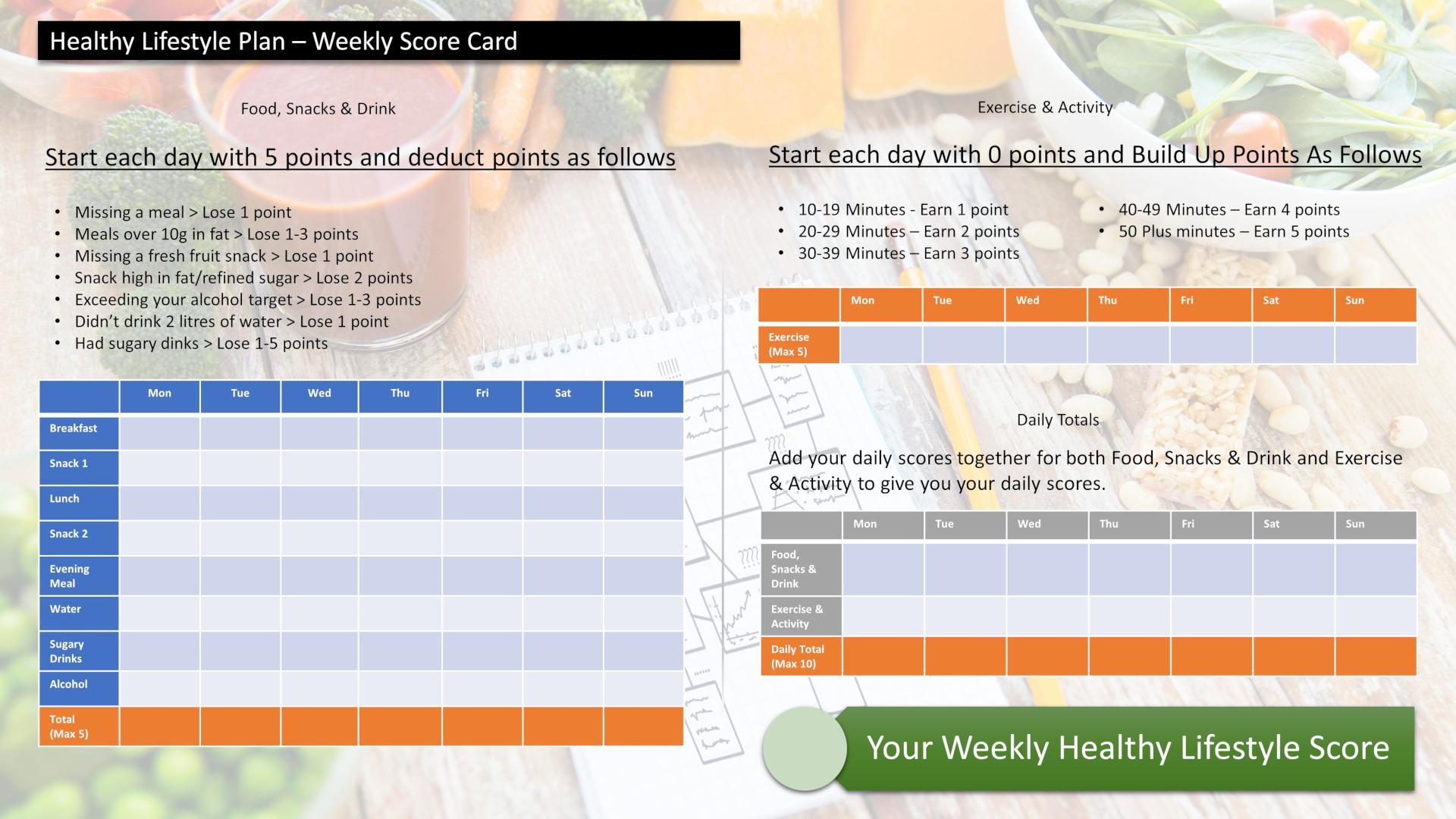 Score your way to good health with our healthy lifestyle plan and it's unique 70 point weekly scorecard!