"We do not stop exercising because we grow old, we grow old because we stop exercising." -Dr. Kenneth Cooper
It's never too late. Don't use your age as an excuse for those aches and pains. Age is just a number.
The saying goes "You're only as old as you feel,". Today you find us 'older people' are feeling younger than the older felt some years ago!
Someone asked me today when I was training in the gym how it felt to be " old and almost 50″. Although two years ago I had a major eye operation, and it took over 9 months to fully recover from this, I am succeeding in transforming my body, and continuing to turn back the clock on the aging process, revitalising my health, and get back to living the life I want! When I first got back to weight training, and running I was feeling pretty run down. I was overweight, feeling tired all the time, and my confidence levels had reached an all time low. My health was in shambles and I admit I was starting for the first time to feel old. Now I'm feeling great again, and you could do the same.
Some people have asked me if I've yet experienced a mid-life crisis. Others have asked me if I'm starting to feel old. What's, old? I am still able to run as fast as I used to, I'm lifting the same weights in the gym as I did 20 years ago, in fact I'm probably lifting heavier. I still enjoy the occasional drink in my local pub socialising with my friends, I'm still as physically active as I was at 21. I still have all my hair, and it's still my natural colour. I don't drink coco at 9pm, wearing my comfy slippers (I don't own a pair), and go to bed with my hot water bottle.
At 48, I feel strong, confident and ready for a new chapter of life that I'm positive will totally surpass all of the great things I think I've experienced so far. I know my biological clock is still ticking. There is nothing I can do about that. But, I'm going to make the most life, and to do that I know I need a great body and a strong mind.  After all I'll be a long time dead. I'm honestly excited about the time I have to come, and I want the same for you.
Are you over forty and sick and tired of being unfit and want to learn how to improve and extend your life? Or are you happy being on the scrap heap of life?
You need to start building for yourself a new healthy lifestyle plan where you will exercise more and really pay attention to having a truly healthy balanced diet and develop a positive mental attitude.
By doing this you are taking control over your future. While you age in your senior years you will actually grow younger and more fit in body and mind! When you finally see the fruits of your healthy lifestyle, the contentment you will receive cannot be equalled! You will be inspired and energised to live your life to the fullest!
There is no need to settle for an aging and deteriorating body! Take your aging process into your own hands and take control of your life! It is never too late to become fit and healthy! You just need to change your lifestyle by starting to eat properly and exercise.  You need to continuously use your body to keep your circulation regulated and prevent you from 'rusting' and becoming stiff and tired. Middle-aged and senior citizens who keep active have higher energy levels and are more fit, as their bodies work more efficiently at removing harmful toxins and waste.
It is never too late to start improving your health and fitness! Whether you are over 40, 50 or even 60 , the right healthy lifestyle can make you fit for a lifetime!
You simply have to adopt a smart, realistic and enjoyable healthy lifestyle plan. The keys to any plan would include:
1.         Weight training
2.         Cardiovascular Exercise
3.         Good nutrition
4.         Positive thinking and having purpose
5.         Sleep
Middle age is no longer the beginning of the end and there are many of us older folk who put the younger generation to shame.
So keep reading my blog and learn how to be an old man in a young, fit, healthy body.
Score Your Way To Good Health - With Our Healthy Lifestyle Plan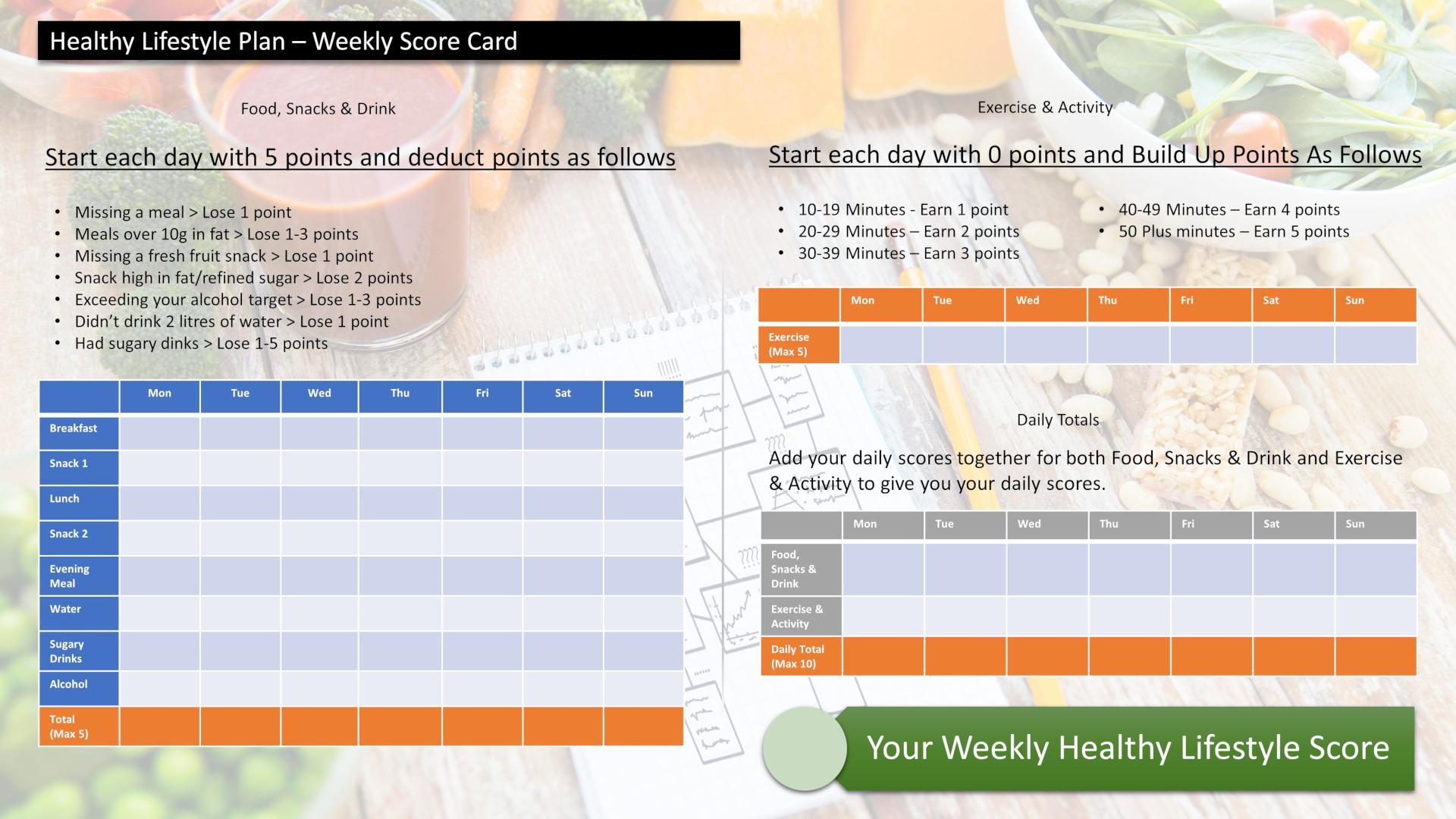 Score your way to good health with our healthy lifestyle plan and it's unique 70 point weekly scorecard!