To most people, understanding the principles of healthy lifestyle living is only slightly less confusing than understanding Einstein's theory of relativity. A new diet book or fitness article comes out weekly telling you the latest wonder method to achieve your results. Every time you read something new it tells you a different thing to do.
But Summer is nearly here, and you want the answer now.
So, it's been a very long since you can last say that you were in shape. You have kids, a sedentary job, you're too lazy to exercise, and are always eating on the run so no time to eat healthily. But you have decided now is the time to look and feel better about yourself. That is what probably has made you find your way to my blog.
Here in the United Kingdom the sun has arrived. So more and more people are now thinking of shaping up for summer, tightening and toning their bodies ready for the beach. The days are getting warmer and longer, layers are coming off, and the excess baggage you are carrying is starting to appear more obvious. Well before you hit that beach, and get down to your bikini or shorts, you best do something about it. Its time to get that body toned, sculpted and ready to strut your amazing self down that sandy beach while soaking up the sun in your itsy-bitsy two piece bikini or speedo trunks (if you're a sad posser).
The problem that many have, is not sticking to anything long enough to get back into some semblance of good shape. There are just too many things that get in the way and the drive isn't as high as it should be.
The first step is deciding that you do really want to feel and look better.
There is a very simple, effective process to ensure you sustain long lasting weight loss. If you are determined to succeed, then you must do two things.
1. You must eat healthily to provide your body with the maximum level of nutrients with the minimum of bad fats, sugars and additives.
2. You must exercise regularly in order to burn off more calories than you are consuming.
You must satisfy these two main criteria before you can hope to get a beach body. That is all there is to it. How difficult is that? How much do you want me to tell you? Enough to confuse you, so you can't achieve your goals.
Your body, in order to maintain a healthy weight, good level of fitness and an efficient metabolism, needs to be nourished correctly and worked hard enough so that it does not store large amounts of excess calories as fat.
In order for your body to use up the fat it has stored up over a long time, exercise is essential. This will not only cause your body to burn all the calories it has ingested, but to use those calories to build more muscle mass. This, in turn makes each exercise session more efficient as the increasing mass of muscle will use progressively more calories to do the same amount of work (because there are more muscle cells to feed) while enabling you to exercise harder and for longer because of their growing strength. This all causes a snowball effect in your exercising process, as the more you do, the more you can do. And the more exercise you do, the more calories you will burn.
So over time, you will end up burning far more calories than you are consuming which will have caused the desired amount of weight loss. Once you have reached your target weight, you don't stop there, but continue to exercise while actually increasing your food intake because you must them maintain the balance of calories consumed to calories burned.
This ends up with you having a much fitter, better toned body that is at its correct weight with the added bonus that you will reach a stage where you can eat much more while not gaining weight! Which is actually a place that we all want to be!
Getting back into shape doesn't have to be that difficult, if you stick to a good diet, exercise regularly and stay committed to it you'll be seeing results in no time at all. So to get your body in tip-top shape for beach wear that is all you have to do. Simple really!
Score Your Way To Good Health - With Our Healthy Lifestyle Plan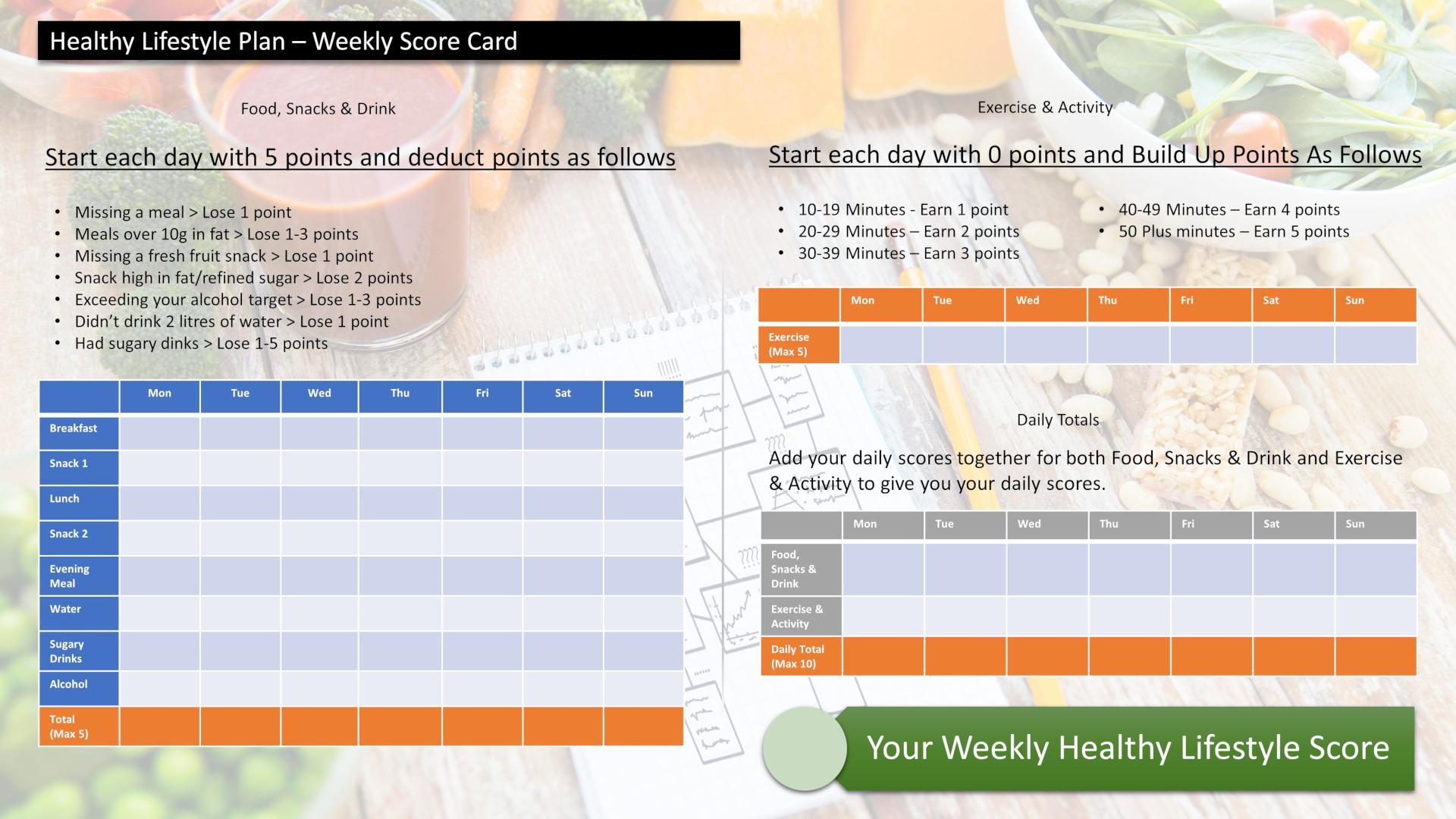 Score your way to good health with our healthy lifestyle plan and it's unique 70 point weekly scorecard!