Today I'm going to write about my business partner Neil, an inactive type who I've got down to Wearside Virgin Rackets Club at long last. Your health is the most important thing in the world. Maybe you only come to realise that when you go through a period of ill health. The last two weeks for me have been so frustrating. I've been able to do absolutely nothing having struggled with a heavy cold and just when I seemed to be making a recovery I got struck down with food poisoning.
The thing I hate most of all when I'm struck down by illness is the inactivity it forces you to accept. Yet my young business partner is quite happy to sit all day long, staring at his computer only getting up for a toilet break. Well no more.
Today I have brought about changes in his life that each and everyone of you 'inactive' types should do for yourself. I had him doing an activity for thirty minutes that he claims he would never do because it's on his top 5 hate list and that was to train with me in the gym. For me it was great to be back after 2 weeks off. We only did a recumbent bike program like I wrote about the other day, and about 15 minutes with weights. After this we then went and played an hour of Badminton. An hour was plenty since there is no air conditioning on the badminton courts at Weardale Virgin Rackets Club. I was happy to leave the court at the time we did, as Neil was nearly unconscious due to the heat and I won a glorious final game 21 to 16.
Research has found direct links to ailments such as heart disease and diabetes among inactive types. These serious consequences can not to be ignored. And I can't afford my partner to be ill I need him working. Only one of us can have time off to be ill, and that's me after all he is 18 years younger.
Neil, he sits all day engrossed in his work, moving only for the occasional toilet break. How crazy when all our businesses are associated with healthy lifestyles, sports and supplements. He must realise sitting all day is doing serious damage to his long term health, but no longer. He is now taking action and getting active before he experiences bad health.
Am I exaggerating the importance of getting active? People who don't do enough physical exercise are seriously risking their health, says the World Heath Organization. Physical inactivity causes about 3.5 million deaths every year. So obviously I'm not being over the top when I say getting active is essential for your health.
So choose some form of physical activity you would enjoy and start doing it. It doesn't matter how long since you last did it. So whether it's going swimming, playing racket sport like tennis, squash or badminton, doing a dance or aerobic class, or walking, get started now and aim to do something at least 3 to 4 times a week. If you can try and get up to one hour of moderate or vigorous activity every day.
Soon We are going to try our hands at tennis and squash because it's all available to us at the Weardale Virgin Racket club, and afterwards we can always reward ourselves with a drink in their bar, water of course.
The one thing that's for sure Neil is no longer an inactive type.
Score Your Way To Good Health - With Our Healthy Lifestyle Plan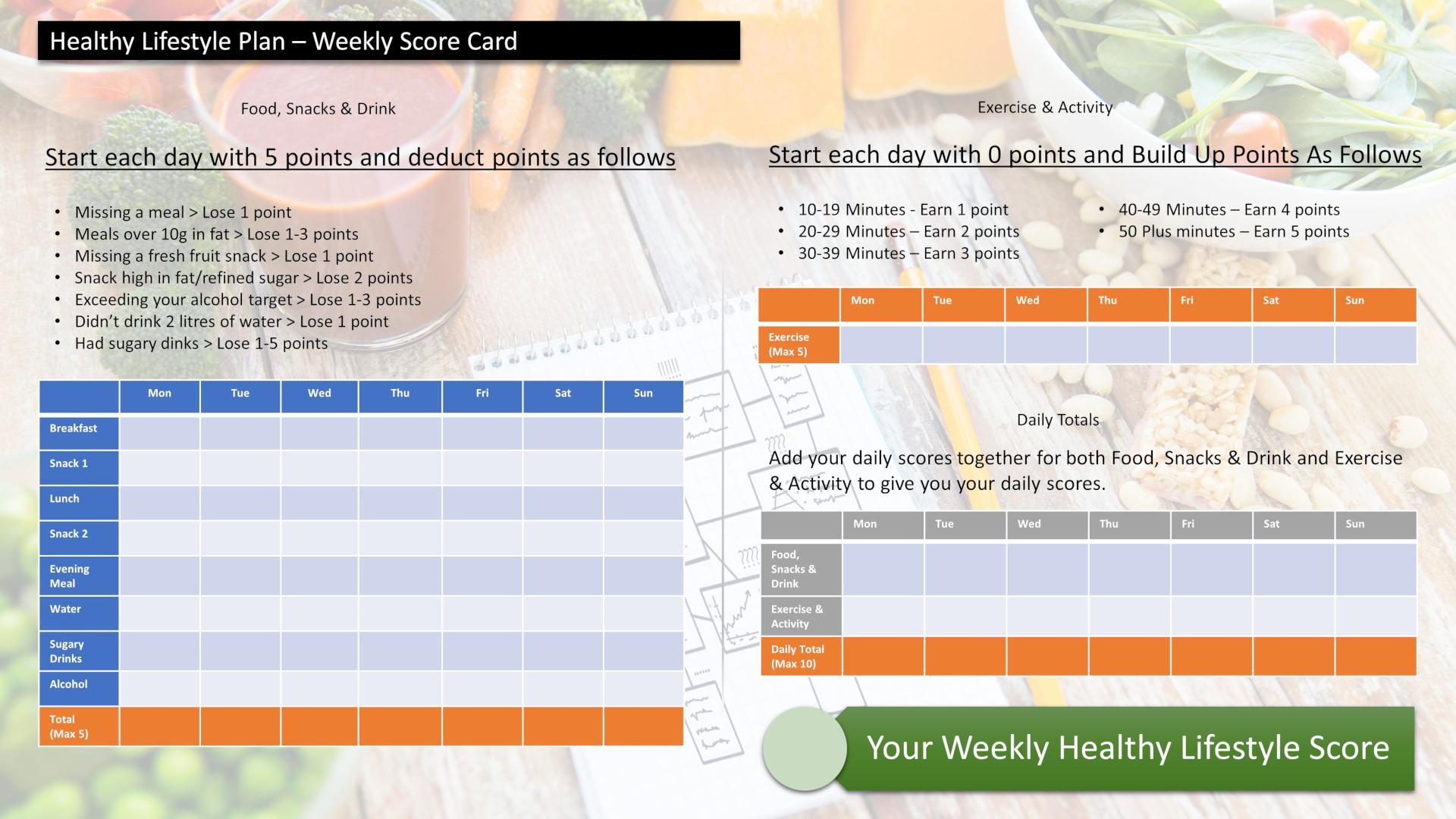 Score your way to good health with our healthy lifestyle plan and it's unique 70 point weekly scorecard!