Are you thinking about starting a fitness program to lose weight? After all you know how essential it is if you want to be living a healthier lifestyle.
A fitness program is one of the best things you can do to lose weight, but it is also essential for good health.
The biggest problem isn't normally getting started on a fitness program but sticking to it. You have to make a commitment to your fitness program every day making it one of your priorities.
The weight loss industry is huge yet it is apparent to me that people still struggle to know what is the best type of exercise they should be doing to enable them to lose weight.
It's not that hard or complicated as most people make out. When most people think about losing weight through exercise they think of taking their body to breaking point and the agony of the after affects, but it doesn't have to be like that.
Here is the simple factor that controls what you have to do:
You lose fat by burning off more calories than you eat.
So to burn off the calories you need to do at least 30 min of cardiovascular exercise every day.
Doing the right type of workout you can also elevate your metabolic rate so that your body burns off more calories for the next 23 hours of the day too! This is called the fat afterburner effect.
The right type of exercise constitutes cardiovascular exercise that elevates your heart rate to 70%-85% of your maximum for at least 20 minutes with a 5 minute warm up and 5 minute cool down. The best cardio for this is HIIT training. I've written more about this in 'High Intensity Interval Training (HIIT)'.
So my suggestion is aim to do six 30 minute high intensity cardiovascular workouts every single day and then take one rest day this is the type of fitness program to lose weight that you need to do. .
I find it best to work out heavily in the morning and it gets me pumped for the whole day.
It's not just cardiovascular exercise that is important, weight training is just as important in my opinion in the pursuit of losing weight. Weight training burns off calories too but more importantly it helps increase your muscle mass which increases your basic metabolic rate so you burn off more calories 24hrs a day.
I would start with your cardiovascular training for the first 14 days. Once you have done this, you now need to kick your workout into full gear, so start adding some strength training sessions. Plan to continue with your 30 minute cardio training every day and now add strength training for a further 30 minutes, 3 times a week.
You see building muscle is going to help you to burn fat. Let me give you a program to try. My favourite program is called the 300 workout and I wrote about it in the aptly named The 300 Workout.
If your goal is starting a fitness program to lose weight give this a try and I promise you you'll see results pretty quickly.
Score Your Way To Good Health - With Our Healthy Lifestyle Plan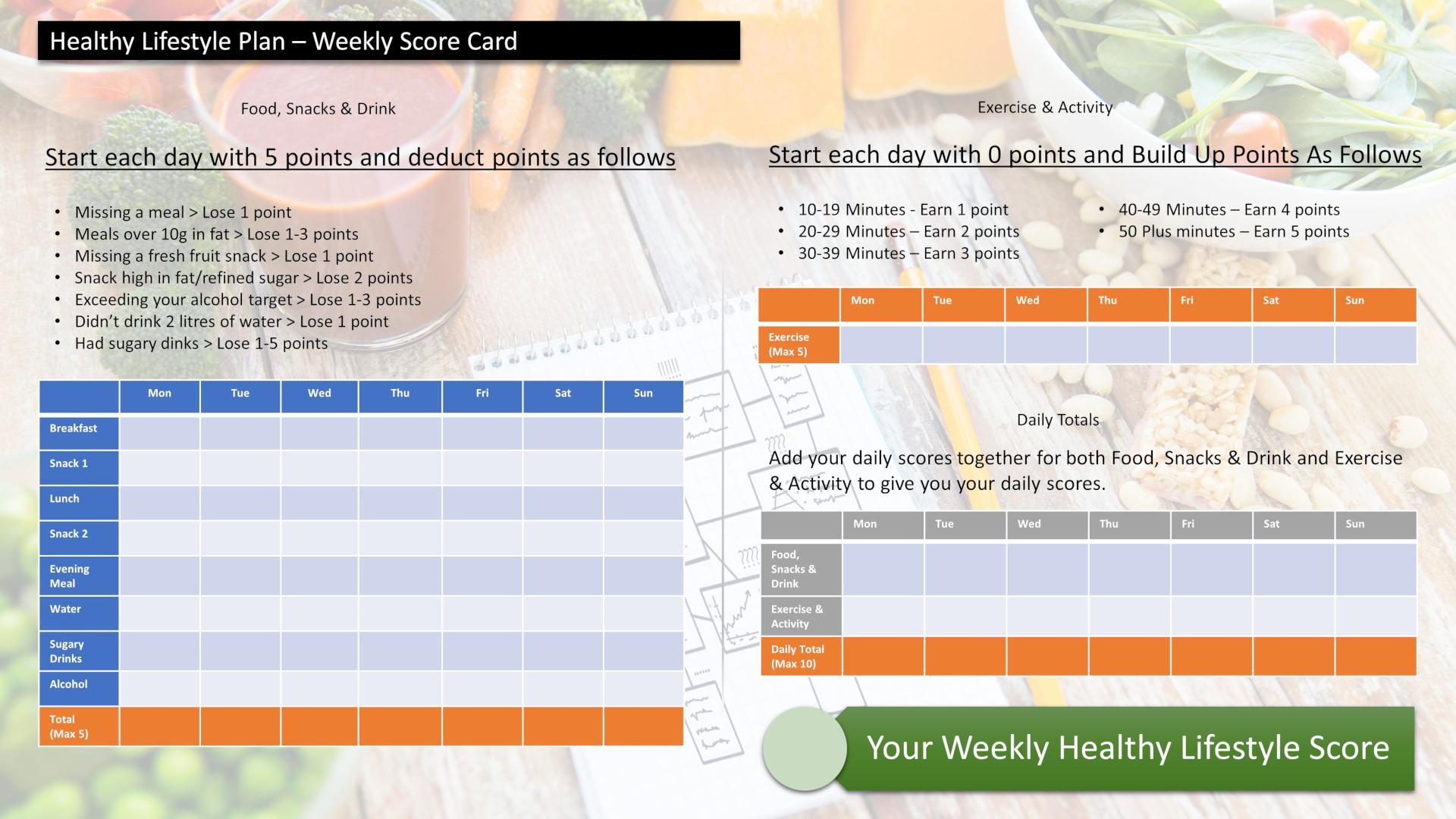 Score your way to good health with our healthy lifestyle plan and it's unique 70 point weekly scorecard!