Did you know that running for health can help reduce the risk of chronic illnesses such as heart disease and type 2 diabetes as well as boosting your mood and keeping your weight under control?
Physical activity isn't just a choice; it's an essential part of your lifestyle. Following a programme of activity can help you improve both your health and fitness. Running for health is one of the best options available for all of us.
So isn't it time for you to get off the couch and get started on a physical exercise like running. Start with a nice paced walk, then step it up to a brisk walk jog, in a few weeks you'll be jogging and before you know it you're going to be running for health.
My recommendation to anyone new to running would be to run 3 times per week, with a day of rest in between.
Don't overdo it though. That's a common problem; we throw ourselves into our chosen exercise, do too much at the beginning, ending up hurting ourselves or getting discouraged, and giving up when we've only just got started. When you do start correctly you're going to succeed, I promise. Don't expect to be running straight away.
An example for you for a training session would include always warming up, stretching and cooling down before your workout begins. Then begin walking slowly for 5-10 minutes at 15-20 minute per mile pace in order to increase circulation of blood to your calves, quadriceps and hamstrings. As you build up after the warm up phase, you can walk at a faster pace. As you walk, remember to keep your back straight, your abdominal tight and pump your arms back and forth naturally. Gauge your progress by the amount of time you spend walking rather than by the intensity at first.
The benefits of getting into running can be endless. For starters, it's an easy way of improving your physical health. Running for health regularly will improve your cardiovascular function, making your heart and lungs healthier. It can also help you lose weight; especially if combined with a healthy diet.
Using a treadmill allows you to exercise during anytime of the day, any time of the year no matter what the weather. Tesco stock a great range of Treadmills at excellent value for money. I would strongly recommend you take a look.
Score Your Way To Good Health - With Our Healthy Lifestyle Plan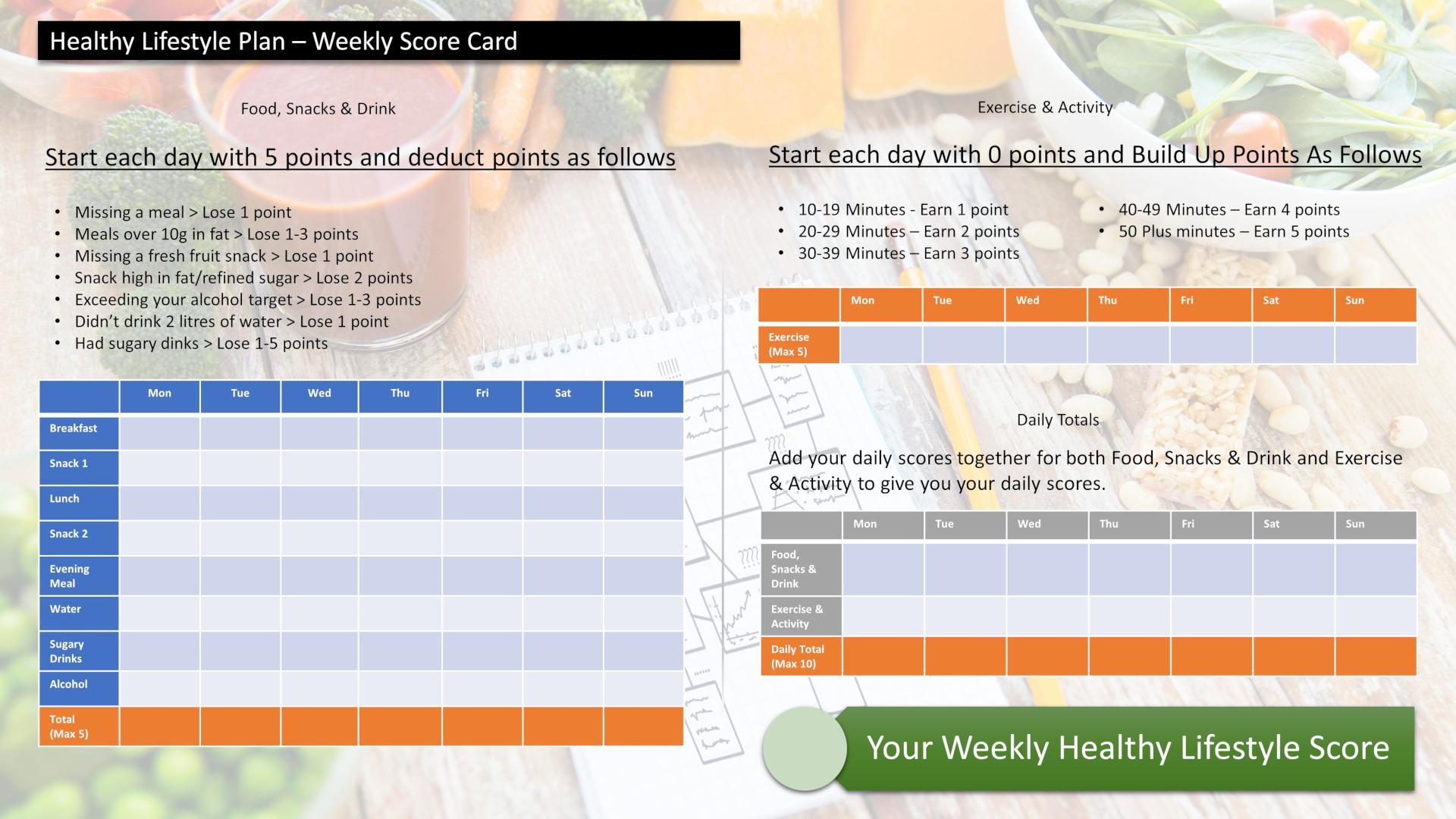 Score your way to good health with our healthy lifestyle plan and it's unique 70 point weekly scorecard!