As an ex gym owner and fitness instructor, one of the popular questions I was asked was how do you make time for exercise? In today's fast paced lifestyle how can you spare time that you don't have to exercise? The answer is surprisingly simple and it's something which I suggest you do starting from tomorrow.
So, what is this magic secret? Well it comes from my "power up morning routine" strategy and it's very simple. Get up 30 minutes earlier than you're currently use to and before you do anything else, spend this time exercising. Light at first if you're not use to it, a stroll around the block would be a good start along with some lightweight exercises and then ramp this up over time so you have a 10 minute warm-up and then a good 20 minutes of moderately hard exercise.
By making this simple change you will unleash some powerful advantages by making a start to your day in this manner. First, the psychological benefit of knowing you've created some additional time to your daily routine and you don't have to sacrifice some other daily activity just to do exercise. Yes, you've had to get up 30 minutes earlier but let's face it, most of the time the snooze button gets hit at least 2 or 3 times before you fully wake up and are out of bed anyway. While we're on the subject of the snooze button, don't use it! Set your alarm for the time you want to wake up and get up out of bed as soon as it goes off.
As you have yet to eat breakfast, exercising first thing on the morning before doing any other activity will mean your body has no recent source of energy to use to burn off the calories from exercising, this means it will have to get this energy from elsewhere, most likely the excess fat you've been storing. It's a great way for anyone wanting to lose weight to burn those extra stubborn calories. This is especially true if your following an eating schedule like this one: How Many Meals A Day Should You Eat – And How Big Should Each Meal Be?
The other added benefit from exercising first thing is that I can assure you after 30 minutes, you will be awake, alert and ready to start your day with a bang. No more feeling sluggish and spending the first 3 hours of your day just trying to pull yourself round. This simple change to the way you start your day will allow you to accomplish more and you will feel like that extra half an hour of sleep that you sacrificed to begin with, feels like it's added an extra 3-4 hours of really good productivity to your day.
Stick to your regular bedtime and this new morning time and you've just added exercise to your daily routine. In fact, you've not only added time to exercise, you've found a way to be more productive and focused during the day.
Give it a try, I assure you this powerful morning routine tip works!
Score Your Way To Good Health - With Our Healthy Lifestyle Plan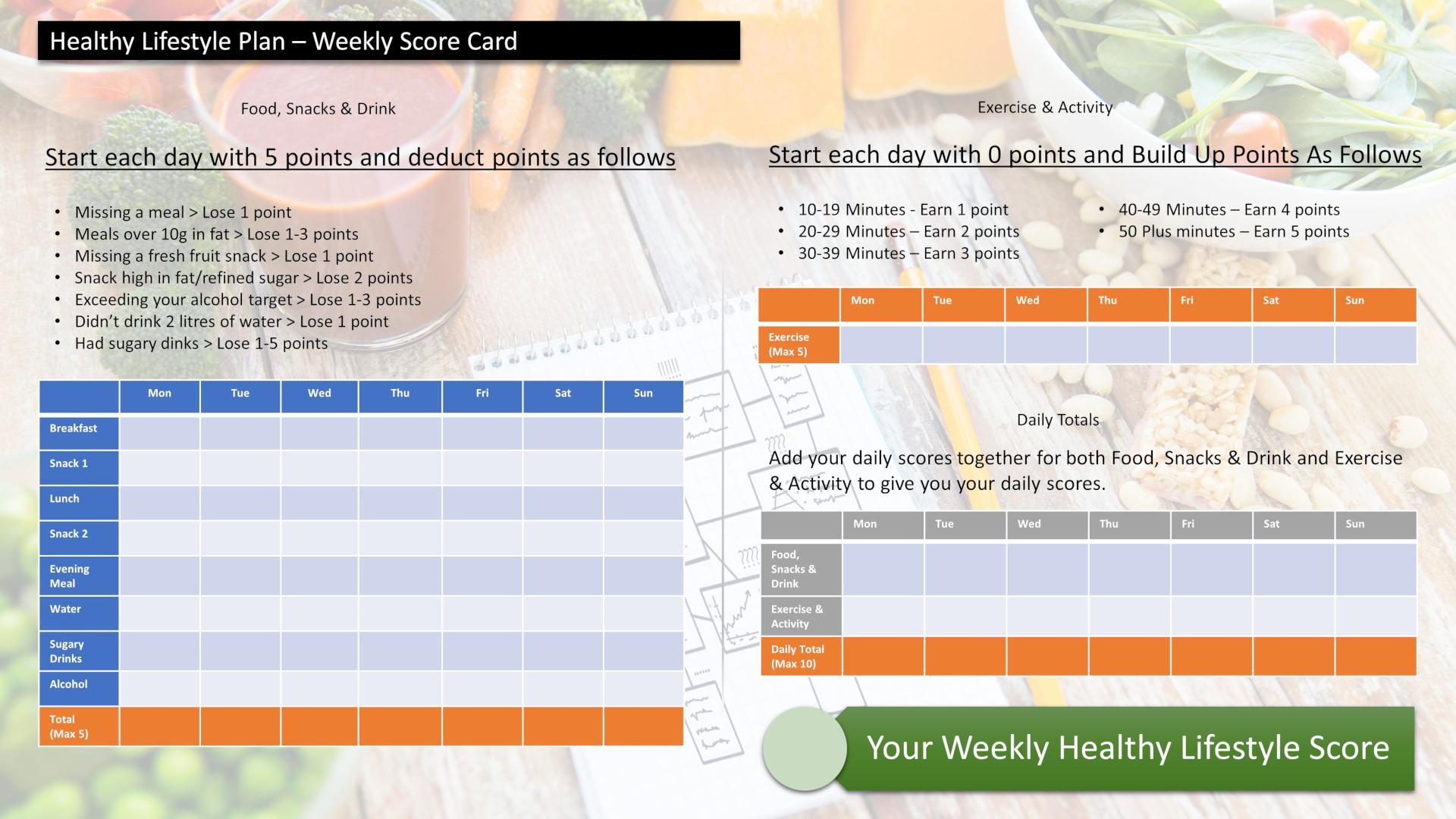 Score your way to good health with our healthy lifestyle plan and it's unique 70 point weekly scorecard!