We can allow ourselves to age so fast if we let ourselves go but shouldn't we be saying goodbye to middle age spread?
Is it worth all the effort keeping healthy and getting fit?
Only you can decide, but maybe this article may help.
Having been a fitness instructor I found a majority of the guys I've trained were obsessed with getting ripped, defined & big. While for the women they generally want to get rid of all their body fat that's accumulated around some specific body part and they want to achieve a slimmer figure with toned muscle. Who of you hasn't picked up a magazine, looked at the front cover model, and thought to yourself 'if only I could have a body like that.'
Although I'm someone who believes working out is fun, I don't kid myself, what really makes it all worthwhile making the effort of exercising is the results you get from doing it. The better your results the more you seem to enjoy the process. But the worse your results the harder it seems, the less enjoyable, in fact you feel more frustration, lose motivation, then you miss workouts, and ultimately quit all together. As a fitness instructor, we do get disappointed when we see members drop off, and we know that they've given up on their dream of getting into shape, or whatever it may have been.
My main responsibility as a gym instructor was to make sure each one of my clients approached training with a new mindset, a new vigour, and most importantly a new "certainty". What do I mean by certainty? Simple really, if you eat less calories than you use, eat the right foods at the right time, and train the correct way, you will lose weight, burn fat, tone or build muscle. There may be a billion dollar business out there, showing hundreds of ways of achieving these results, and millions of people trying so hard to achieve them, but the truth is follow simple basic principles and you can make your desired results a certainty. Easiest is best. I'm convinced that a lot of people struggle with the journey of weight loss because they get confused with all the conflicting information, and the new must do magical programs.
The difficulty so many people are faced with is there is too much information out there, and people are just too confused as to what they need to do. The problem is this stops them from even getting started. Maybe you're one of these.
Have you told yourself that you would start exercising "on Monday"?
How many times has "get into shape" been on top of your to do list?
Well I hope that I really do know what I'm doing, because right now all my knowledge is required for one very special client …. Me. I think I'd better explain. My name is Larry and I was once a fully qualified personal trainer and owner of gyms. Neil my business partner asked me just the other day 'Larry, why aren't you any longer writing articles about fitness, like you did when you first started blogging'.
Well back then I worked out every day. Consistently. In fact I had done so for close to two decades. But circumstances have prevented me from doing so in the last few years.
Since my eye operation back in May 2009 it has become far more irregular. I was not allowed to exercise for over a year, and after that work had changed so much for me it was much harder to schedule. Now that sounds like an excuse if I've ever heard one. Then last year, something I've never mentioned before, I was diagnosed with a cyst on my brain. This only affected me by way of a permanent headaches and a lack of energy, which with medication and willpower, I managed to work through. But if by now I hadn't been a full time blogger, writing my beloved blog at Healthy Lifestyles Living instead still needing to work my shifts on the gym floor, well I would have struggled big time. Another reason why I know blogging was my fate, my destiny. But I digress. Every time I tried to exercise my headache intensified by 100%, the world began to spin, and for an hour later I was like a spinning top. Just bending down to pick a medium weighted dumbbell of the floor, would make my head go.
So my body has deteriorated from where it was. My muscular shaped body has disappeared. Fast being replaced by this aging over weight tub of lard, well ok, it's not that bad, but it's not that good either. Being a fitness expert with many years of experience helping other people get in shape I've always not only talked the talk, but walked the walk, being in really good shape myself. And I find it really difficult to keep pronouncing my knowledge and advising people what to do, while my body is no longer what it should be.
With my passion being helping people & promoting healthy living and personal development I want to be able to once again be able to do, live and be my passion without bodily limitations, so I am going to start working out again, and writing about it.
You need a strong, healthy body in order to live a full and healthy life.
You need energy.
You need strength and functional fitness.
You need a strong core & lower back.
So you need to exercise.
I've reinvented myself many times but then I was younger, so this challenge is no doubts going to be tough, but it won't beat me. I will get this body of mine back in to shape. A fat to fit journey is now what I need to bring about my transformation.
Anyone can do this. Middle age is not the beginning of the end where we have to accept old age graciously and accept deterioration of our mind and bodies. Age is just a number, and I've always been useless at maths.
I'm not one who want to laze around on the couch after work. So I've made a choice, to no longer beat myself up about this body I've acquired, but simply to do something about it and get myself back into the body I'm used to having. ,
I have to get myself back into the gym, just no longer as a fit person. I know I will have to get over the embarrassment and just get it done. It's time for me to bounce back while navigating through my own workout hell. And blog about it so I can help others do the same thing.
I want to get back into shape and I want to help you do the same. For some of you we may be talking about getting you into the best shape of your life. I promise you this is not just a worthwhile journey, but also a possible one.
If it seems too difficult right now, don't worry, just take one small step at a time. Healthy living is an obtainable goal, you don't have to get there in double quick time. And the fact of the matter is getting healthy has to be one of the most important things you can do. So as I start my journey of regular exercise, healthy eating, stress management and getting plenty of sleep, let me show you what us oldies can do and follow suit. I will journal it all, and provide the knowledge you need.
Everyone can do something to improve your health, let me know if you're interested. .
So for me it's now time to get in the gym. I will also write in future about my friends at Bio-Synergy and some of their awesome supplements which are going to help me get the results I'm going to be working so hard to achieve.
So it's goodbye to my middle age spread.
Score Your Way To Good Health - With Our Healthy Lifestyle Plan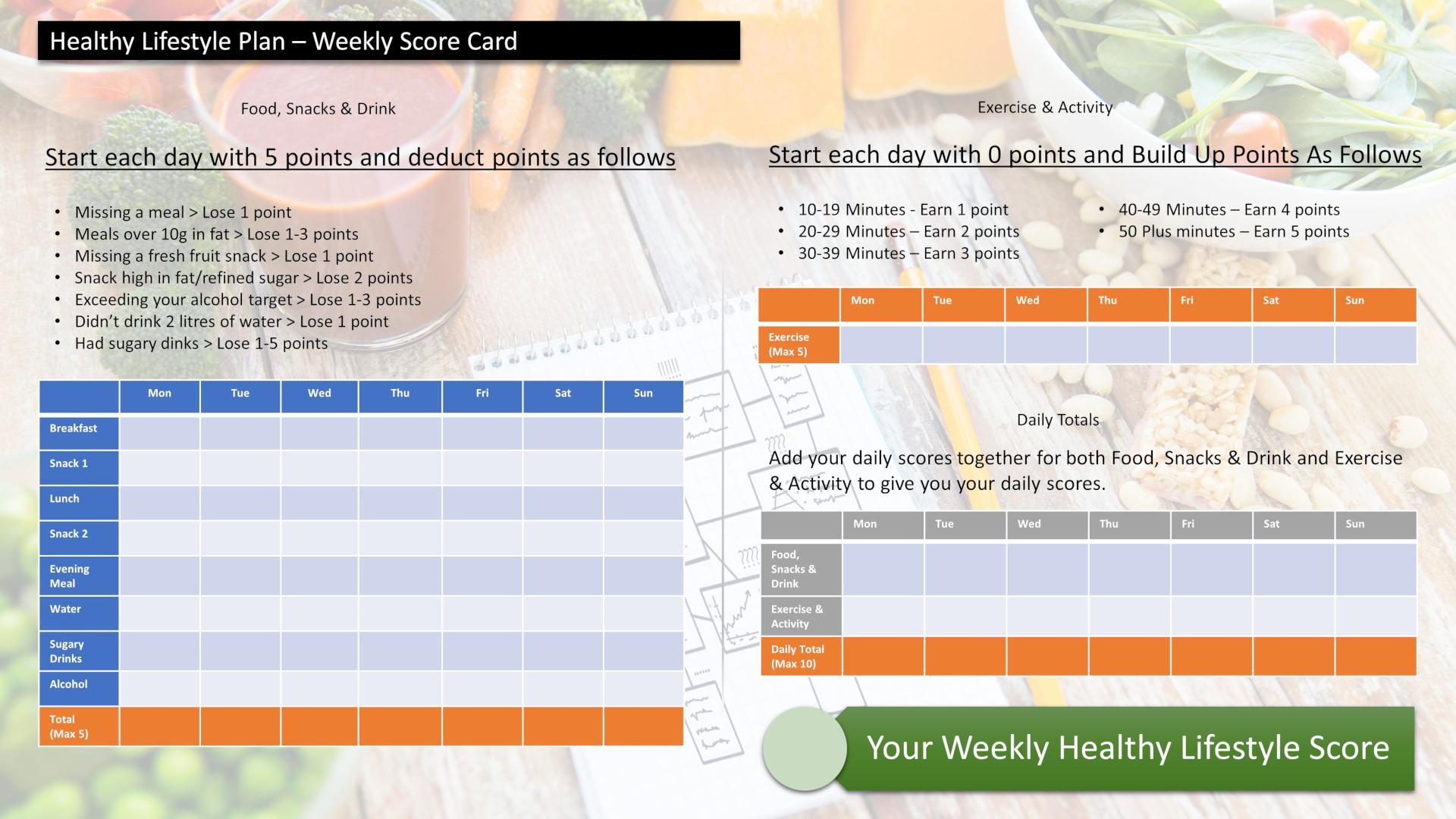 Score your way to good health with our healthy lifestyle plan and it's unique 70 point weekly scorecard!