I bet that as long as you can remember, your Mother told you to eat a hearty breakfast. Every diet programme, fitness and health magazine, many articles you have read have told you the same thing. Well sorry you're about to read it again, Breakfast is the most important meal of the day. "Breakfast like a king, lunch like a lord and dine like a pauper…."
Breakfast will break the night long fast your body has been through. Your energy levels are low in the mornings, and your body needs an energy boost, in the form of food, to kick start the day. And that is one of the reasons why eating breakfast is of utmost importance.
Despite the number of years I have been coaching, it still amazes me how many people I meet who skip breakfast. It is the one meal that so many people miss each day, and they have so many excuses to hand to reason why. Yet it is the most important meal of the day.
Research has shown that most 'breakfast skippers' get extremely exhausted by early afternoon, have slower metabolism and miss out on essential nutrients, all of which can have a negative effect on both their short and long term health. Additionally, most 'breakfast skippers' tend to eat faster and overindulge in all the wrong foods later in the day, sending their blood sugar and energy levels on a roller-coaster ride.
A good breakfast is nutritious and gives you lots of energy. You will be providing yourself with a boost of energy to jump start your day and the staying power to keep you going strong over the next three hours.
The Benefits Of Breakfast include:
Refuels your body and kick-starts your metabolism after sleep, and gets your body going.
It breaks your fast
Breakfast is where the body refuels its glucose levels, also known as blood sugar, after 8 to 12 hours of fasting. Glucose is essential for the brain, the main energy source for the body and the fuel the muscles need for physical activity throughout the day.
Breakfast helps to curb your hunger preventing binge eating later in the day, so you'll eat less later on in the day.
Breakfast provides a steady source of fuel to the brain, which greatly improves mental function and attention span, as well as giving you better Concentration, Productivity, Mental Performance, Problem Solving Ability, Memory and Mood
Breakfast is the most important meal, setting the stage for metabolic function, getting the intestinal tract in motion and giving the body the energy needed to work.
It's even more important to eat breakfast in winter. Winter is not many people's favourite time of the year. It is generally cold, dark and miserable. Sometimes it is hard to face the day ahead. For many people it is hard to get going during the cold winter mornings. With the cold, dark weather outside sometimes the last thing you want to do is get out of bed and get going.
However, with the right winter breakfast you can kick start your day and be ready to face whatever it throws at you. That is why today I am going to be providing you with four winter breakfast warmers.
On a cold winter morning, a hot and hearty breakfast is the most comforting way to start your day. It can also supply a significant portion of your daily nutrition, and get your body ready for whatever's to come.
If you're in the habit of grabbing some toast, a cereal bar, or even sugary cereal with a little full fat milk in the morning, you aren't getting all the nutrients you need, and probably aren't performing at your best throughout the day. Try the following nourishing breakfast dishes instead. They're easy to prepare, and will provide a great nutritional foundation for your daily activities.
Here are a few examples of good breakfast choices
Low Fat Strawberry-Mango Buttermilk Smoothie
Ingredients:
1 large, ripe mango
1 pound ripe strawberries
1 small ripe banana—preferably frozen
 1 cup low fat buttermilk
1 6-ounce pot fat-free vanilla yogurt
2 tbsp honey (optional)
Preparation:
Chop mango, strawberries and frozen banana, and place in blender. Add buttermilk, vanilla yogurt and 2 tbsp honey. Blend until smooth.
 Makes 4 servings
Per Serving: Calories 181, Total Fat 1.3g (sat 0.4g), Cholesterol 3mg, Sodium 99mg, Carbohydrate 36.4g, Fiber 4g, Protein 5.6g
Pumpkin Oatmeal
Ingredients:
2 cups quick or old-fashioned oats
3 cups fat-free milk
1/2 cup canned pumpkin
1/4 tsp pumpkin pie spice
1/8 tsp cinnamon
1 tbsp raisins
Brown sugar to taste
Preparation:
Place oatmeal in a microwave-safe bowl and stir in milk. Microwave on high for 2-3 minutes. Remove from microwave and stir in pumpkin puree, spice and cinnamon. Heat for 40-60 seconds, or until heated through. Stir in raisins. Sweeten with brown sugar if necessary and enjoy.
Per Serving: Calories 242, Total Fat 2.9g (sat 0.6g), Cholesterol 3mg, Sodium 99mg, Carbohydrate 40.5g, Fiber 5.3g, Protein 13.2g
Morning Glory Muffins
Ingredients:
1 1/2 cups all-purpose flour
1/2 cup oats (not instant or quick cooking)
1 tsp baking powder
1 tsp baking soda
Pinch of salt
1/2 tsp cinnamon
1/2 tsp ginger
1/4 tsp nutmeg
1/2 cup firmly packed brown sugar
1 egg, lightly beaten
1/4 cup canola oil
1 tsp vanilla extract
1/2 cup fat-free milk
1 8-ounce can crushed pineapple
1 1/2 cups freshly grated carrots (about 2 medium carrots)
1/2 cup raisins
Preparation:
Preheat oven to 350 degrees. Line a 12-cup muffin pan with paper liners or spray muffin pan with nonstick cooking spray.
Whisk flour, oats, baking powder, baking soda, salt, cinnamon, ginger and nutmeg in a large bowl.
In a medium bowl stir brown sugar, egg, oil, vanilla extract, and milk until well combined. Stir in pineapple, carrots and raisins.
Add wet ingredients to dry, and mix until just moist. Fill muffin cups 3/4 full.
Bake for 20-25 minutes, until toothpick comes out clean or tops spring back when pressed.
Makes 12 muffins
Per Muffin: Calories 203, Total Fat 5.5g (sat 0.5g), Cholesterol 18mg, Sodium 167g, Carbohydrate 35.5g, Fiber 2.2g, Protein 4g
Low Fat French Toast
Ingredients:
8 slices of day-old sliced whole grain bread
1/2 cup egg substitute (equivalent to 2 eggs)
3/4 cup nonfat milk
2 tsp vanilla extract
1/2 tsp cinnamon
Preparation:
 Combine egg substitute, milk, vanilla and cinnamon in a wide bowl or dish. Dip bread in egg mixture ensuring both sides are soaked. Heat griddle or nonstick skillet, sprayed with nonstick cooking spray, on medium-high. Alternatively, heat oven to 450 degrees and spray a cookie sheet with nonstick cooking spray
Place bread slices in skillet or griddle, or on cookie sheet and cook until both sides of bread are golden brown. About 3 minutes each side.
Top with confectioner's sugar and fresh fruit or maple syrup.
Per two slice serving (before toppings): Calories 188, Calories from Fat 2.3g (sat 1.1g), Cholesterol 1mg, Sodium 332mg, Carbohydrate 31.2g, Fiber 4.2g, Protein 10.6g
Whole Wheat Pancakes
Ingredients:
1 cup whole wheat flour
1 tsp baking powder
1/2 tsp baking soda
1/8 tsp salt
1 egg, lightly beaten
1 cup low-fat buttermilk
2 tbsp honey
Preparation:
Whisk whole-wheat flour, baking powder, baking soda and salt in a medium bowl. In a small bowl, combine egg, buttermilk and honey. Make a well in dry ingredients and stir in egg and buttermilk mixture.
Allow batter to rest for a few minutes.
Preheat griddle to 375 degrees or set a nonstick frying pan to medium-high heat. Drop batter by 1/4 cupfuls on to griddle or pan. Cook until the edges begin to dry and bubbles appear in the pancakes. Flip and cook for 1-2 minutes more.
Makes 8 pancakes.
Per 2 pancake serving: Calories 188, Total Fat 2.3g (sat 0.8g), Cholesterol 55mg, Sodium 236mg, Carbohydrate 34.2g, Fiber 3.7g, Protein 7.6g
Herbed Egg White and Spinach Omelet
Ingredients:
3 egg whites
1 tablespoon nonfat milk
1/2 tsp dried mixed herbs
Freshly ground black pepper
3/4 cup chopped fresh baby spinach
1 tablespoon reduced-fat shredded sharp cheddar or grated parmesan
Preparation:
Combine egg whites, milk and herbs in a small bowl. Coat a small nonstick skillet with cooking spray. Heat the skillet on medium to low heat. Add chopped spinach. As it wilts, pour egg white mixture over the spinach and allow to set around the edges. As the edges set, lift them gently with a spatula and tip the skillet to allow remaining liquid underneath. When the egg whites are set, sprinkle the cheese on top, then fold the omelet in half. Serve immediately.
Calories: 81, Calories from Fat 14, Total Fat 1.6g (sat 0.9g), Cholesterol 5mg, Sodium 249mg, Carbohydrate 3.4g, Fiber 1g, Protein 13.4g
Recipes are from http://lowfatcooking.about.com/
And my personal favourite own recipe
Banana breakfast smoothie
Ingredients:
4tbsp porridge oats
2 bananas
225g (8oz) natural yogurt
250ml (9floz) whole milk
3 pitted dates
1tsp ground cinnamon
Preparation:
Place the porridge oats in a non-stick pan and lightly toast until golden brown. Allow to cool. Put the rest of the ingredients in a blender and mix until smooth. Add half of the porridge oats and blend again. Pour the smoothie into glasses and sprinkle over the remaining toasted oats to serve.
Serves 4.
197(kcal) Fat 6.0g Saturates 3.1g Sugars 18.7g
Enjoy your breakfast!
Score Your Way To Good Health - With Our Healthy Lifestyle Plan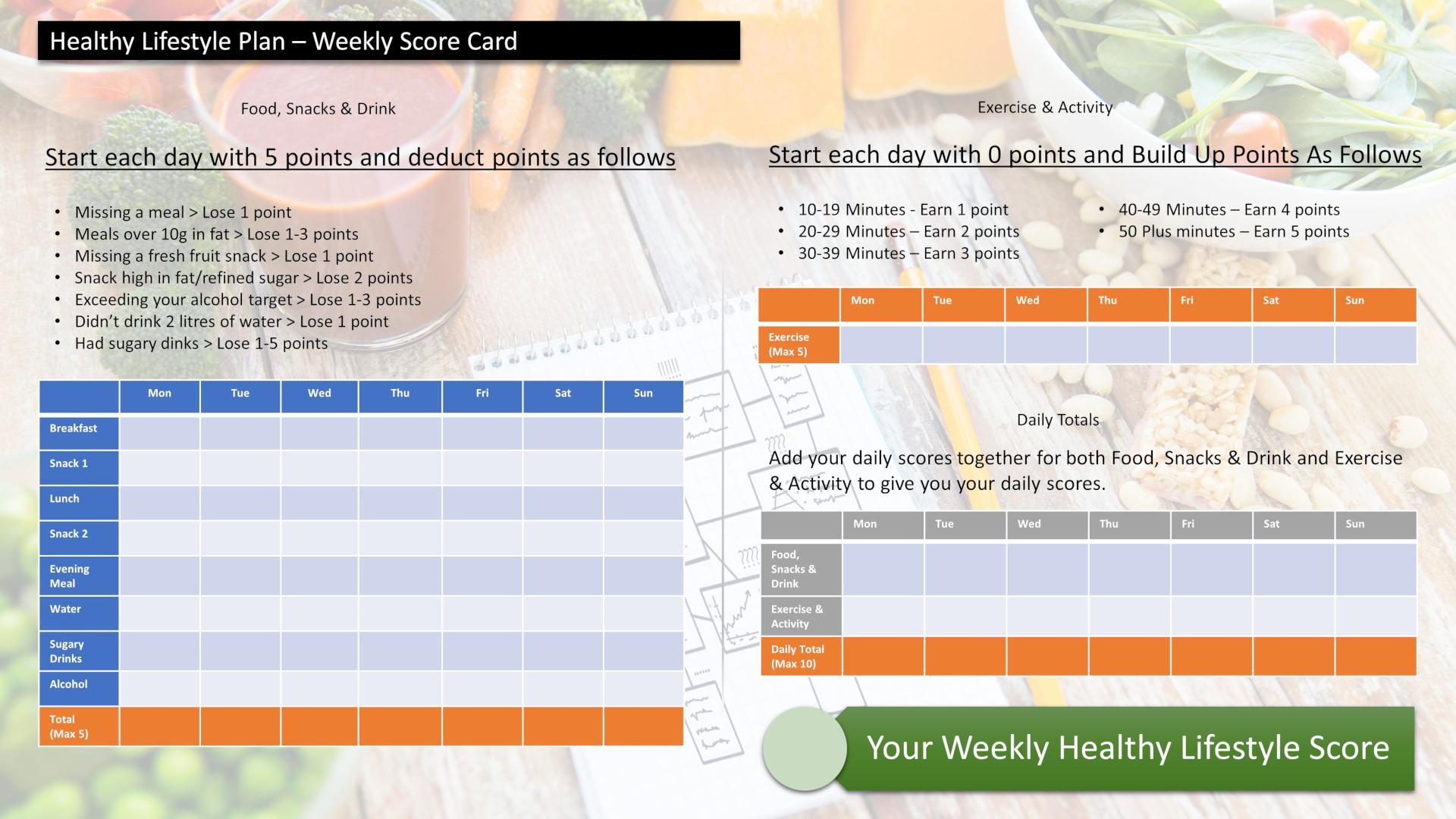 Score your way to good health with our healthy lifestyle plan and it's unique 70 point weekly scorecard!