By following a healthy lifestyle eating plan you are able to eat a wide variety of healthy foods that will make you feel great and maintain your energy levels throughout the day.
Healthy eating requires you to consume small frequent meals throughout the day, instead of the traditional three meal routine. This ensures that you maintain a constant energy supply, and prevent fatigue setting in.
The longest gap between any of your daily meals is the time period between your evening meal and breakfast the following morning. During this time, hopefully you are spending about 8 hours of it sleeping. While you may be unconscious to the world, your body is still actively working. It will be repairing cells, and keeping your heart and lungs functioning. While all your body functioning is carrying on, your body is taking the energy from your sugar or glucose stores held in your blood, liver and muscles.
So by the time you wake up your sugar supplies are pretty much depleted, and need refuelling. Hence breakfast is the most important meal of the day. It helps to refuel your body after it is rested.
By skipping breakfast, so as to get a few more minutes wrapped up in bed, you will bring about a blood sugar level drop, which will in turn bring about poor concentration, lethargy, irritability, and often results in you grabbing the easiest thing to eat, which is often crisps, biscuits, chocolate. Of course you could always try to find extra energy through pour lots of caffeine filled coffees down your mouth. Eating breakfast stops you from needing a sugary snack to keep you going. Research studies have found that both adults and children who eat a balanced healthy breakfast sustain better mental and physical performance throughout the day.
So, as a healthy lifestyle coach, my strong conviction and recommendation to you is to make a determined effort every day to eat a good, healthy breakfast.
To make it even easier for you, let me give you some advise. Avoid foods that are high in sugar, such as doughnuts or sugary cereals. I also don't recommend cereal bars, they are also generally very high in sugar content.
The ideal breakfast will consist of a combination of carbohydrates, fibre and protein, which will help to stabilise blood sugar levels, and keep your energy levels high until your next meal.
Try these suggestions:
Chopped apple with unsweetened yogurt and ground sesame seeds sprinkled over the top
Scrambled egg with rye toast
Mix a chopped banana and a small pot of low-fat yogurt with some unsweetemed muesli
Toasted low fat bagel with cottage cheese
High fibre cereal, topped with fruits, with skimmed milk.
Porridge with added fruits.
All of these provide a perfect, nutritious quick breakfast.
For those of you who still insist they have no time for breakfast, or can't stomach looking at food, my suggestion to you is try a smoothie. All you have to do is mix all the ingredients together in a blender. Here is a beautiful high protein breakfast drink that will keep your energy levels surging.
1 chooped banana
2 teaspoons lemon juice
1 tablespoon fine oatmeal
2 teaspoons clear honey
3 tablespoons natural yogurt
150ml (5 fl oz) skimmed milk
While I'm at it, let's talk about your breakfast drink. I guess you will generally start the day with coffee or tea. Something that I would highly recommend is replacing these with a drink that will not only boost your energy levels, but also speed up your metabolism, Green Tea.
Green tea has a huge variety of health and disease prevention benefits:
It contains flavonoids which are also found in broccoli, grapes and red wine. These are known cancer fighters.
It is thought to prevent the development or recurrence of cancer by preventing new blood vessel growth in tumours.
Green tea can help reduce the side effects of chemotherapy.
Green tea can help to reduce the risk of heart attack and strokes by reducing blood clotting.
Green tea lowers cholesterol and blood pressure.
Green tea can ease the pain of rheumatoid arthritis by reducing inflammation.
It can protect the liver from toxins such as those from tobacco smoke and alcohol.
Green tea is good for your teeth as it contains natural fluoride and possibly reduces the decay-causing bacteria found in the mouth.
Studies have also linked drinking green tea with preventing the development of degenerative diseases such as Parkinson's and Alzheimer's.
The caffeine and antioxidants found in green tea stimulate the metabolism and aid the oxidation of fat2. This increases the body's rate of burning calories.
A healthy breakfast refuels your body, jump-starts your day and may even benefit your overall health. So don't skip it.
Score Your Way To Good Health - With Our Healthy Lifestyle Plan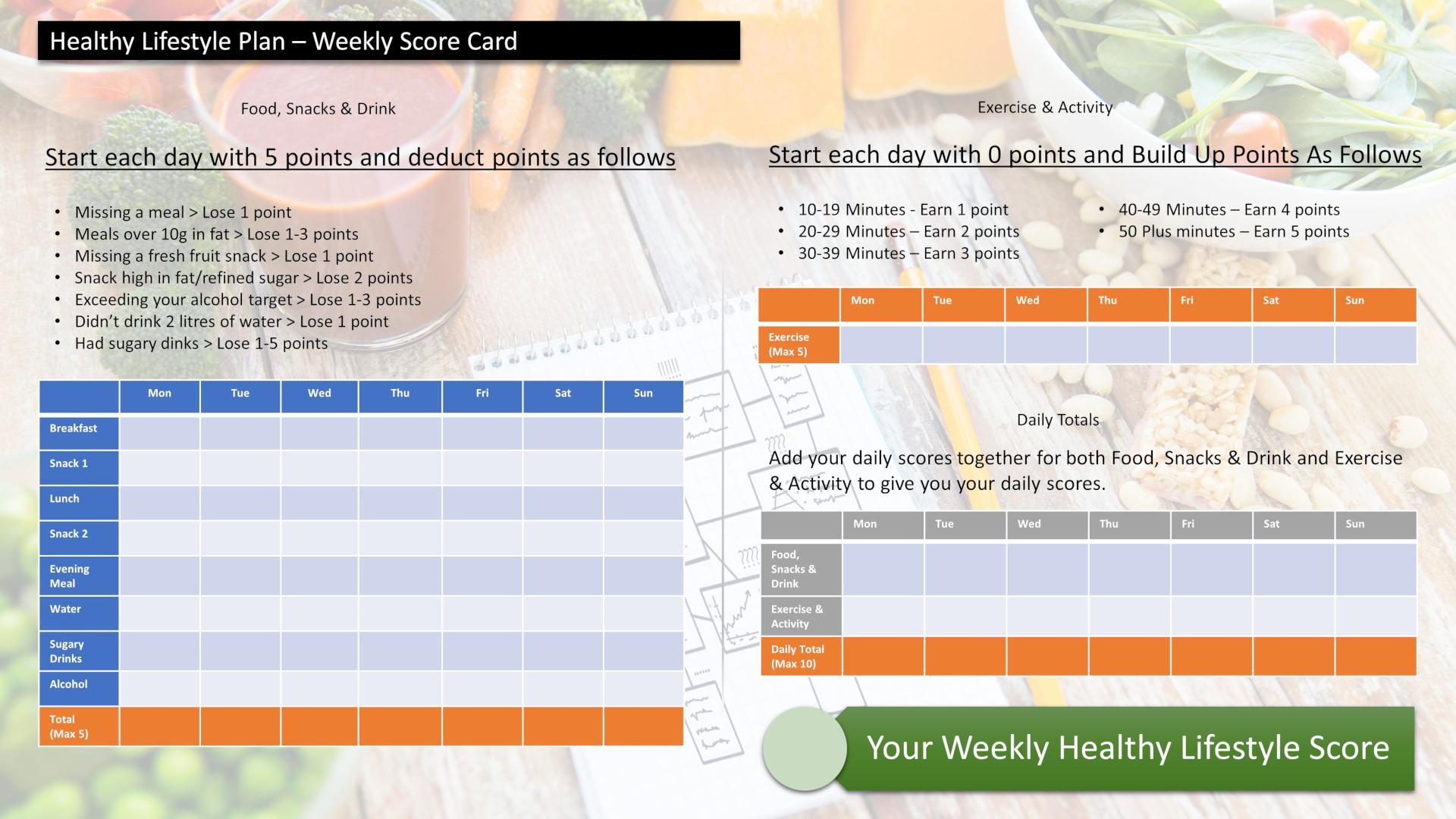 Score your way to good health with our healthy lifestyle plan and it's unique 70 point weekly scorecard!