Today I have put together my best power foods. Something that I hear all the time is people asking what are the best foods for energy so today I want to offer you my best power foods list. It seems that we are plagued with a lack of energy, people struggling to get themselves up and running in the morning, and overcoming mid afternoon slumps.
Would having more energy make a difference to you? I am sure all of us want more energy. Having a plentiful and readily available source of energy throughout the day would be essential for everyone. By eating the right foods, you can ensure you are supplying the energy you need to get through the day. I love feeling the power surge through me all day long ensuring I get everything done that I set out to do at the beginning of my day. The food I eat plays an important role in enabling me to do this.
Your body needs the right balance of nutrition to keep it feeling energetic, instead of going through a major dip at stages throughout the day. By eating the right foods you can avoid those low energy levels that trouble you so much. It's just knowing which are the best foods to choose.
There are foods that help boost your energy levels. These best energy giving foods are foods that provide our body with energy that enable us to function without feeling tired, exhausted or feelings of fatigue.
Here is My Best Power Foods List for the foods which can get you energized.
Mackerel – Fish is a great instant source of protein and Omega-3 fatty acids. These nutritious elements help you to fight depression and perk you up. Mackerel is a great choice as its filled with many healthful elements that can keep you energised all day long. It is a rich source of omega-3 fatty acids a natural oil that your body needs for general health. It will enhance your energy as well as help fight heart related ailments.
Yogurt – Choose fat-free or low-fat greek yogurt to eliminate added sugar. It's loaded with calcium, rich in vitamin B-12 and helps prevent fatigue
Berries such as strawberries, blueberries, raspberries and goji berries are rich in phytochemicals, nutrients and antioxidants which provide us with energy in order to regulate and maintain important bodily functions; maintain the health of body tissues as well as stimulate its repair; do work and exercise; and regulate body temperature.
Eggs are known to be one of the great sources of energy. Eggs gives many of the same benefits as that of lean meats, with them including proteins, vitamin B and iron.
Spinach is one of the best source of Iron, which helps in building energy. The consumption of spinach gives oxygen to your cells.
Trail Mix "offers a brilliant energy booster. In order to avoid added sugar and fat, create your own mix with nutrient-rich dried cranberries or apricots healthy nuts like pistachios and almonds.
Pasta, Whole-Grain – Whole-grain pasta is made from flours of different whole grains, such as whole wheat, brown rice, buckwheat, quinoa, and whole spelt, and is higher in natural fiber than traditional, refined white pasta. With the fact that complex carbohydrates offer you a constant source of energy throughout the day because the body breaks them down over a period of time whole grain pasta is a great source of energy.
Oatmeal – a great source of energy loaded with stress-reducing B vitamins and soluble fiber, giving your body a steady stream of energy, as opposed to a short-term spike, with the carbohydrates gradually flowing into your bloodstream.
Walnuts – with omega 3 fatty acids, coenzyme Q10, a nutrient that helps produce energy inside our cells and an excellent sources of protein, walnuts are an ideal fuel choice for both a quick energy jolt and long-term endurance.
Eggplant – is packed with fiber and contains the whole gamut of B vitamins, which give you all the energy you need. India eggplants have for centuries been used by women to increase and maintain their lovers' sexual stamina. It can be baked or roasted for an entrée or mixed into a dip or side dish.
Rice, Wholemeal – Rice is an excellent food source, low in fat and high in starchy carbohydrate. Rice is packed full of vitamins and minerals and provides an excellent source of vitamin E, B vitamins (thiamin, niacin) and potassium. Rice is a main source of complex carbohydrates, which are essential providers of energy.
Fresh Fruit: Another food that is known to increase energy levels is fresh fruit because it contains natural sugars and healthy carbohydrates that assist in energizing the body. Your top choices should be pears, oranges, bananas, kiwi, pineapples and apples.
Organic Vegetables – Eating organic foods will help prevent your body becoming overwhelmed with toxins which are stored in the adipose tissue (body fat).my particular favourites are carrots and celery excellent sources of fiber, vitamin C and B-vitamins
Dark chocolate – The antioxidant rich dark chocolate can boost energy levels and mood, with the vitamins and caffeine it contains, as well as the stimulants called theobromine and theophylline which have a stimulating physical and psychological effect..
Salmon – rich in omega-3 fatty acids packed with vitamins and minerals that provide energy.
We need energy to function in our everyday lives and these foods provide us with lots of energy. Eating the right foods will not only provide our body with energy but take away our feelings of being tired, exhausted or feeling fatigues.
Enjoy your new energised lifestyle.
Score Your Way To Good Health - With Our Healthy Lifestyle Plan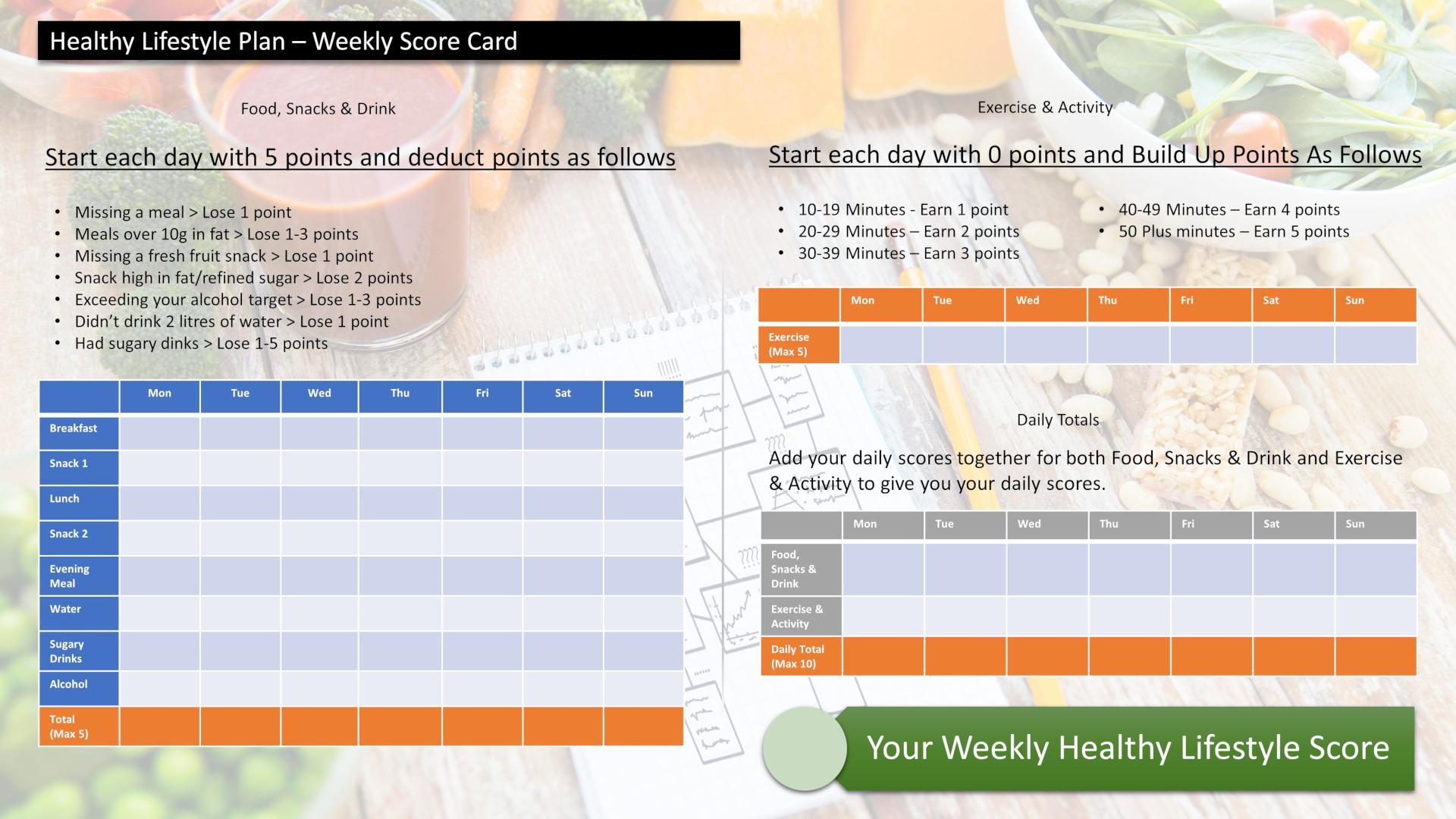 Score your way to good health with our healthy lifestyle plan and it's unique 70 point weekly scorecard!