So are you trying to find the best way to lose weight? Maybe googling 'how to lose weight after Christmas'? Hands down, the most common New Year's resolution, year after year is the optimistic dream that this will be the year to shed that extra weight. As 2012 began, many have vowed that this year they would drop those extra pounds, get to the gym and fit back into their skinny jeans.
Now the holiday season is over many are now worrying about how much weight they are going to put on and will want to know how to lose weight after Christmas and the holiday season.
Well some good news is, you've put away all those seasonal temptations, those yummy mince pies and Christmas puddings, not to mention the Christmas cake and all those boxes of chocolates. If you haven't take them out in to your yard and put them into the garbage bin right now.
This is one of the essential elements to getting your weight in control. Keeping our food cravings under control is essential when trying to adopt a healthy lifestyle. If cravings can't be curbed your evening might just end up in a binge eating frenzy, and we all know that's not good.
Here are some simple tips to help you get back on track. The following recommendations will help you enjoy a longer, healthier life.
ENSURE AN ADEQUATE INTAKE OF FIBER.
High fiber foods include all beans, salads, fresh fruits, fresh vegetables, 100% whole grain cereals and breads such as wheat, oats, barley, rye, millet, corn and brown rice (never white rice). You should not rely too heavily on any one type of fiber such as wheat or bran.
LIMIT SUGAR AND REFINED OR PROCESSED CARBOHYDRATES.
This includes table sugar, sucrose, white, brown, or other sugars, glucose, honey, sorbitol, or any additive that ends in "ose" (maltose, lactose, fructose). Many foods like cookies, pies, cakes, ice cream, soft drinks, chocolates, puddings, jams and jellies or any sweet-tasting foods contain large amounts of sucrose or other refined carbohydrates. Any white breads or white or refined flour products are used by your body like sugar, and they have a lower content of vitamins, minerals, and fiber than unrefined flour products and again should only be consumed in small quantities.
ANIMAL AND VEGETABLE FATS SHOULD BE MODERATED.
The goal to strive for should be that fatty foods and oils should make up no more than 20% of our diet. Especially important is to avoid relatively poor quality foods with a high fat content like fried foods, pies, pastries, sausages, preserved and tinned meats, and especially all pork products. Most dairy products are also high in fat, and low fat forms should be preferred or eaten sparingly.
ENSURE A DAILY INTAKE OF FRESH VEGETABLES, ESPECIALLY GREEN LEAFY VEGETABLES.
Keep in mind that ensuring a good intake of raw or wok-cooked vegetables and salads will help protect against some of the more common and more serious diseases in our society.
STRIVE TO EAT ONLY FRESH FOODS AND TOTALLY AVOID ALL ADDITIVES
All additives to foods such as all preservatives, coloring agents, emulsifiers, texturizers, flavorings, or any chemicals added, will have adverse effects on your health now and in the future. You will invariably find these additives in most all foods found in cans, bottles, boxes, or cellophane packages, and to avoid these very high cationic chemicals, you must read all labels on foods before purchasing. Fresh foods without additives or chemicals are greatly preferred.
EAT A WIDE VARIETY OF FOODS.
Eating the same foods over and over makes it very difficult to obtain adequate amounts of all the essential nutrients required for proper nutrition. Also, eating the same foods regularly makes one more susceptible to becoming allergic and addictive to these particular foods which can add stress to your already overstressed system. A wide variety of foods simply makes good common sense.
LIMIT YOUR INTAKE OF SALT IN COOKING OR IN FOOD.
Excessive intake of sodium or salt causes fluid retention, high blood pressure, heart strain and numerous other detrimental effects on our body physiology that only aggravates and compounds poor health. So make every effort to limit salt intake.
AVOID EATING FRIED OR FATTY FOODS, SWEETS, DESSERTS, WHITE FLOUR FOODS, OR REFINED CARBOHYDRATES.
This I know needs no explanation, its obvious so just follow this.
ALCOHOL CONSUMPTION SHOULD BE MODERATE AND LIMITED.
Recent studies conclude that a maximum of two drinks daily is a safe recommendation. One drink means one half a pint of beer or ale, one measure of spirits (bourbon, vodka, gin, scotch, whiskey), or one glass of wine.
TAKE REGULAR PHYSICAL EXERCISE.
Regular physical exercise is absolutely necessary to maintain good physical health. I highly recommend 5 days a week 30 minute activities such as brisk walking, swimming, cycling, or any sporting activity are acceptable.
If you need some more help to lose weight after Christmas and the holiday season join our Healthy Life Support Group for some great support.
Score Your Way To Good Health - With Our Healthy Lifestyle Plan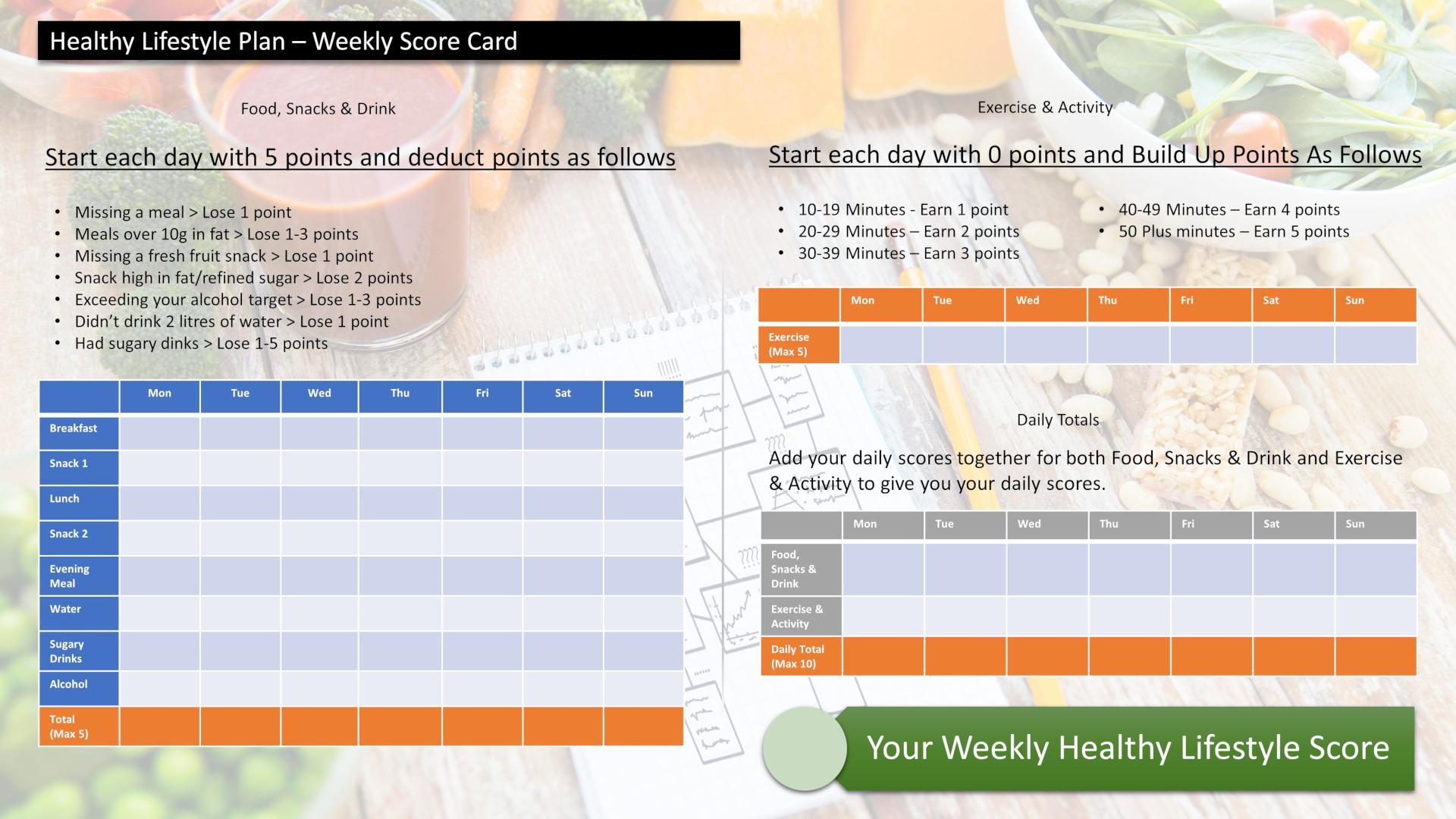 Score your way to good health with our healthy lifestyle plan and it's unique 70 point weekly scorecard!