Although I have made the most of my break here on the island of Lanzarote I have also still been able to easily eat health, so today I want to tell you about good energy booster foods for your New Years diet, to help you raise your energy levels to an all time high.
For the last week I have been fortunate enough to be here on the beautiful island of Lanzarote. One of the benefits that I most enjoy is the wonderful selection of healthy food options that are served up every day. Yet it astonishes me to see how many people still go for the fatty meats and chips, together with the stodgy desserts for lunch, having had their traditional English breakfast of sausage, bacon and fried eggs. Is it any surprise that those same people you see eating these foods you normally see around the pool sleeping during the day.
Of an evening you normally see these very same people rooted to a chair weighed down by no doubts not only the contents of their bellies but the lack of energy that has been provided by what they've been eating. It is a travesty when you consider that they have available to them foods that would give them constant energy supplies all day round.
Maybe they need to understand one fundamental principle, and that is: Good nutrition promotes high energy levels.
Then they need to understand that high energy levels begin with breakfast. Here at The Los Zocos Club Resort Lanzarote there buffet breakfast is both very appetising and nutritious. It offers some great choices for energy boosting foods:
Whole grain cereals
Oatmeal
Bagels & high-fiber Muffins
Whole-grain & dark breads
Stone-wheat & whole-grain crackers
Citrus fruits & Juices
Bananas
Cantaloupe
Kiwi
Berries
Dried Fruit (my particular favourites dried figs)
Cheese, non-fat or low-fat
Milk, non-fat or low-fat
Yogurt, non-fat or low-fat
Berry-based Jams
A serving from each of these groups combined together gives you a filling, healthy, nutritious, and energy filling meal. A good breakfast like this will keep you energised throughout the morning. Maybe an extra piece of fruit at about 12 for a snack.
About 2pm I'd head off for lunch, and again would be greeted by an appetizing buffet offering me the best energy booster foods.
Broccoli
Spinach
Peppers (green, red, or yellow)
Tomatoes
Lentils
Cruciferous vegetables (i.e., Brussel sprouts, kale, or cabbage)
Beans
Mixed Green Salad
Chicken & Turkey
Fish
Hard boiled eggs

The selection also generally included the 3 combinations from breakfast, so I would suggest selecting four from the 6 to have yourself a truly energy boosting meal.

By the evening time, having done a lot of sunbathing and exercise, and having eaten well, I find eating a little less is normally beneficial. After all it's off to bed soon after. So generally we would have the same offerings as of lunch time, and I'd opt for 3 of the 6, generally white meat or fish, green salad and some fruit.

All the foods listed here are available to you wherever you live. Nothing I mention is exotic, and can be brought from your local supermarket. You see eating healthily isn't that difficult, and when you do you'll be amazed at the extra energy you have, and how full you will feel.

The only other thing to remember is drink lots and lots of water.

Keep these foods as your diet and look forward to the new healthy and happy you and look forward to getting through the day without that 3pm energy slump!

So take my example and use these good energy booster foods for your New Year's diet, you won't regret it.
Score Your Way To Good Health - With Our Healthy Lifestyle Plan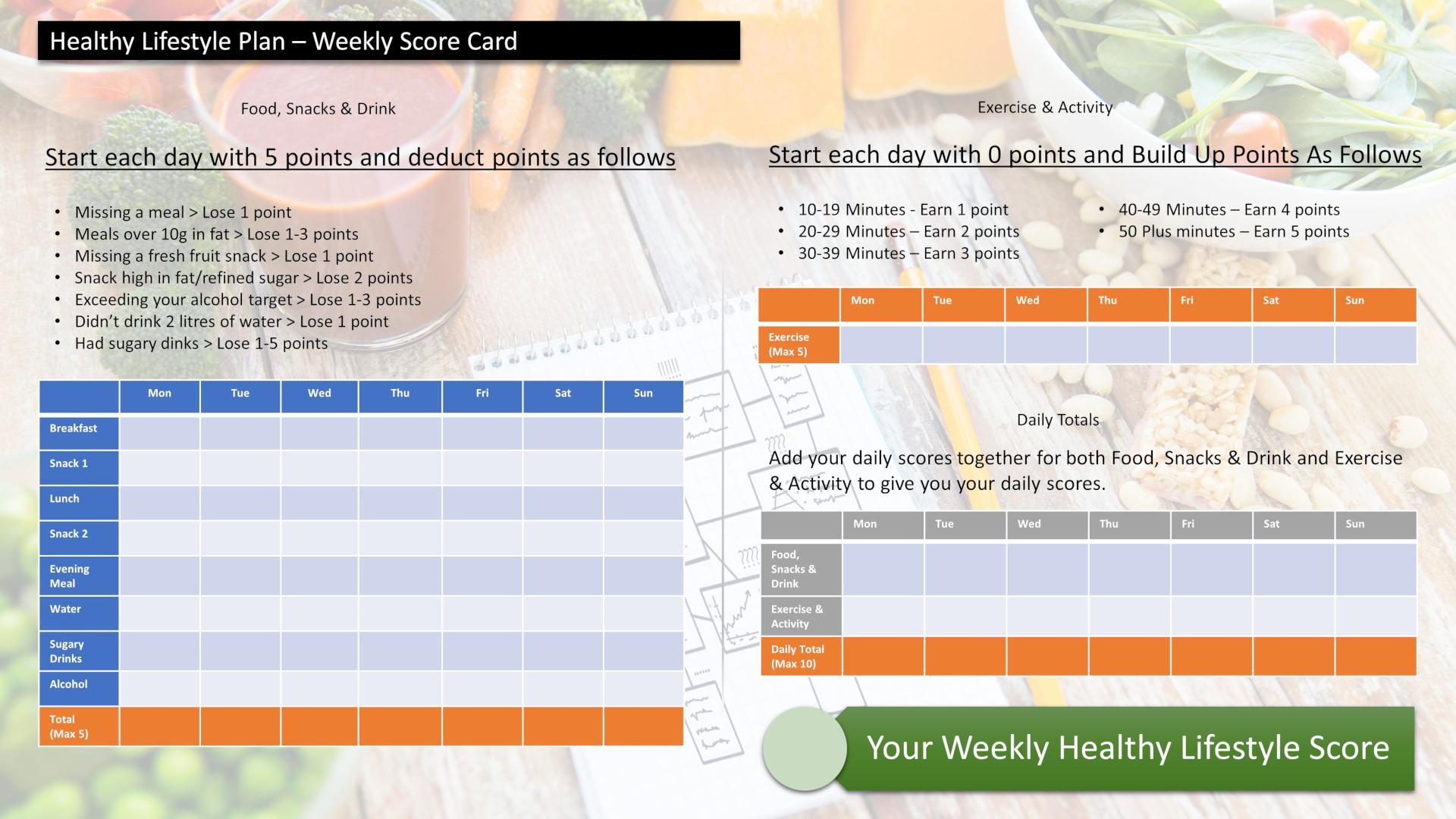 Score your way to good health with our healthy lifestyle plan and it's unique 70 point weekly scorecard!