Do you eat right and does it actually matter? Of course it does because eating right will help you to become healthier? But so many people struggle to know whether they eat right, I know this because frequently I'm asked 'do I eat right?'.
Today I want to look at eating healthily. You really are what you eat, so I want to provide something simple to help you eat healthier.
Is your diet healthy enough, or don't you know? With all the conflicting nutrition information all over the place it's hard to determine what type of diet is actually right.
So let me cut through all the words and just give you some simple easy to implement guidelines to eating healthily.
Do you eat breakfast? Regularly missing breakfast is a good indicator that you are not eating healthily. It truly is the most important meal of the day ensuring you have plenty of energy to perform your best at work. If you don't eat breakfast you need to implement a change and start eating breakfast every morning.
Do you choose healthy fat foods? Not all fat is bad – a little in your diet helps the body absorb certain nutrients. And fat can be a source of energy, also providing essential fatty acids and some vitamins – such as vitamins A and D. Eating a diet of unsaturated fats can help lower bad cholesterol levels. Examples oif good food choices include Oily fish, such as salmon, sardines and mackerel; Nuts and seeds; Sunflower and olive oils.
Do you drink a lot of water? Water is the foundation to life. Your body needs plenty of water and is important for maintaining a healthy diet. Water is essential for life. Your body has lots of important jobs and it needs water to do many of them. For instance, your blood, which contains a lot of water, carries oxygen to all the cells of your body. Without oxygen, those tiny cells would die and your body would stop working. So 6 to 8 glasses a day are essential.
Do you maintain your ideal body weight? Reaching and maintaining a healthy weight is important for overall health and can help you prevent and control many diseases and conditions. A great sign to determine whether you eat right is not having extra body weight. When you eat badly it will show through your body size.
Do you limit the amount of salt, sugar, alcohol and caffeine that you consume? Far to many people consume to much salt, sugar, alcohol and caffeine.. Even reducing these by small amounts can make us healthier. So make sure you are limiting them all in your diet.
Do you consume enough fiber? Adding dietary fiber to your diet is one of the most effective changes that you can make. Eating a diet that is rich in fiber will lower fat and other negative diet elements. There are several high fiber foods including: Dried peas & beans; Dried fruits, Nuts, Sesame seeds, Sunflower seeds, Berries, many fruits and vegetables, Brown rice, Whole wheat bread and Sweet potatoes
Do you get plenty of Protein? It's important to eat a balanced diet. Protein provides your body with amino acids which form the building blocks of muscle. Consume lean protein sources like salmon, chicken breast and turkey; refrain from eating fatty meats like bacon or sausage.
Your lifestyle does have a major impact on your health. It's time to begin to look toward doing something about it. The choices you make now and in the future will determine how you can live longer and healthier, so make sure you eat right.
Score Your Way To Good Health - With Our Healthy Lifestyle Plan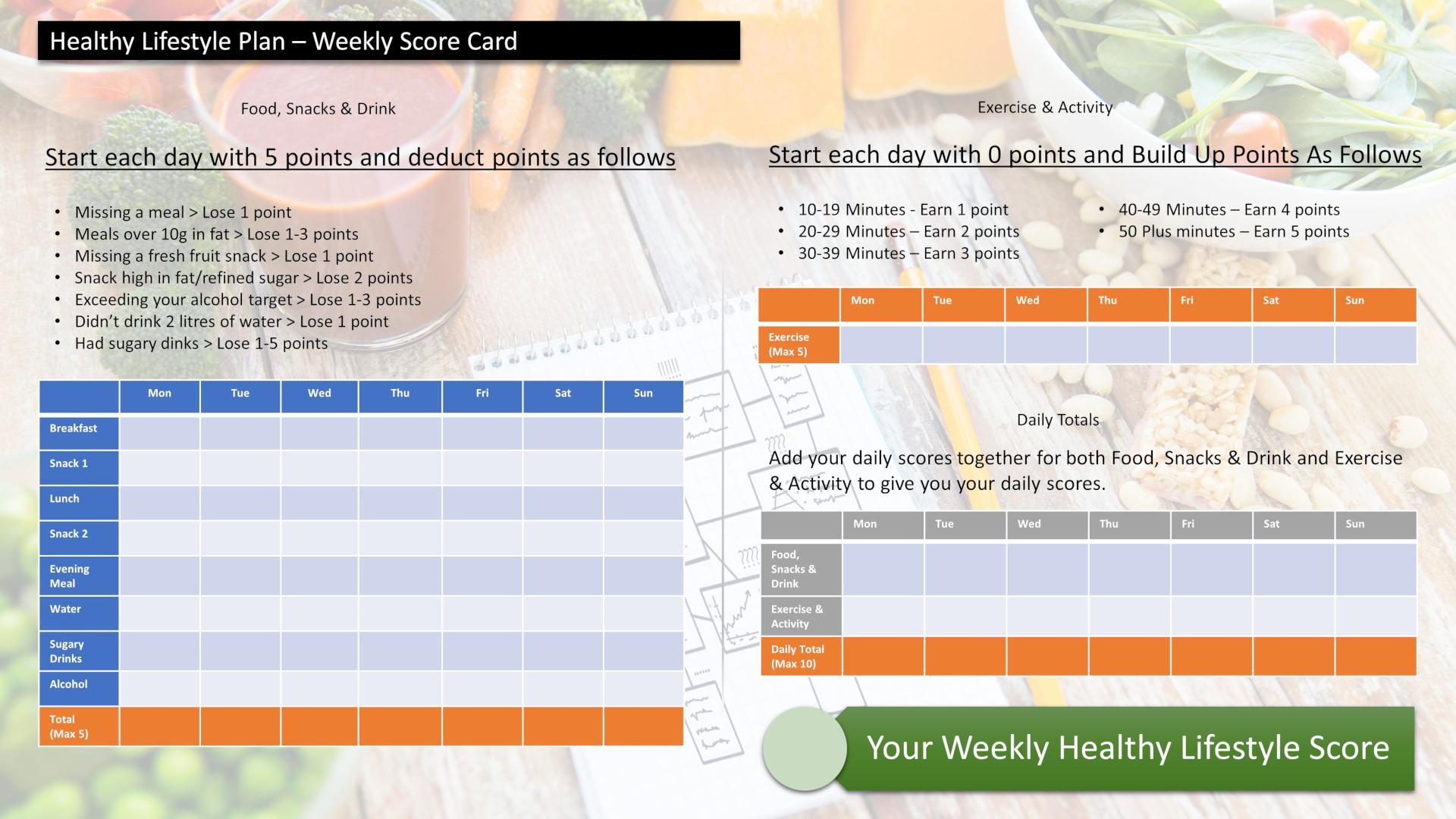 Score your way to good health with our healthy lifestyle plan and it's unique 70 point weekly scorecard!