So, you've tried every diet known to man, you've had some success losing weight but watched yourself put it all back on again. You feel overweight, unfit, unattractive and frankly despondent. You are not alone. Over a third of the UK population is on a diet at any one time. Why? Because diets don't work! Now you must be thinking how can a good low GI diet plan be any different?
As a fitness instructor, nutritionist and life coach, I was seeing clients every day who were really struggling to lose weight. I know how demoralising it is to feel you are on a permanent diet and more importantly I totally understand the huge impact being overweight has on your health & wellbeing, confidence, self-esteem, social life and much more.
I wanted to make a real difference to peoples' lives. That's what brought me to blogging in the first place. In 2012 I intend taking this blog and what it offers to you my readers, to the next level.
As a self acclaimed expert in the field, I know that losing weight isn't just about dieting or exercise. It's about a combination of eating healthily, exercising regularly and changing your mindset. If you want to lose weight and keep it off easily, you need to break old habits and create new ones.
I understand that you are cynical about anything to do with weight loss, and even personal development. You've heard it all before. You've been promised the earth and it hasn't happened. You've gone to hell and back and it still hasn't worked
There are thousands of different diets, pills, and machines all aimed at helping someone lose fat and gain muscles and develop a positive mindset. Turn on the Television or open a magazine and you will find at least one advertisement trying to get you to spend your money on something to help you lose weight or change your life .
The best diet plan I know is a low gi diet plan. The best news for you, is that from January I will give you access to The Gi Diet totally for FREE. So if you are planning to shed the weight in 2012 keep following the Healthy Lifestyles Living Blog and you will have access to all the information you need to lose all the inches you want.
Eating low-GI is a key nutrition message that goes hand-in-hand with other healthy eating guidelines such as eat less saturated fats and eat more fruit and vegetables.
The glycemic index (GI) ranks foods according to the effect they have on the blood sugar level (the amount of glucose in the bloodstream).
The Gi index was developed in 1981 by Scientists who were studying the way different carbohydrate-rich foods affect the blood sugar levels of people with diabetes. They went on to develop the GI measurement to categorise the effect of different foods on blood glucose.
The glycaemic index ranges from zero to 100. The higher the GI value of a food, the more rapidly and dramatically it causes your blood sugar to rise. You can divide foods into three categories: high (70-100), moderate/medium (55-69) and low (below 55).
Carbohydrates provide our main source of energy. The body needs to break all carbohydrates down into simple sugars, mainly glucose, for energy. The glucose is absorbed into the blood from the digestive system. When we eat foods containing carbohydrates, there is a rise in blood glucose after 15-45 minutes. This returns to fasting levels around two or three hours later.
In foods with a high GI, sugar is more easily absorbed into the blood, so they produce a fast and dramatic increase in blood sugar levels, followed by a fast decrease in glucose levels. In contrast, the slow release of sugar into the blood from foods with a low GI value provides a steady, prolonged supply of energy.
The theory behind low GI diets based on the Glycaemic Index is that foods with a low GI value slowly release sugar into the blood, providing you with a steady supply of energy, leaving you feeling satisfied longer so that you're less likely to snack. In contrast, foods with a high GI value cause a rapid – but short-lived – rise in blood sugar. This leaves you lacking in energy and feeling hungry within a short time, with the result that you end up reaching for a snack. If this pattern is frequently repeated, you're likely to gain weight as a result of constantly overeating.
A low GI diet is good for you if you already have diabetes (type 1 or type 2) because it helps you control your blood sugar more effectively.
In any diet to lose weight on a GI diet you need to make sure your overall calorie intake is lower than the amount you are burning through activity. You will find you lose weight quicker if you exercise as well – aim for 30 minutes of moderate activity on at least five days of the week.
So remember in 2012 Healthy Lifestyles Living blog will give you free access to the gi diet, and much more. So don't forget to keep visiting!
Score Your Way To Good Health - With Our Healthy Lifestyle Plan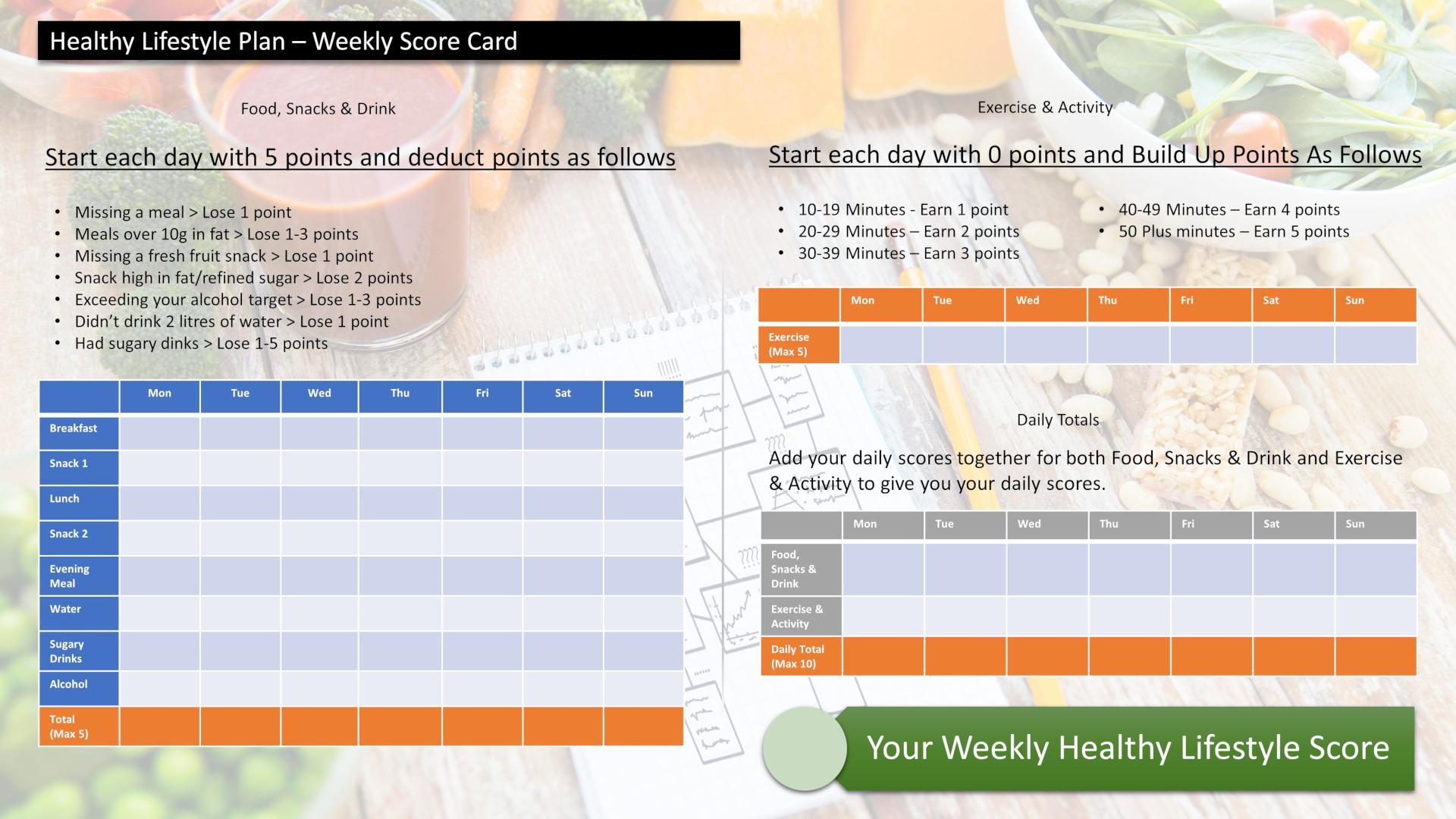 Score your way to good health with our healthy lifestyle plan and it's unique 70 point weekly scorecard!