I pride myself on being a healthy, well-rounded, and well-adjusted individual. It takes a lot to get me angry, but I do have my 'hot buttons'
On Sunday I was driving to London and listened to a radio program that was discussing how the recession had created a generation of over-50s who are being condemned to long- term unemployment. They stated that the number of older workers caught up in the spiral of joblessness had increased by 50 per cent in a year.
It continued,that when someone over the age of 50 loses their job, they are far less likely to find alternative employment. More than 40% of unemployed over-50s have been jobless for more than 12 months, and there was no likelihood that things would improve.
They said that the older workers have been a major victim of recession panic because many businesses in an attempt to slashcosts haddecided to get rid of their long-serving and higher paid, older staff.
The conclusion they then came to was, in this fast moving world, the national economy needs younger workers. 50 is old, too old, you are over the hill. Yes you are reading this correctly the conclusion they were drawing was that once you get to 50 you have out grown your usefulness to society. It's a young person's world. They talked about the challenge involved in teaching older dogs new tricks, and other things but by which point I decided I could no longer listen to such rubbish another second.
So instead of rejoicing the fact that we are living longer and in better health, they must be saying we now need to see the over 50's as a worrying, useless burden on society. They couldn't be more wrong, more misguided, or more misinformed if they'd tried.
Well I am now determined to begin fighting the corner for the over-50s. If you have the determination to make something of your life, I don't care whether you are 22 years old, or well into your 50's, you can do anything you want.
On June 17th, 2012, I will be 50 years old. My journey in the blogging world started almost two years ago. I am not, nor have I ever been considered a talented writer. Pursuing blogging in my 40's was a way of pursuing my love of personal development teaching, but in a not so conventional way. Also, I wanted to show my children that you should embrace your passions in life. Mine has always been the passion of personal development.
"It's never too late to be what you might have been." – George Eliot
This was a turning point for me in my life leading to my dream job. Maybe I was a late bloomer in the blogosphere, but I knew I was bringing with me a wealth of skills and experience. When properly motivated and instructed, anyone can learn new things.
It's never too late to "reinvent" yourself. I have made the rapid advances online, and have created my successful online business because I had a clear sense of direction, and knew why I was there. In fact my online business is flourishing, and is advancing at an amazing pace. Not bad for a fast approaching over 50. And if I can do it anyone can.
When you know what you want, you're already halfway there. Once you're clear about what you want to do, the next step is to figure out how to get there. I've done it for myself, well with the help and support of my far younger business partner Neil, and I'm determined to help others achieve the same success we are making.
People over 50 will actually be needed to bring their talents and enthusiasm to work that involves making a difference. My age has certainly not been a detriment to me online. You are on my blog right now, this is my place. It's pretty cool for an old man, don't you think.
One of the biggest mistakes you can make is to believe you're too old. Too old for what? For living your life more fully? For daring to "be what you might have been"?
Another mistake is buying into the idea that you'vemissed out on your dreams. The economy is in a right mess now, this is true. One of the reasons is that to many are ignorant of the true wonders of the internet, and the amazing powers of passion. Anyone can make a success of their life, and there are still so many opportunities waiting for you. My strongest suggestion to everyone is find your passions, and let that lead you to where you need to go.
It's important to learn how to follow the promptings of your heart, to listen to your insight. So now may be the time to change for you, well see it as a call and an opportunity to live your life following your passions.
So my message to you 50 plus' out there is don't believe this crap that you're being told that you've got no prospects. You are not on a scrapheap. In fact you've just been given a gift. You've been released from the burdens of the 9 to 5 imprisonment of modern pay check living. Now you have the opportunity to do something you love, and build a business that you not only will love but that can make you good money, and that you will be totally in control of.I really believe it's never too late to start over. And you can begin by taking just one step at a time.
This is something I'm really passionate about. I want you to be happy and successful, but in today's fast-pace world, that requires a different approach. I want to provide you with a positive boost, real-life strategies, and a few ideas to keep you moving forward! Here at Healthy Lifestyles Living you will find a place to start your journey and offering a road map. Not only that but you get me too.
As a Coach, Speaker and Blogger, as well as soon to be 50 year old 'senior' gentleman , I know passion is the true pathway to success, and that is what I have designed 'The Power of Passions' Course to be –a structured transformational program to get you started… and daily motivation to keep you moving! With the support of my team I promise you we will help you move on from where you are, and show that there's life in the old dog.
The course is starting on April 10th if you want more details email me at coach@larry-lewis.com and I'll be delighted to send you more details.
Score Your Way To Good Health - With Our Healthy Lifestyle Plan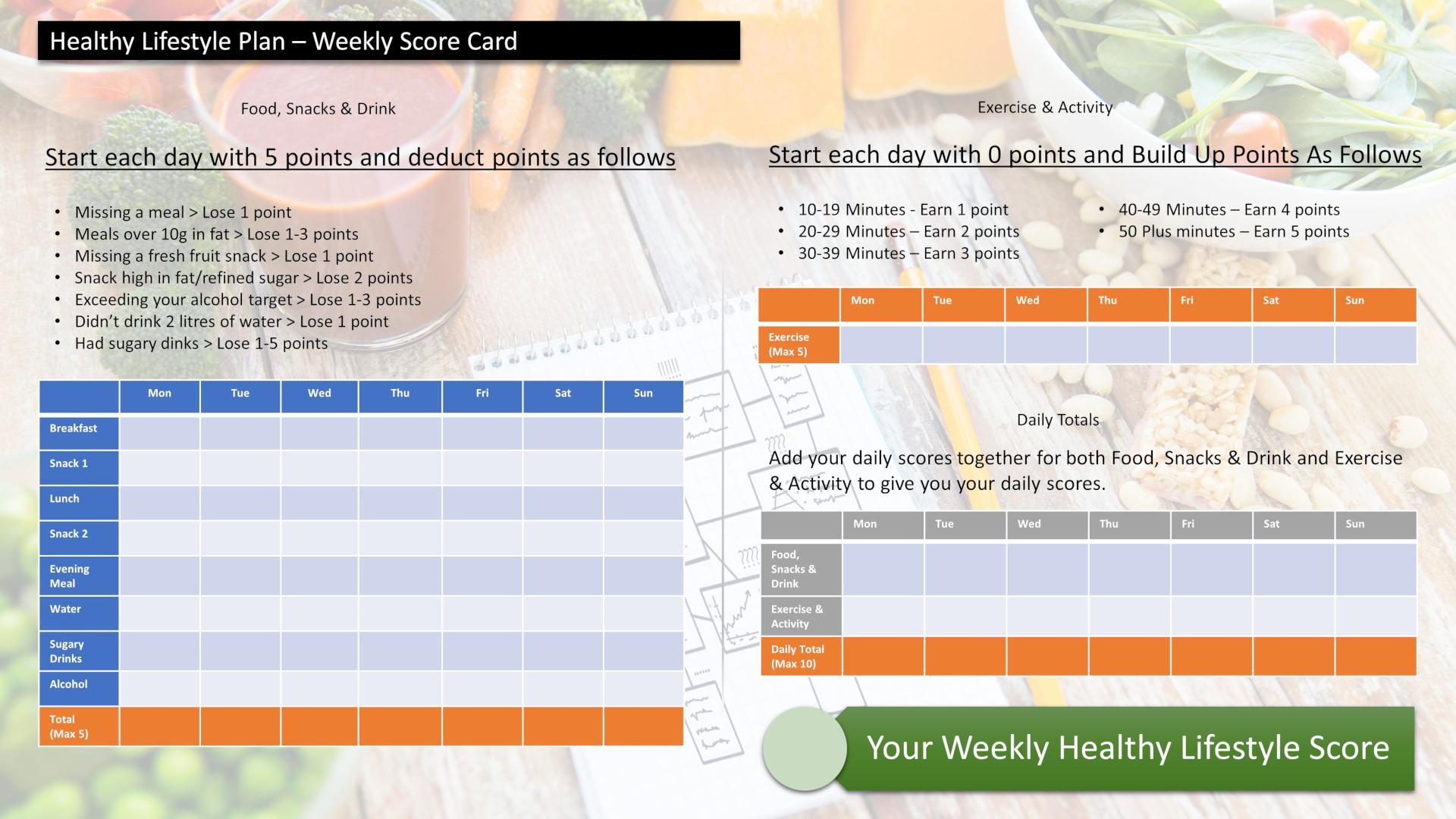 Score your way to good health with our healthy lifestyle plan and it's unique 70 point weekly scorecard!