We can all go on to transform our lives and it's never too late to reinvent yourself. No matter what your age the possibilities and opportunities await you, and you can truly go on to change your life for the better.
How close is your life to the one you planned for yourself when you were a teenager?
I'll bet it's no where near your dreams.
With the passing of my mother one of the things that has raised my spirits is talking with her sister Marlene and finding out more about my mum. To talk about things my mum did really did prove therapeutic.
I have learnt that she had always had a love for reading and learning. My mum was 7 years older than her sister. They grew up in Clapham in London. Marlene shared the fact with me that mum always had her nose buried in a book. Sharing a bed in their childhood and teen years she remembers her reading under the sheet using a torch every night. She loved reading then just as much as I remember her many years later.
She remembers that my mum was the only girl in their school ever to be offered a place in university. This had been my mum's dream for as long as could be remembered. She had achieved the standards against all the odds. Yet her hopes were taken area from her by their father refusing permission, not believing this was a path right for a woman.
She went on to carry out his wishes. She went out to work, married my Dad, and had three children.
But I doubt she ever stopped wondering where life could have gone if she'd been allowed to follow her dreams.
She never forgot those dreams she had. What she had wanted for herself. Those plans of hers. And her mind knew that one day she's make her dreams a reality. That's the type of strong woman my mum was.
She is living proof that you must never let go of your dreams. You must never give up. There will be a time where your dreams will be allowed to flourish if only you accept that when the time is right you can reinvent yourself.
Her life went through periods of crises and traumas. The day came where she realised life may not have worked out as she'd planned all those years ago, but it was never to late to go for your dream.
She found life was missing something, realising this wasn't the life she wanted.
I think we all get to this place at one time or another in our lives. Or perhaps we have been this way for so long we don't remember feeling any other way. We are just not happy. We are disappointed. We are mad. And we wonder, how did we get here in the first place?
It's life showing you where you need to grow, and what you need to release, to become the person you are meant to be.
We all have had big dreams at some point in our lives. We saw that there was so much more out there than we ever thought possible. And perhaps some of us went on to pursue our dream and made it big. But for most these dreams eventually die without doing anything to try and make them come true.
But they never died for my mum. She went exploring, looking for answers, investigating possibilities, searching for opportunities. She indeed went on to find herself again, the perfect example that you can reinvent yourself.
It may be hard for an egg to turn into a bird: it would be a jolly sight harder for it to learn to fly while remaining an egg. We are like eggs at present. And you cannot go on indefinitely being just an ordinary, decent egg. We must be hatched or go bad. C. S. Lewis
She knew she was the master of her own fate, and the captain of her soul, therefore she was in control of her life and her future. And being the stubborn lady she was, she refused to forget about the thing she'd always wanted to do.
She went on to make some amazing achievements, getting her degree and taking many other qualifications in mathematics and the sciences. She did it, in midlife, went to university and shone.
We all have goals that were once important to us —building a business, writing a book, and so on — but for most of us, we turn our back on them and never allow ourselves to dream again. Just know you all have a choice to do something different, to reinvent yourself, and to pursue your dreams, no matter how late in life you leave it. My mum started her studies in her late 40's.
There is so much that we can achieve in life and age should never be used as an excuse to why we can't do something.
Age is an issue of mind over matter: If you don't mind, it doesn't matter. Mark Twain
Soon I will be bringing my dreams to reality when I launch the Reinvention University showing others how to find their way forward and the right path for them, keeping them on track, until they achieve their dreams. I know that you can genuinely reinvent yourself.
Score Your Way To Good Health - With Our Healthy Lifestyle Plan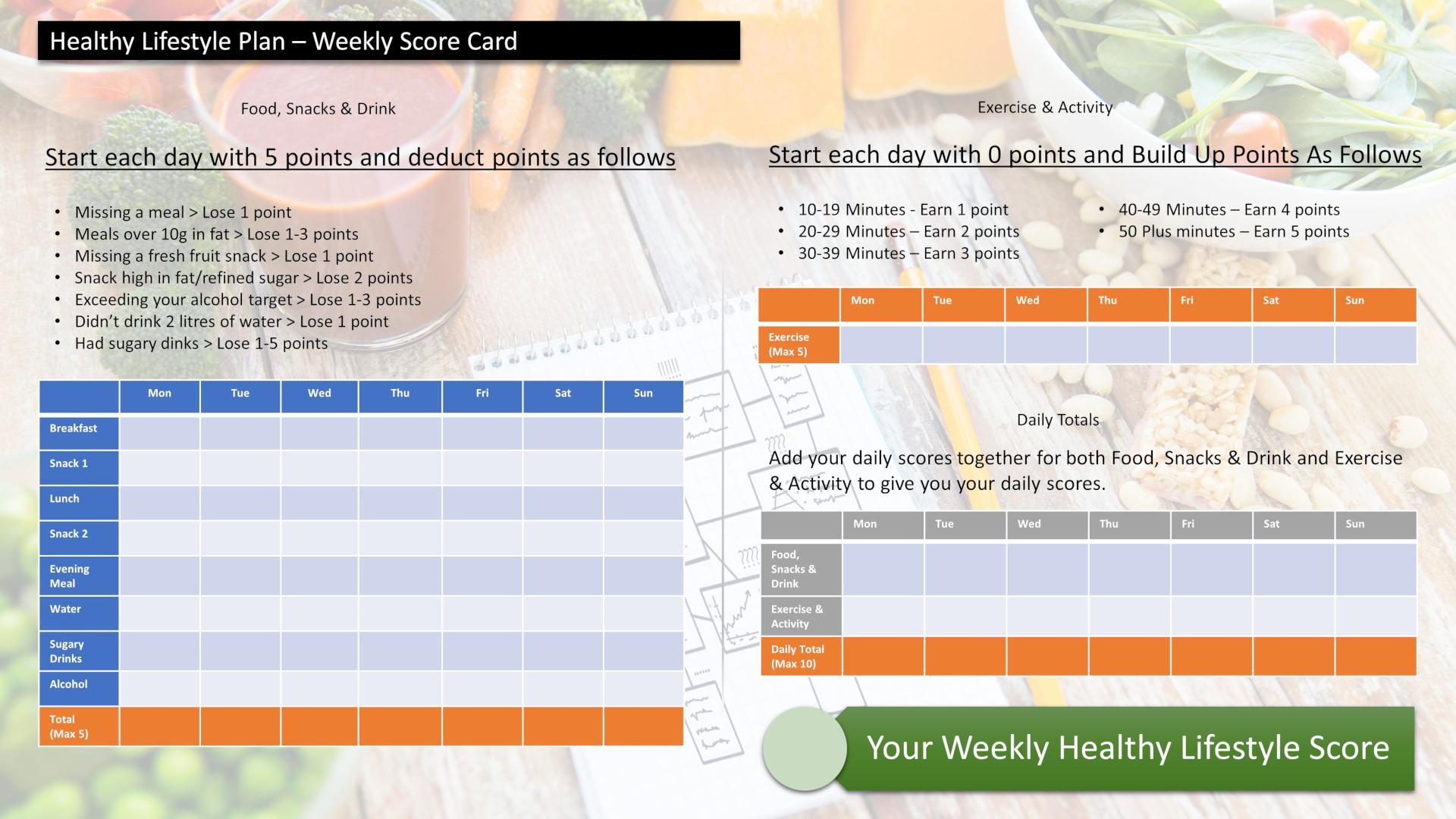 Score your way to good health with our healthy lifestyle plan and it's unique 70 point weekly scorecard!