What does it take to reinvent yourself and enjoy a life transformation? So many of you are searching for the answer of how to find meaning in your life and create a significant life transformation, but you're struggling.
Life is just a journey.
Are you somebody unhappy with your life?
You've woken up to the fact that life's not the way you want it.
Things aren't the way you dreamt they'd be when you were much younger.
Yet you are unable to make the changes .
The truth is you have the power within you to make your dreams come true. Your dreams are possible, but only if you believe they are so, and you're prepared to take action to bring them about.
Once upon a time you wanted to do so much with your life, but you haven't.
Is it too late for you?
Have you stopped dreaming? Now you see life as never changing, unless for the worse.
I see life as a journey, one that every single human being has to take. We do have to find our own way taking the roads we feel are right for us. When we take a wrong turning it will always be possible to find our right way and enjoy a life transformation.
Yet so many people seem to take roads chosen for them by others, or just as bad they just end up travelling with no destination in mind just going with the flow allowing events and circumstances to push them in all sorts of directions. Yet we are all meant to take the road that was destined for us at our time of creation.
We set out on a journey to discover the life we are meant to lead. At some point you determined the destination you wanted to take your life in and then did everything in your power to arrive at this point that you could dream of so visually.
Many achieve their dreams while others get nowhere near them. Some of those who reach their destination find it's not actually where they want to be, it doesn't bring them the fun, happiness or contentment they had expected or even hoped for.
Our problem is that at no time during our journey through life does anyone provide us with the two tools that we need to achieve our perfect life that includes our true calling. We all have a destiny that we are meant to fulfil through our lifetime but so few find their way to this place. We are missing our life compass and our life map.
Think about it! Whatever journey you set out on if you had a map and compass to assist you, then you could arrive anywhere. I used to travel across the county, going to see clients in different towns dotted over the United Kingdom from Scotland to Cornwall. When I set out from the place I am at I don't just leave unprepared with the hope that somehow I'll find my way. Often I'd not just have to travel 400 miles across country but then I'd need to work my way through a town centre, with its main roads and one way systems to arrive at my final destination. Without some form of map and compass I would never have been able to find my way.
Fortunately for some time now I've had a Sat Nav/GPS in my car so it's very simple for me. I type in the location from which I'm starting, which is normally my home. Then I enter the location at which I want to arrive. This machine will then calculate my route. It will draw me a map, provide me with step by step instructions, show me the distance I need to travel and give me an indication of how long the journey will take. If I hit heavy traffic or road blocks it will simply recalculate another route for me to take so as to get around these problems. It's a wonderful helping hand for me and ensures I always arrive at my desired destination.
Could you imagine having a similar tool to help you find your way through your life's journey ensuring you always stay on track heading in the direction of your dreams? Wouldn't life be so much easier if we had something that could not only help map out our route, suggest the steps we need to take, but that could also keep checking that we are still heading in the right direction.
Life can be so hard but when we have the right tools to hand , anything and everything is possible. That is exactly what I am going to show others through my brand new Reinvention University. It will not only provide you with the tools to reinvent your life but also far more.
I'm a great believer in personal development, but I am aware of where much of what we in the industry do falls short. Many people will read the great books on personal development , go to the wonderful live seminars, listen to incredible audio programs, and they will be empowered. They feel a new energy surging through them, have this new belief about what's possible for them. Alas within a week everything goes back the way it was. All of the new inspiration has ebbed away as life has returned to its normal journey.
You see the problem that most people face is that their lives, the environment in which they live, the people with whom they associate, the jobs they do just bring negativity their way.
Imagine how different things would be that after reading the book, watching the seminar, listening to the audio program if you were then supported by the author or speaker throughout your journey from then onwards. That person was there supporting and encouraging you along your path, able to give you a push in the right direction, keeping your mindset in that positive motivated setting that brings awesome results. They would help you deal with the things coming your way.
When you have the right support team around you it will genuinely make a difference to the outcome of your life. You see we were never meant to do everything alone. With the right people by our side we can achieve incredible things, and that is what I will give you through the Reinvention University.
What I find really sad is that most people seem to spend more time and effort over planning a 2 week holiday every year then they do planning their own life. Most people wake up everyday and just react to events that happen. But the day comes when they think to themselves 'life should be more than this.' They're simply not happy at the direction in which their life has gone and they begin to think about what they can do to bring about change.
The Reinvention University will show you the steps to your life transformation.
Where are you?
Your first step is to take a look at your life as it is right now. If you don't, you'll never be able to find what it is about you and your life you really want to change.
Are you genuinely happy with your relationships, your job, your home, your body, your health … what about the way your life's moving forward ?
If you're not isn't the time right now for you to do something about it?
Time for you to feel exhilaration every morning.
Well you make the start to your life transformation by reviewing your life. You need to see what's working and what isn't. Do you even know the things that make you happy or those that make you sad? You must go inside your head, go deep, and analyse everything about your life as it is today. Who are you, what are you, what do you do, what do you have, what do you miss, what do you want, how satisfied are you with life? Assess what you need to change and you will be setting into motion your opportunity for life transformation. This is the time where you need to drop your walls, release the façade you've built to make yourself feel better than you really do.
What do you want?
You will now start to see the things about your life that you don't want. Then you are ready to take the next step which is to start seeing what it is you do want. Where would you focus your efforts to create a totally transformed life? How could you achieve satisfaction in your life, build it to the point of happiness and success when you don't actually know what you want in the first place? So what do you want, what do you want to be, do and have. Once you can answer this you will start to get clear on what you need to be doing on a daily basis to start creating these things in your life. It's time to daydream to create your goals, determine exactly what your life path will include.
What have you to offer
Your next step will be to wake up to the reality of those things you already possess that will help you on this journey. For me my life's story, the things that have happened to me and what I have learnt from them, have provided me with the skills, knowledge and experience to not only rebuild my life but help others to do the same. To look back now and realise my bankruptcy, house being repossessed, the break up of my marriage, my ill health have all contributed to me taking a path in life that gives me so much satisfaction is incredible, what a transformation! Instead of finding things to be ashamed of, I took the time to find what I had to offer, the things that made me unique, what I could bring to the world. So what are your strengths? I assure you that you possess many, so stop telling yourself that you don't.
It's Time to love yourself
Then you have to make peace with the most important person who influences your life … YOU. No more blaming yourself for what's happened, or beating yourself up for your mistakes. Instead you have to love yourself. Believe in what you can go on to achieve. See yourself as the man or woman that can. Nothing is impossible and you know you deserve to be happy and successful. No longer will you allow your mind to be filled with negativity, but positivity and hope. You will look after your mind and body to ensure you are healthy and energised. Be proud of who you are or who you can become.
What's your purpose
Then the fuel for this journey will be provided by finding your true purpose in life, that thing that brings your passions to the forefront of your life. This is what will drive you on, wake you up every morning exhilarated to start your day and keep you excited all day long. We all have a passion but unfortunately most don't know what that is. Finding this in its own right will be life changing.
It's now been 2 weeks since the burial of my mother. My thoughts haven't left her for this whole time. Thinking about her life, the contribution she made. But I realise instead of mourning the loss of this very special person from my life I have reflected much on those things she taught me. I can't help thinking back to when I was around 16 years of age and my Mother sat me down and said she was going back to school. She explained how back when she was 18 years old she had been offered a place in university but unfortunately in that era it wasn't the 'norm' for an east end girl to go to university. Her dad forbid it. From that day forward my mother never lost her dream. So at 47 years old, this housewife, mother of three children decided she wanted to reinvent her life and take the scholarly path. Many years later she had three degrees under her belt in the sciences and mathematics.
I myself have gone on to reinvent my life. I now own a variety of ecommerce shops, am a qualified practicing Life Coach and am proud to call myself a blogger, something I didn't even know about 4 years ago. I try to make a contribution to the world by writing inspiring and motivating articles and am now fulfilling many of my dreams, and am about to fulfil a major one where I can use my skills and knowledge to change lives in a big way.
My life has definitely been like a rollercoaster ride in the last 5 years. Up until 2008 I had enjoyed tremendous success. I was making a lot of money, living in a big house, was enjoying the luxuries of a great lifestyle, had a loving family. But over a period of two years I lost everything. I reached the very depth, and ended up with only the clothes in my suitcase to my name. For a time I was simply lost and so down I did nothing to recover. But ill health came to my rescue. Lying in bed, feeling sorry for myself, suddenly I found myself reviewing my life. Seeing all the bad things in my life at that time gave me the kick I needed. I began to think what did I want to do with the remainder of my life. I had both my daughters still and I wanted to make them proud, be able in future to provide them with things that at the moment were impossible. So I began my reinvention. Now I am proud of how I not only have transformed my life but are also helping others to do the same for themselves.
Both mum and me are just examples to others that it is always possible to go on and reinvent your life no matter what age you have reached. Dreams are always possible to achieve as long as within you there is the belief that you can make them happen.
To me the Reinvention University is the most important thing I could ever do. I intend putting much of my time and energy into it. It's my way of giving back, of taking what my mother taught me and keeping her flame alive within me. I want to pass on what she taught me having used it for myself to transform my life.
On my journey in the last few years I've met many people unhappy with life finding themselves stuck in a place they simply don't want to be. I know that feeling.
For many it's no fault of their own. Circumstances have been very unfair to them. Maybe they've been inflicted with ill health and find themselves unemployed, and stuck at home. Others are looking after children and again find themselves caught between four walls. The others facing the same because they are caring for their loved ones who are too ill to be left on their own.
I'm going to show people they don't have to remain stuck in a life they're not happy about, they don't have to carry on struggling. I'm going to help them start off on a journey where not only are they going to reinvent themselves but begin to fulfil their dreams which at this point of time they feel is impossible. I'm going to help them find the answers. Together we're going to go on a journey. This starts with freeing themselves from the restraints they have imposed upon themselves living a life full of struggles, despair and very little purpose and will end with them living a life of no regrets, one charged by a passion and purpose.
I love the fact that I can offer this totally free. No catches. No tricks. Simply 12 weeks where I provide them the knowledge, support and learnings that they can use to transform their lives. I'm bringing everything I have learned as a life coach, and everything I've learned on my life journey. I'm bringing all my skills, knowledge and education to a point where it can genuinely make the difference helping people change their lives.
If you put your heart and soul into the course I'm going to provide you will get yourself unstuck, take your feet out of that quick sand and move forward at an amazing pace.
Let the Reinvention University help you on your journey. Right now I'm inviting 10 people to take part in my first class. I have 4 places still free at this time and if you are interested in being one of them having read this rather long blog post, contact me via email at larry@healthylifestylesliving.com
If this article resonates with you, please like it, share it, spread the word. Thank you.
Score Your Way To Good Health - With Our Healthy Lifestyle Plan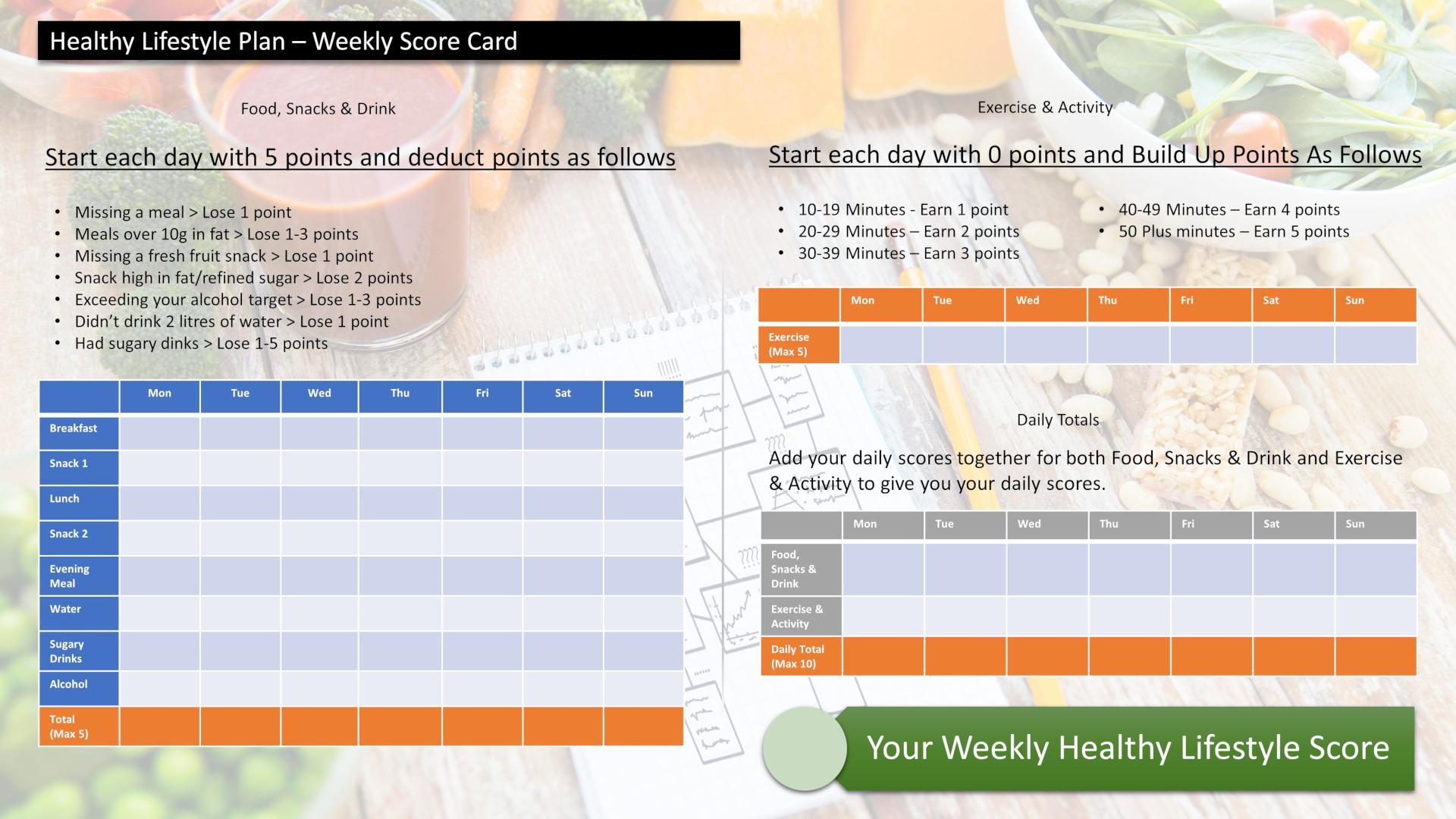 Score your way to good health with our healthy lifestyle plan and it's unique 70 point weekly scorecard!