If life isn't right don't you think it's time for transformation? Are you wasting your life away, afraid of failure or is it success you're afraid of? You've got to get your life moving towards your dreams. Life doesn't last forever! What's your vision? What do you want to do with your life? What do you want your legacy to be? Start today making your life brilliant!
So what are you doing with your life?
Are you wasting your life away, and not chasing your dreams?
If so, why?
Are you afraid it's just not going to work out for you? Nothings gone your way to this point so why should anything change now?
Isn't it time for you to believe in yourself and in your goals and dreams?
Everything is possible. There is so much you still can do in your life, and so much you can change about your circumstances.
Transformation is a process, and as life evolvers there are a considerable number of ups and downs. It's a journey of discovery – there are times when you're on a high and others when you're on a low.
I assure every one of you that waking up to your greatness is transformative and life-changing. It's within every ones capabilities and only you can stop yourself.
So its tine for you to invest in your self to discover your brilliant best instead of limiting your growth and trying to find answers outside of you. Everything you want is within you, you just have to learn to unlock it, and be brave and going for your dreams.
Just imagine how different things would be if you accepted you had everything within you and you truly focused on being curious, exploring and learning what your natural gifts have always been.
You truly have to wake up to your possibilities and realise you are possessed of so much talent yet you have so little belief in your potential and have settled for something far less than you're capable of.
The problem that many of you have is even when you have a vision for how you want your life to be, very few of you are looking in the right place to find your answer. You don't know what to do or what to use to bring your dreams into reality.
Even when you start to look at self-development searching for happiness and setting out in pursuit of your dream you still tend to ignore the true answer that you've been missing.
In fact, when I look back over my life at both the good times and the bad times it is now clear to me that if I'd accepted and nurtured my greatest asset many of the more difficult times could have been avoided.
Once I had recognised my greatest asset I've never looked back.
My biggest regret is it took until I was approaching the age of 50 until I came to realise my greatest asset that had been available to me literally for ever. Because what I have come to learn is that I myself am my greatest asset. Not the businesses I may have opened, not my house, nor my bank account but simply me the person I am and the greatness I hold within.
I'm capable of achieving anything I put my mind and heart to!
It took looking into myself, determining my values, talents, strengths, discovering my passions to wake me up to realising I was all I needed to be I simply needed to chip away to bring out the best in me.
So focus on yourself to discover what makes you your greatest asset and at last use your gifts.
Ask yourself this question 'What would you attempt to do if you knew you could not fail?'
Here's a few more questions to help you answer this key one to help you figure out how to live … right now. Each and every day.
What do I love to do?
What can I do that matters?
What am I doing to help others?
What am I doing to live life with passion, health and energy?
So no more excuses get on with taking your life forward, it's time for transformation.
Score Your Way To Good Health - With Our Healthy Lifestyle Plan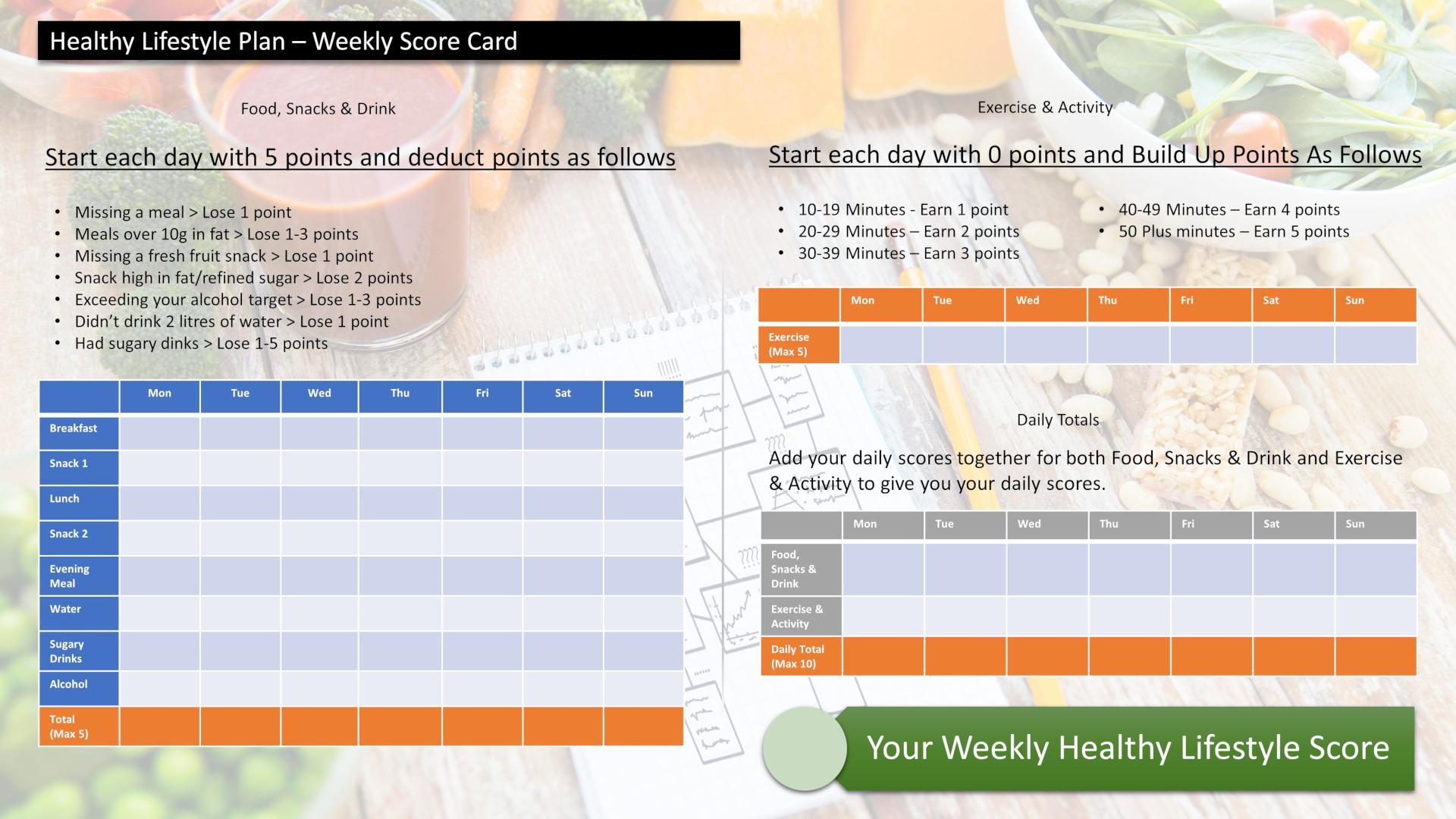 Score your way to good health with our healthy lifestyle plan and it's unique 70 point weekly scorecard!