Yesterday we launched the Reinvention University, and my dream of bringing coaching to the masses has started. The beginning of a dream is at long last taking shape in my life. Not just any dream but one I've carried with me from my youth. It's the one that I would day dream about constantly, that was forever playing out in my mind. Me standing on stage in front of a packed audience inspiring and motivating them through the power of personal development.
Life's journey took me on many detours and although the dream never died it didn't fit with the life path that I had chosen or it seemed not to. Yet looking back now I see much of what I experienced, the lessons I learnt, were to lead me to be in the position and able to bring my dream to life.
As a life coach I love working with people and playing my part in helping them to transform their life. Together we go through a process and the outcome can often be remarkable. I know that I have been able to change one life at a time as a life coach.
My other passion is blogging. There is an amazing feeling to know that your words are able to touch other people and help them to find answers or merely to be inspired to do something which will improve their lives.
I have had this feeling inside of me that I could take what I do to another level. Somehow I could bring all my experiences, knowledge and skills together and make a far greater impact than I've ever done before.
It took those last moments with my mum as we were waiting for the undertakers to collect her to begin her final journey for the penny to drop. Both our lives, hers and mine were perfect examples of reinvention. In our mid 40s we both went on completely different paths than we had been on in our lives to that point and transformed ourselves.
It came clear to me. Everything that has happened through my life has led me to this point. I can bring my writing skills, blogging abilities, speaking confidence and all my life's lessons wrap them around my coaching talents and create a course, a school, no a university to help others to enjoy the freedom and success that can come from reinvention.
No longer would my coaching have to change one life at a tine but now I could bring it to impact far greater numbers.
I'm very fortunate to have found 10 people who have the trust and faith in me. They have joined my tester group and as I called them yesterday they are my guinea pigs. They have afforded me the opportunity of testing my transference of what I successful do on a 1-2-1 basis to a group one. Their reward will be that in 12 week's their life will have begun to take a new shape and their reinvention journey will be well under way. In return they will have allowed me to convert everything I know to a system that will enable me to help 100's maybe 1000's of people to reinvent their life.
I see this as me now being able to bring coaching to the masses and I'm as excited about it as the child I was about his daydream.
Score Your Way To Good Health - With Our Healthy Lifestyle Plan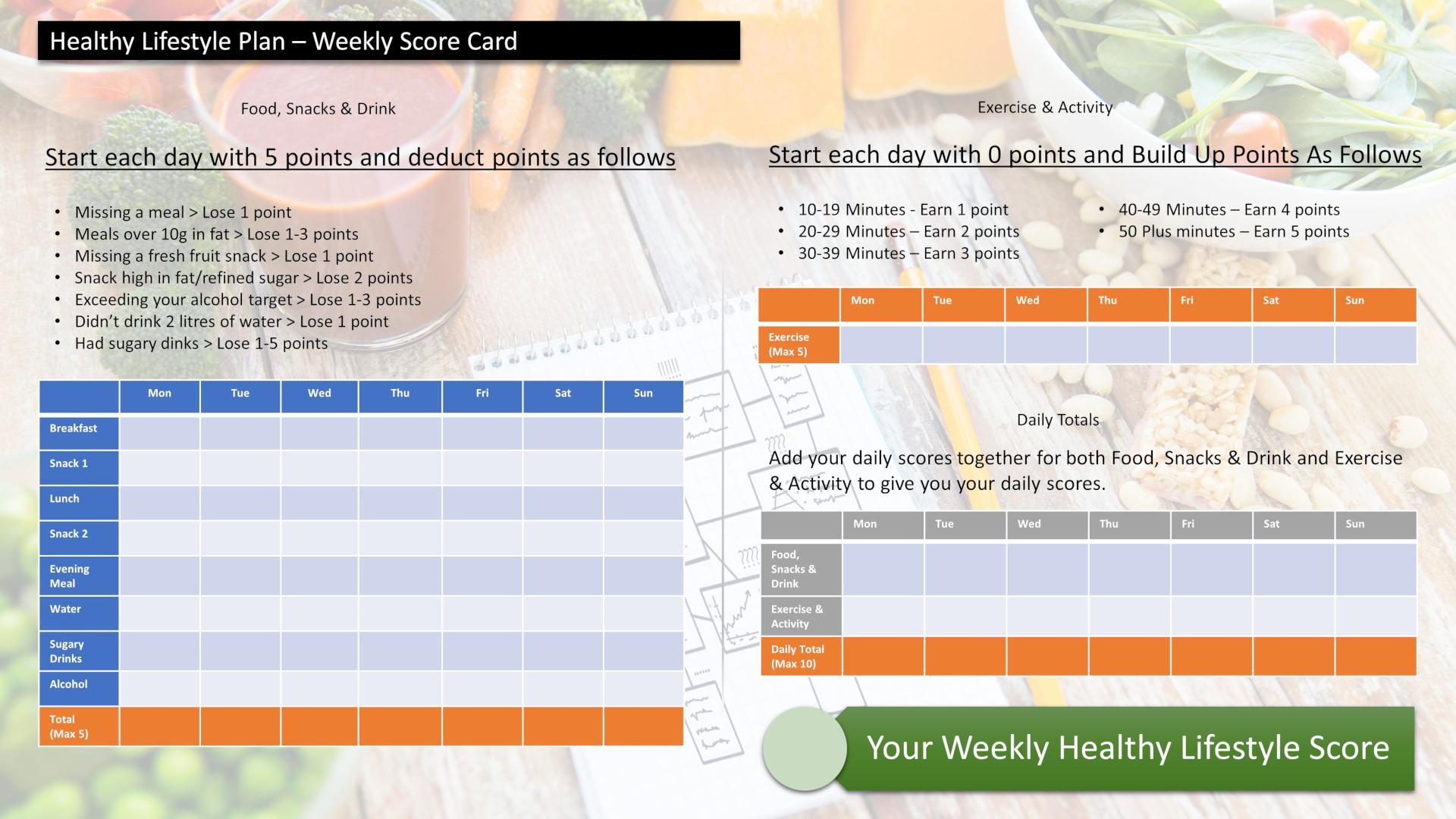 Score your way to good health with our healthy lifestyle plan and it's unique 70 point weekly scorecard!