We each deal with loss in our own way. It's just over a week since my mother past away and a few days ago we buried her. It's now Monday and the start of a new week.
I'm in a very reflective mood. For a week now I've been thinking about my mum, our relationship and the many things she taught me.
I wrote the other day how she'd been stopped going to university when she was younger yet never gave up on that dream and in her late 40s went on to reinvent herself enrolling in college and going on to the open university where she achieved the degree she had longed for over the years. My mum truly personified the never give up attitude I often write about.
Today my mind can't stop thinking about the idea of never giving up on your dreams. I'm listening to the three tenors live, one of mums favourite CD's. Apart from the inspirational voices, what stands out to me is the round of applause ringing out between each song.
This brings back to me my dream as a young teenager. My younger years were clouded by much turmoil at home, not something though I need to go in to detail about at this time. My way of dealing with it was to lock myself in my room and bury my head into one of the personal development books given to me by my mum. Frequently I would find my mind would lose itself into a day dream. This would always be the same. A large auditorium, packed audience, a stage, lights beaming down on the speaker. At the conclusion there is much excitement, continuous applause and cheers, people saying thank you and the words you have changed my life coming from the mouths of many in the audience. I have never doubted who the speaker was, it was me.
After the funeral on Friday my eldest daughter wanted to stay with me the night and be there for me and allow me to be cheered up by my granddaughter. In the morning when Amelia-Mae woke up I beat everyone to her cot and smuggled her downstairs so we could have some us time. I looked through the sky on demand channels and chose princess and the frog a Disney movie. This was a new film to me.
It told the story of a young girl. From a young age she shared a dream with her father of opening a restaurant. They had a clear picture of what it would be like. Even after her dads death the dream stayed alive within her.
Events and life took her down different roads but she never for a minute gave up on her dream. The film concluded with her opening the restaurant.
I sat glued to the TV watching this movie gobsmacked about its message, the coincidence of this and the meaning to me of this.
I look at my life as it is right now. I have come a long way since my darkest times. The last few years have seen me enjoy great success. My main source of income is generated by my online ecommerce shops. I also supplement this with advertisers on my blog and selling my life coaching. This blog started life predominantly as a healthy lifestyle resource. Having for many years owned my own gyms and having worked in the fitness industry it was natural for me to do this. But slowly my love for personal development came through and more and more I found myself writing on this area.
I was also doing life coaching but had to give this up because more and more of my time was spent doing my work online, writing blogs and building my ecommerce shops. I also lost a lot of time due to ill health but now find myself well and inspired to move everything to the next level. So life right now is great but it's not the exact life I'd have chosen for myself.
So it's time to consider what is it I really want. I can see I have the foundations but now it's time to build the pillars of success. What I know is that I love sharing my passions and knowledge for all things personal development. I am at my happiest when I'm helping others making a positive impact genuinely making the difference. I want to extend this bring my true dream more to the forefront of my life.
So what is it I want? I have said for such a long time that I'd like to be similar to Tony Robbins. Spreading the message of personal development, inspiring others to believe in themselves, providing them the resources to bring about positive change. To coach others, write best selling books to motivate and educate others through what I have to say whether by blogging, standing on stage or as a speaker online through webinars.
I have many topics that I have an amazing passion for. The first is to never give up which is very much part of my life story. Then there is how to get yourself off the floor find the direction to take your life so you can move forward and head towards your dreams. The other is something over time I've come to realise the importance of. So many people that contact me are virtually house bound whether it's because of physical ailments, looking after young children or caring for ill loved ones. They are desperate to find an outlet for their thoughts, passions and skills while also helping them to build a business. Their is so much rubbish out there but so little good stuff to enable them to find the answers of how to do.it.
I do what they want to do, have gone on to totally reinvent my life, so I can show them the way and give them a helping hand. I see my future having 1000's of people allowing me the honour of guiding them. So very soon I will be launching the Reinvention University through which I will make my childhood dream come true and help others fulfill there's.
Together we will follow my mother's example and never give up on your dream.
Watch out for The Reinvention University it will be life transforming!
Score Your Way To Good Health - With Our Healthy Lifestyle Plan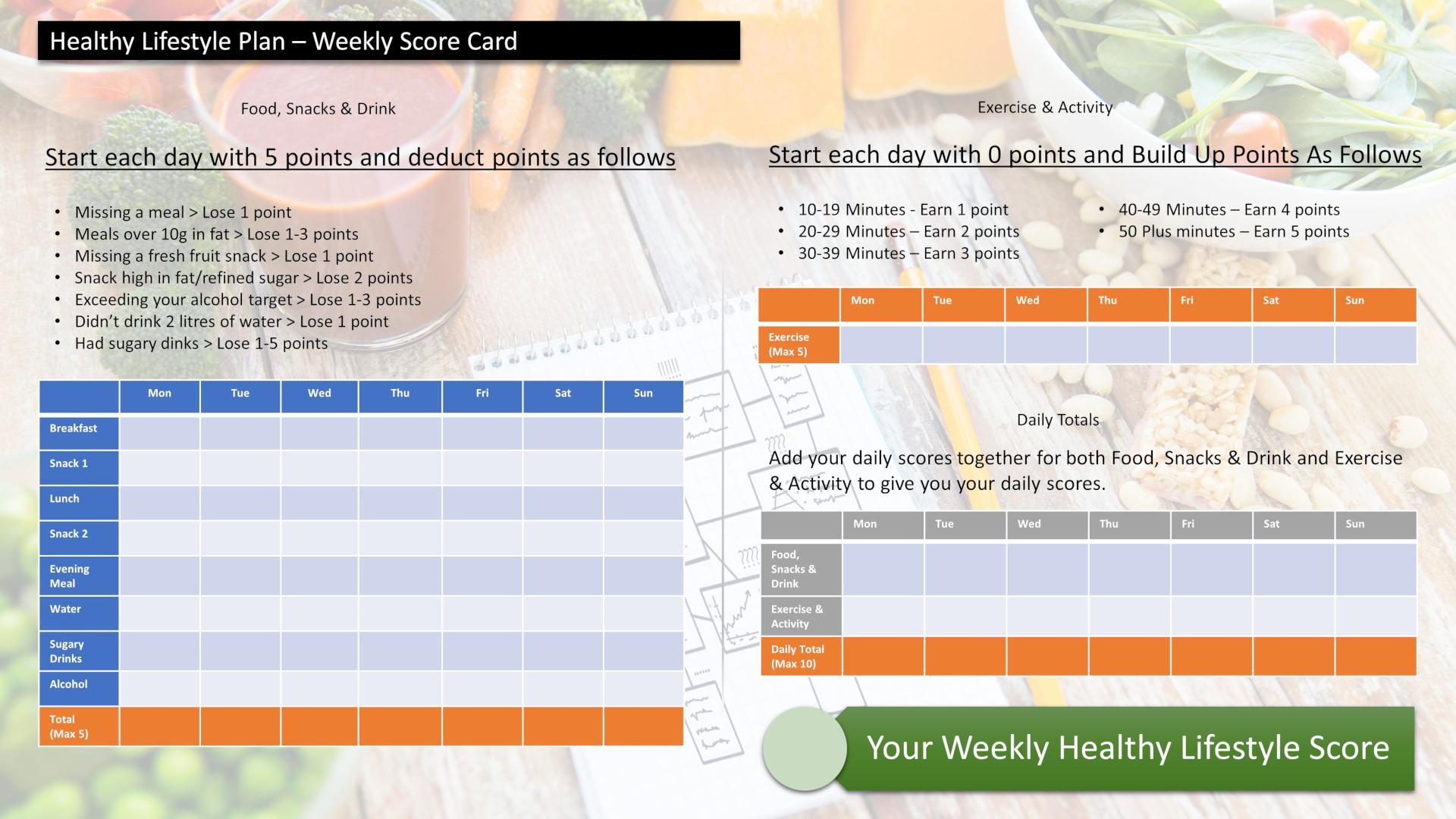 Score your way to good health with our healthy lifestyle plan and it's unique 70 point weekly scorecard!