Life is Great today! I can officially announce that I am a grandfather.
Few events come along in a lifetime that stand so far above the others, but this is one of them.
My daughter Laura-Jayne, together with her partner Colin, have begun a brand new adventure and phase of their life.
On Monday 5th November, at 10.56pm, Amelia-Mae Natalie Scott came into this world.
Their lives have now changed forever.
I need to shout this out, my daughter has become a Mother.
Mum, Dad and baby Amelia-Mae are doing fine and I'm very proud of them all.
It will seem no time at all since I held my baby girl in my arms, fed her that first time, winded her, took her for her first day at school, and have seen her grow up into a beautiful, hard working young lady that she has become. Well that little girl, the first born child of mine, now is a parent in her very own right.
I know that her now becoming a mother marks a new beginning full of possibilities and dreams.
Last night I looked at my granddaughter for the very first time, but it was as though I'd seen her before. What a remarkable resemblance she had to another baby, one I saw some 21 years ago, her mother, my daughter. Down to the little dimple in the chin, there can be no doubting whose child she is.
I know Amelia-Mae is a very lucky girl. She will have the love of someone so incredible, so loving, so giving, so caring, and so desperate to give her the best that she can. Of course I'm talking about Laura-Jayne.
There is no doubt that this is the start of a new phase in her life. What with her back problems over the years which culminated in her spinal fusion operation, and the upheaval she faced with the breakup of her mum and my marriage she's had a rough time, but has fought through everything. Her health in the last six months has been really poor. I wouldn't like to try and work out how many times we've been backwards and forwards to the hospital. One day I will ask her permission to write about her pregnancy, because there's a story to tell. Particularly with the fact that despite her fainting constantly, throwing up all the time and being examined by doctors galore, it wasn't until the 21st week that she found out she was in fact pregnant.
Not many of her generation would go through university and do virtually a full time job at the same time. She's a fighter and I believe a winner. No father could be prouder of his daughter, and what she has achieved right now … in my mind, she has given us her family a blessing. Her life now has changed, and so much for the better.
I am proud to raise my voice in praise of my daughter, because she deserves it; to express my love, my encouragement, and my admiration for her. She has developed into a remarkable young lady, and now she's a mother.
She has the most beautiful reward to love and cherish, and the support from a really great guy. As a father, I always said no man will be good enough for my little girl, but Colin, is not just good enough, he is just simply the right guy for her, and I have absolutely no doubts, he's going to be a fantastic father.
Yesterday afternoon, I held Amelia-Mae in my arms, as I stared across the room into her mother's eyes, you could see and feel pure joy and happiness. As I fed this little bundle in my arms her bottle I couldn't help but be reminded of all the wonders I experienced as a father when her mother my first born came into the world. I looked back and cherished many memories, as I listened to the heavenly sound of my granddaughter sucking on her bottle.
Being a dad, continues to be the biggest privilege and blessing I have ever been given. Sitting with both my daughters in a room with my granddaughter on my lap, well that is one of the greatest magic moments that I'll ever have.
Our grandchildren accept us for ourselves, without rebuke or effort to change us, as no one in our entire lives has ever done, not our parents, siblings, spouses, friends – and hardly ever our own grown children. ~Ruth Goode
The emotional impact of becoming a grandfather has been slightly less daunting than when I became a Daddy all those years ago, but no less intense. There is the same awe-inspiring sense of love, and amazement, and wonder, and disbelief that anyone or anything so beautiful could exist.
And happiness for my daughter, that's the breath taking thing for me. I know, without any doubts whatsoever, Amelia-Mae will bring just pure joy to her loving parents, my baby Laura Jayne and her brilliant partner, Colin.
And having held and fed my granddaughter, there is no denying that simply gazing in loving wonder at her perfect little baby mouth, and her beautiful face that for the third time in my life, a tiny little bundle has stolen my heart hook, line and sinker.
My solemn promise to my granddaughter, my very special little angel, is I will always love you, protect you, and encourage you to reach the pinnacle of your potential and you will always know granddad will be there for you.
I'm proud of the three of you.
Score Your Way To Good Health - With Our Healthy Lifestyle Plan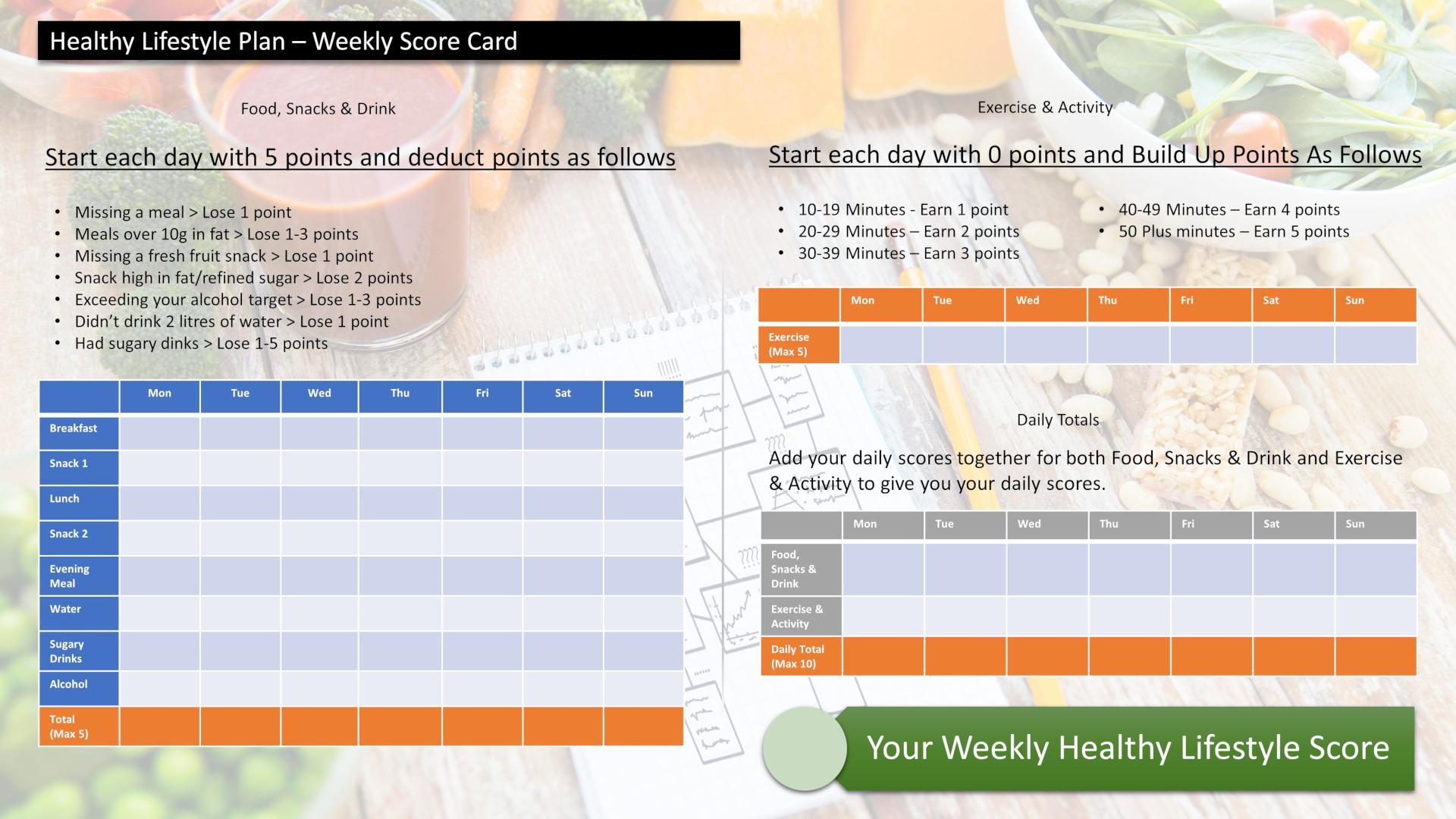 Score your way to good health with our healthy lifestyle plan and it's unique 70 point weekly scorecard!