The miracle of new life.
Welcome to the world Amelia-Mae.
You are daughter to my daughter, granddaughter to me, and great grand daughter to my parents.
You are the first born to two wonderful parents who will cherish you and guide you and help you to flourish.
As your grandfather, I will take great delight in all that you are and I know this feeling in my heart that happened the first time I looked at you will never disappear. I'm experiencing so quickly the joys of grand parenting.
I was close to tears of joy a week ago Saturday.
There was a very special moment. She was introduced to my mother for the very first time. Once a very strong and courageous women, alas time has been unkind to her. Yet you can be certain that a stronger, more intelligent woman she will never know, and she has the fortune of having her blood flowing through her veins.
You're such a gift, a miracle. How did we ever do without you in our family! How blessed are we!
You are so loved – already! Bringing such happiness.
Seeing her on the lap of my mother, her great grandmother was for me one of the most touching experiences of my life. I knew that she would bring her family such happiness, but I didn't realise how much she would so quickly change our world so much for the better.
Seeing her great-grandmother holding on to her, snuggling up to her was just awe inspiring for me. I felt honoured to share the joy of the moment through this blog.
I thought nothing could be better than me than to hold her in my arms, feel her little body in my arms and kiss her little forehead. But to see my mum hold her first great-granddaughter well I couldn't put that into words. I admit I never thought I would see her be able to do such a wonderful thing. This has given the joys of grand parenting a whole new dimention. I really never thought i'd see this day. My mother holding a little baby, her great grand daughter. I hid my tears well.
Grandchildren represent the future of the family. And Amelia-Mae being the first born into our family since the passing of my eldest sister Jan, surely brings with her not just a new generation, but new life to help this family flourish. Natalie her middle name is the same as Jan's, and that means so much to all of us.
For my mum it has been an emotional time with her new born great granddaughter. Her dementia has meant that she has been protected from thinking too much of her lost daughter. But in the last few days they have come flooding back to her. Tears have flown. But the only tears on Saturday were of happiness, and my mother actually said those very words:
Another new little soul has come into our family. She in time will learn about my sister, and she'll discover what a brilliant woman her great-grandmother had been.
I kept looking around the room. There was my mum and dad, my sister and I, my two daughters and Amelia-Mae. Four generations of our family in one room. I will certainly make sure she knows that day where her doting family gathered to give her love.
It was deeply touching to witness this in front of my eyes. The lump-in-my-throat each time I looked at one of my family hold on to my precious grandchild. I was so grateful that my daughter and her partner brought her baby to the family home to meet my mum this very first time. I truly understood the unbelievable joy of being a grandparent.
It's difficult to comprehend how quickly her mommy has grown from a child to an attentive, deeply caring and beautiful mother. It moves me to see her with a daughter – my precious granddaughter it makes me so proud, and happy for both of them.
I can't wait for more and more family gatherings. And you can have no doubts I'll be writing a lot more about being a grand parent.
Score Your Way To Good Health - With Our Healthy Lifestyle Plan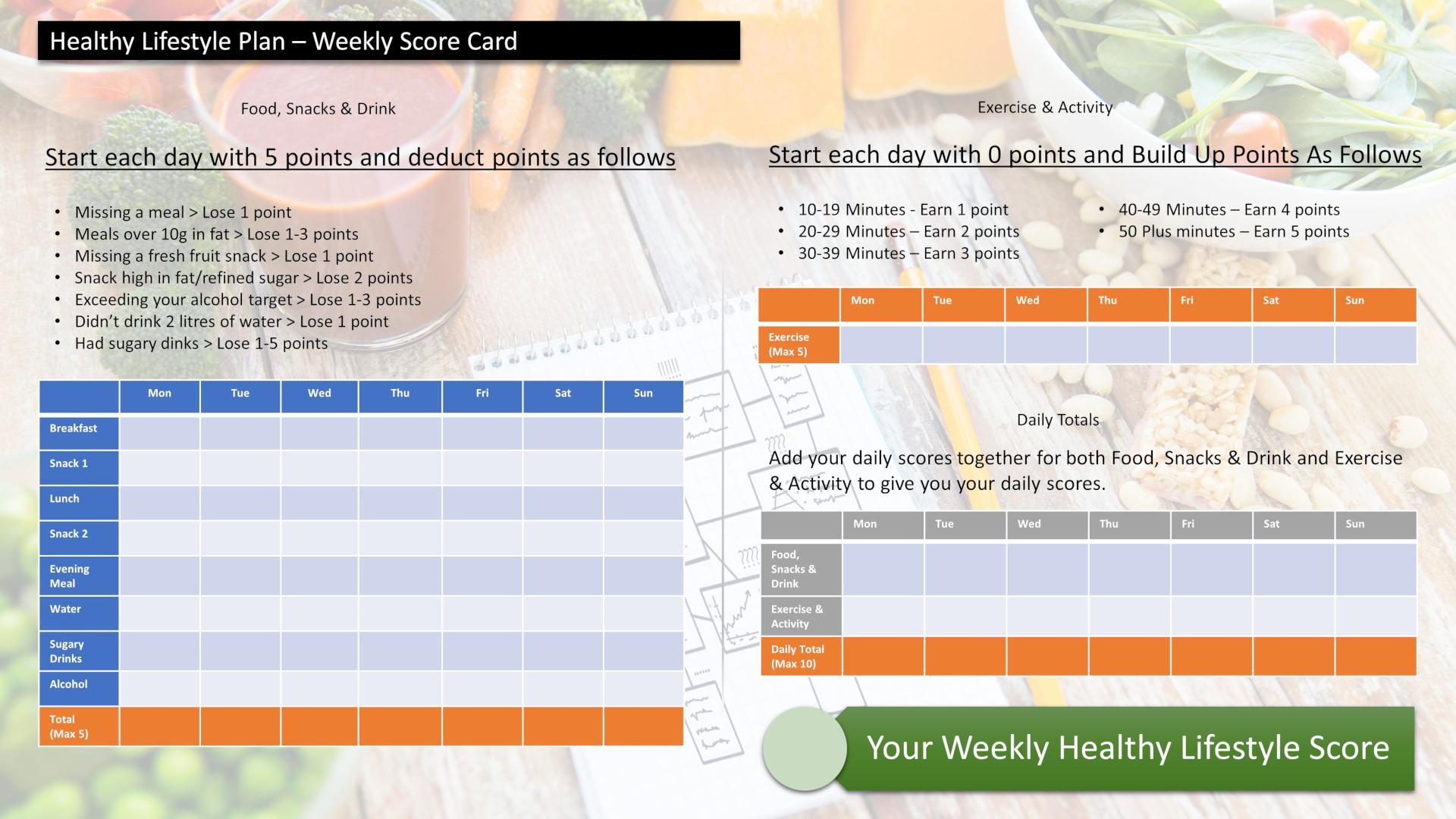 Score your way to good health with our healthy lifestyle plan and it's unique 70 point weekly scorecard!