I have done many jobs in my life and no matter how much I earned, nothing seemed to really fulfil me. Life changed the minute I took those first steps to building my online business. I found a job that not only I loved, that brought out the best in me, but that made a difference to the lives of other people.
It is amazing to spend time working on a business you enjoy so much. Every step we take is so exciting. Everything we get to do seems to work out and take us further forward. We know we work harder than most, yet time seems so unimportant particularly when the work you are doing stimulates you so much.
Today I find myself to be a lucky man. I work. I work hard because I love what I do. My business is a total reflection of the passion I have to make the difference, to help change the lives of others. I feel great because I make a living doing something I love. How could things be any better? I was to find the answer to this about 4 months ago!
People spend most of their waking time working. So to me it's so important to be satisfied with my work. I've had to sacrifice evenings and weekends to build the better future we all desire, so doing this in a job I love does make it that much easier.
I really do love blogging. I don't just enjoy it, I really love doing it. I feel the same when I am coaching and creating products for my personal development and healthy lifestyle business. I lose all track of time when I am doing these things, so absorbed am I in the process and the creativity which seems to sometimes come from somewhere within me but not in my control.
But we know life is a journey. Yet the mistake many make is believing the rewards are awaiting you at the end of this journey, no matter how long it may take. This isn't the way it is. Even while you are creating your life's work you have to make time for those magic moments that are there for you right now.
One of the happiest, magic moments of my life happened around 4 months ago. The birth of my first grandchild. I love nothing more than being able to spend time with both my daughter and granddaughter, moments that I cherish every second of. The latest beautiful addition to my family was a miracle child, a blessing to her mother. From my first view of her I gave her my heart. I was helplessly in love. Totally smitten. I count down the seconds to my Sundays when I get the chance to see her.
Grandchildren are the greatest gift we can be given. Not only are they a part of us they are also a part of our very own children. There's something magical about that. A continuation of our blood line.
I am blessed by her life. A day doesn't go by when I'm not thinking about her. An advantage of my business being online, spending so many hours at a computer does give me the opportunity to have a quick look at my daughters Facebook page which keeps updating the events in her and my granddaughters lives. I get to see constant updates of her photographs and I admit to just gazing at them for a few minutes feeling my heart beating that little faster.
It is so incredible how fast babies do develop. Weekly something about her changes. She is advancing so quickly. To now hear her giggle is enough to get your heart racing. To see her beaming smile is just so beautiful.
I know that my passion for my business is as strong as can be, as is my love for helping people. To be able to build a business with unlimited possibilities of helping others is very special to me. Together with having a granddaughter like my Amelia Mae to love makes me realise what a lucky man I am.
You may not have a granddaughter, but I encourage you to follow your passion. Find something you love to do, that you would truly enjoy, that would best utilise your skills and talents and build a career around it.
Score Your Way To Good Health - With Our Healthy Lifestyle Plan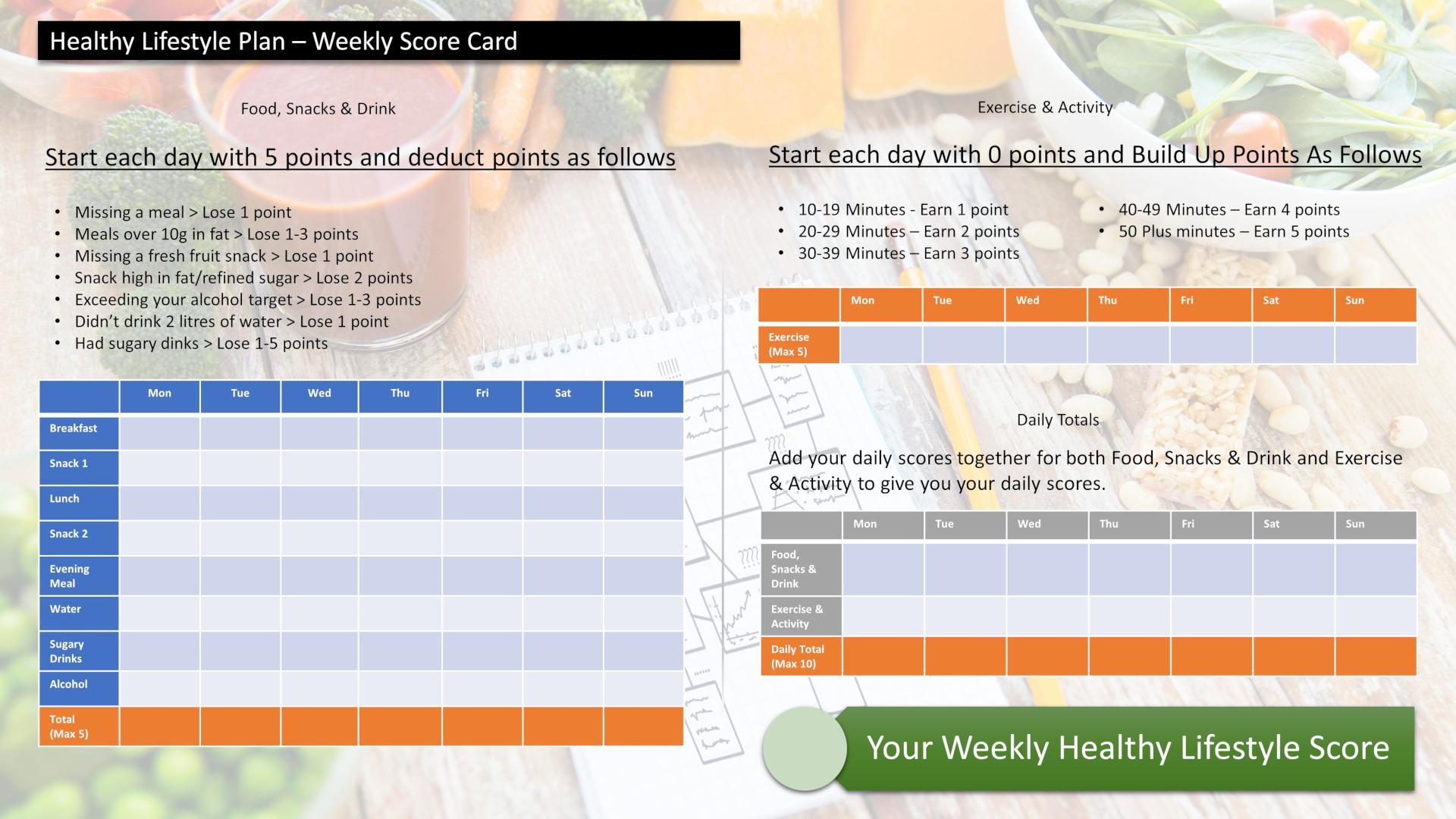 Score your way to good health with our healthy lifestyle plan and it's unique 70 point weekly scorecard!