The countdown begins. On Sunday I'll be 50. 'It's just a number, isn't it?
Or should I be titling this post as 49 never turning 50!
The truth is I've embraced the idea of turning 50 and I'm incredibly excited about what the future holds for me.
In fact I am convinced the journey my life has taken will demonstrate that Life does begin at 50.
Midlife isn't a destination. It's just part of the journey. And it's a journey for me that's got a long way to run.
My journey has led me to a career as a certified life coach – something that never feels like work, a blogger which is as much my hobby as my job, and a lifestyle entrepreneur where I help make the difference to people's lives. So it should be no surprise that I get up every morning eager to start my day feeling full of energy, focused and excited about my day.
Age is no drawback. You can build the life you really want. But sometimes you have to be prepared to take a leap into the unknown. But surely that's better than letting any chance of the life you want just slipping away. Something I find very sad is the number of people I speak to who are not where they want to be and believe that they never will be.
We've all heard of this thing called a midlife crisis. Where confusion runs riot in your mind, frustration and fear drag you down.
Do you asked yourself:
How did my life drift so far off course?
How can I fill that empty feeling that's growing inside me?
What do I do next?. . .
I have an idea of what I want . . . now how do I get it?
Do you see yourself as being over the hill, past your prime, on the way out, ready to be put out to pasture?
Ok so maybe certain things about you aren't as good as maybe they once were. You aren't as fit as you once were, your eye sight has deteriorated, maybe even lost some of your hearing together with some of your hair.
Well instead of feeling sorry for yourself, reaching a landmark like 50, should be a time when we reflect and re-evaluate our life. My belief is that in the half century I have lived, I've learned so much, I've acquired the skills and talents that I now use daily, so now it's time for me to make the most of who I am, and become the person I set out to be in all ways.
I am on the entrepreneurial path, building my business online and I believe it is perfect for us so called baby boomers. Starting is the hardest part, but please don't waste any more time…go do it. I love being an entrepreneur, and the thrill of being in charge of your own destiny is incredible!
The internet presents great opportunities that some of us did not have earlier in life. You can find ways to share your joys and passions and even earn income from it. You can find a feeling of satisfaction in sharing knowledge with others. If you want to go in this direction, you can even build an online business for your families future. I am and love every second of it.
The entrepreneurial path has become more appealing, more viable and more rewarding for all baby boomers, and it's something that you should look at. Why when you still have so many years ahead of you would you just want to accept mediocrity? There was never any way I'd just let myself sit on the side lines, and not go for being all I could be.
Just know it's never too late to learn something new.
Life after 50 can be the best years of your life. Helen Keller said. "Life at any age is either a daring adventure, or it is nothing."
Reinventing yourself after 50 is an engaging and fascinating journey. Engage in a passionate love affair with every part of your life, embrace, nurture, and develop everything you do. Fall in love with your own future, I guarantee you that's it's a fantastic way to live.
So here are my recommendations to you today.
Believe you can do anything you want to do, no matter your age
Fall in love with your own future
Design, develop and implement your life reinvention plan
Take it from me. In less than a week I will be 50. But I will still be active, vital, full of energy, and ambitious. So it's up to you, transform your beliefs about aging right now and you will transform the remainder of your life!
Believe you can do anything you want no matter what your age.
"Aging is mandatory, growing old is not." Chuck Watring
What do you think about turning 50? Please comment.
Download Baby Boomers – Life begins at 50 MP3
Score Your Way To Good Health - With Our Healthy Lifestyle Plan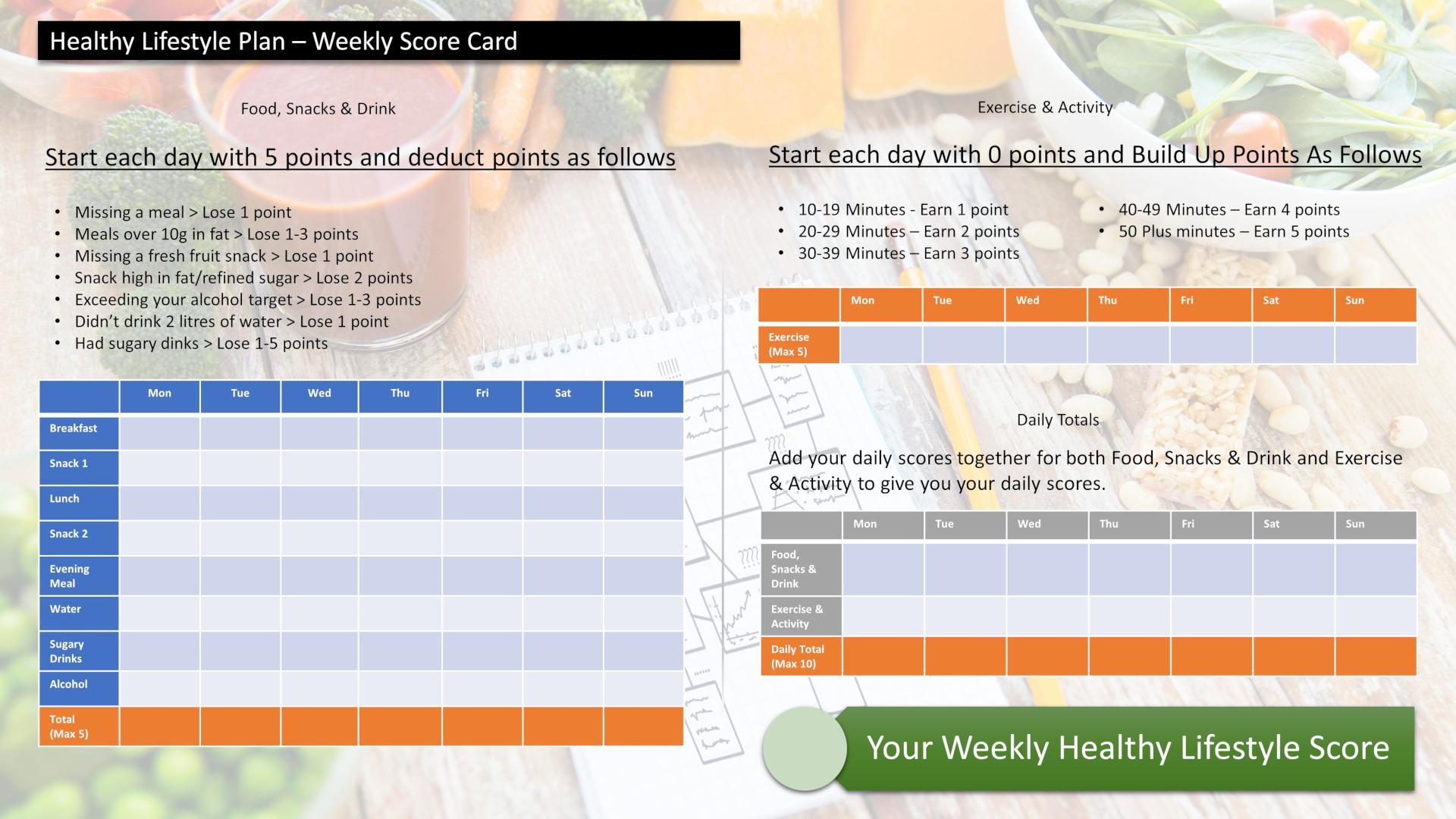 Score your way to good health with our healthy lifestyle plan and it's unique 70 point weekly scorecard!