My mum's eulogy was probably the most difficult thing I've ever had to write. Reading it in front of our family and friends was probably even harder, especially standing by the side of her coffin. It was my opportunity to reflect on her life, and share some memories.
Paula 'no middle name' Lewis passed away on Saturday, Feb 22, 2014, at home in her bed in Darrass Hall . The beloved wife of Mervyn for 63 years. She was laid to rest on Friday, February 28, 2014 at Preston Cemetery, North Shields.
I want to share my thoughts and reflection. So these were the words I said to those there to celebrate her life and say our farewells.
I've been asked today to say a few words about a very special lady my mother Paula Lewis nee Freeman.
We have witnessed a miraculous event today, my mum arrived on time for something. I think it must be a 1st. Forgive the pun but better late than never.
She's kept her word, she always said she'd be on time for her own funeral. I suppose mum never did anything in a hurry as her driving demonstrated. She was so proud when she once got a speeding fine. We all found that amazing and funny but not as amusing as watching mum dance. Now there was proof that she had two left feet, and was probably tone death, but it entertaining to witness. There was a time when mum actually did go fast and that's when she was walking around a shopping centre. To keep up with her was a struggle. All you normally saw was those chicken legs working at speed as she moved into the distance.
My mum certainly enjoyed shopping. but what she loved was going around antique shops and junk shops evidenced by su and my garages.
Of course we are talking about an incredibly special lady. To me she is someone whose strengths have been revealed through the many periods of adversity that she has had to deal with. No matter what was thrown at her she came through everything always finding solutions. Nothing would beat her.
I know she always saw the best in everything and everyone. When others were faced by problems she would be there for them, helping them to find the path right for them to take, showing them the possible solutions available .
She was an amazing woman who totally went on to reinvent her life, becoming a business owner who learnt to do her books and accounts, and she loved nothing more than working on these, a path I'm proud to say her daughter and my sister Su has followed.
She had a fascination and love for continuous learning and would read constantly books on personal development. Her passions for this live through me, and my business is the result of all she taught me.
She had a love for mathematics and the sciences and went on to do a variety of degrees. She was truly a remarkable and intelligent lady. I have had the pleasure over the years of talking to her fellow students, and most where a quarter her age, but they each valued my mum as a friend and were so impressed with the person she was.
Nobody that knows her won't have been prescribed a homoeopathic remedy for an illness they would have suffered from. Every one of us will remember a little white pill being placed on our mouths by my mum. Who here hasn't been given a nelsons plastic container.
As a son I could always count on my mum. She was always there for me, a shoulder to cry on, an ear to listen to me and a voice to advise me and a bank to lend me money.
Her influence has touched everyone she knew, not least her two pride and joys her granddaughters Carly and Laura Jayne. They have had a fantastic role model for their lives whose example has taught them to know you can achieve anything you put your heart and mind to. They also found out what a brilliant cook she was, particularly when it came to Jewish cooking. Mind you in her later years she offered some strange choices like rivitta with cream cheese salmon pickled cucumber and sliced strawberry. There has never been any doubts of how proud my mum was of both my girls and how much she loved them. They in turn loved her back with their whole hearts.
Her life's journey was completed with the arrival of her great granddaughter Amelia Mae whose first year of life she was here to enjoy.
She leaves a devoted husband, Mervyn who has gone beyond his call of duty to make her last years as comfortable as possible with the support of my sister Su.
And her sister Marlene who brought me wonderful joy a month or two ago by talking to my mum about things they got up to in their younger days which gave me further proof that she lived a full and complete life.
My mum was loved by everyone she knew. She would always have the best intentions towards everyone. It has been lovely to see how much her carers have thought about her over the last few years and i know her quaint sense of humour was seen by them all.
We all wish that so much of her life had not been lost to her illness, that things could have been different for her, and for us. But we now know she is at peace and that her struggles are at an end, She has left the legacy of her love and perseverance. The ways she touched our lives will remain for ever.
I don't want you to mourn her loss but celebrate her life and the remarkable things she did with the time she had. I pray she is now at rest and reconnected with those who have already departed that she loved particularly all her family members and her daughter my and Su's sister Jan.
I would like to share a quote that I think is appropriate for today
Love will draw an elephant through a key-hole. Samuel Richardson
We love you mum. Thank you for everything you've given us
Thank you for sharing my memories today.
Score Your Way To Good Health - With Our Healthy Lifestyle Plan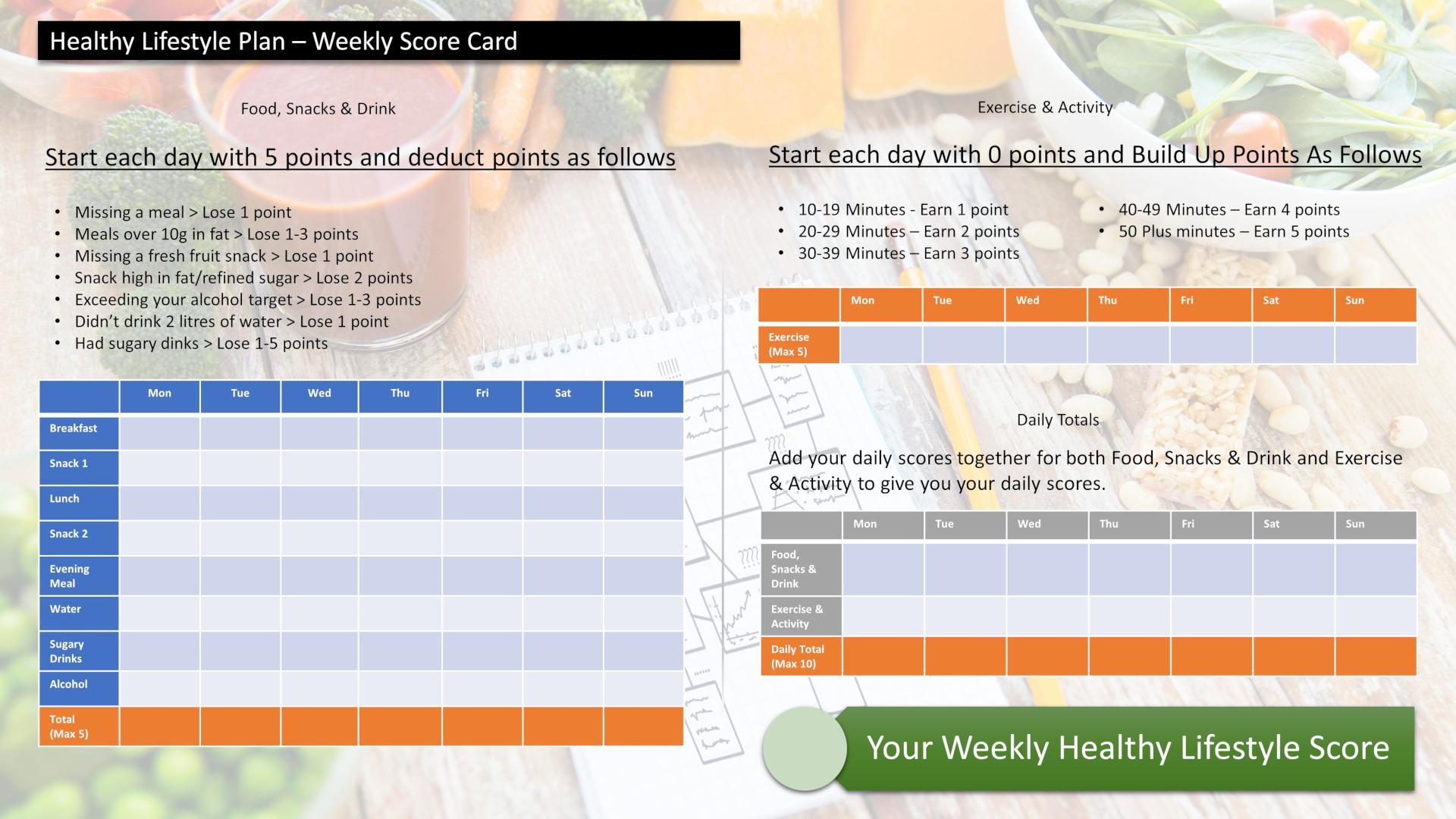 Score your way to good health with our healthy lifestyle plan and it's unique 70 point weekly scorecard!