I proudly announce that I am entering the early stages of a mid-life crisis. And yes, I know I should be worried, but in fact I'm celebrating.
What a year I am having. I know I've said it before.
Let me think. There was my eldest daughter's 21'st birthday in April, my 50th in June, my youngest child's 18th is in November, and just to make sure I didn't forget my aging process, I now am going to be a grand father also in November. And I've seen the first signs of grey in my hair. So there you go, enough going on to push anyone to the point of a mid life crisis.
Having just got used to the fact that I'm now 50, the news that soon I am going to be a grand father caught me slightly unawares. Now my first thought was that I'm not ready to be a grandfather. I can still see my daughter vividly in my mind as a child herself. Surely she can't be having her own child. She's still my baby, but there is no doubt that she's about to be a mother. I think the lump just gives it away.
So here am I having accepted the fact that I'm a baby boomer, and my intentions were to blog far more on this subject. But now I'm just going to have to start writing about things from the perspective of a grandparent also. I'm sure I'll be doing lots of learning, and I may as well share my adventure.
Why, oh why do I now have a vision of me sitting on my porch, in my rocking chair, talking and advising my grand children.  I simply refuse to buy a rocking chair, this image really doesn't sit well with me.
I think the most important thing for me to accept is that my first born is about to be a parent herself. There was an infinite number of things I wanted to teach her before she left home…before she became an adult…before she became a mother. Well now she's undoubtedly began her own journey. So I think we both have a lot of learning to do, her as a mother, me as a grand father. I'm absolutely confident we'll both do a fantastic job.
I take strength from the words of Byron Pulsifer  "To be able to watch your children's children grow up is truly a blessing from above".
I know what it is I have always wanted for my children. I want them to be happy. I want them to be healthy. I want them to be successful. I want them to love and be loved. From the time they entered my life, I wanted to teach them what counts in life, what's important, and how essential it is to follow our dreams.
But our contribution to their lives doesn't stop when they do eventually go out on their own. And now I feel its going to ramp up again, because she's about to bring her daughter and my grand daughter into this world.  And everything I wanted for my girls, I now want for my new little lady.
I know that I will always carry a responsibility to Laura-Jayne. After all she is my first born. So today I want to tell her that she is s about to receive a beautiful gift, and I want her to remember that's what it is for ever more.
I am overjoyed to be a grandfather.  She is bringing our whole family an abundant supply of love and elation. We now can't wait.  Your baby will bring out the very best in you, about that I have no doubts.
I will reassure her regularly that she has all the intelligence, confidence and capability she needs to be a fantastic mother. I know she will love, cherish, nurture, guide, care for and be a great to mother that little miracle she is bringing into the world.
She has nothing to fear though. I am putting myself forward as a wise grandparent to be, and I assure her in this new role for me, I will do everything I can for my grandchild and her mummy. I'm not sure whether that's going to reassure her or make her even more worried.
So Laura Jayne you are now about to being a really important journey. Your hardest lesson of life so far, the one of parenting.. Just love all you can, with everything you have, and be a great teacher. Sometimes, things go well, sometimes they are more difficult. Our task as parents is to love unconditionally, and to help develop our off spring to the best of our ability. Never forget you have a team around you that will help.
You will do great.
And I'll be close by  providing my maturity, knowledge, stability, and unconditional love to my grandchild. And let's not forget my terrible sense of humour.
A grandfather is someone with silver in his hair and gold in his heart. Author Unknown
Score Your Way To Good Health - With Our Healthy Lifestyle Plan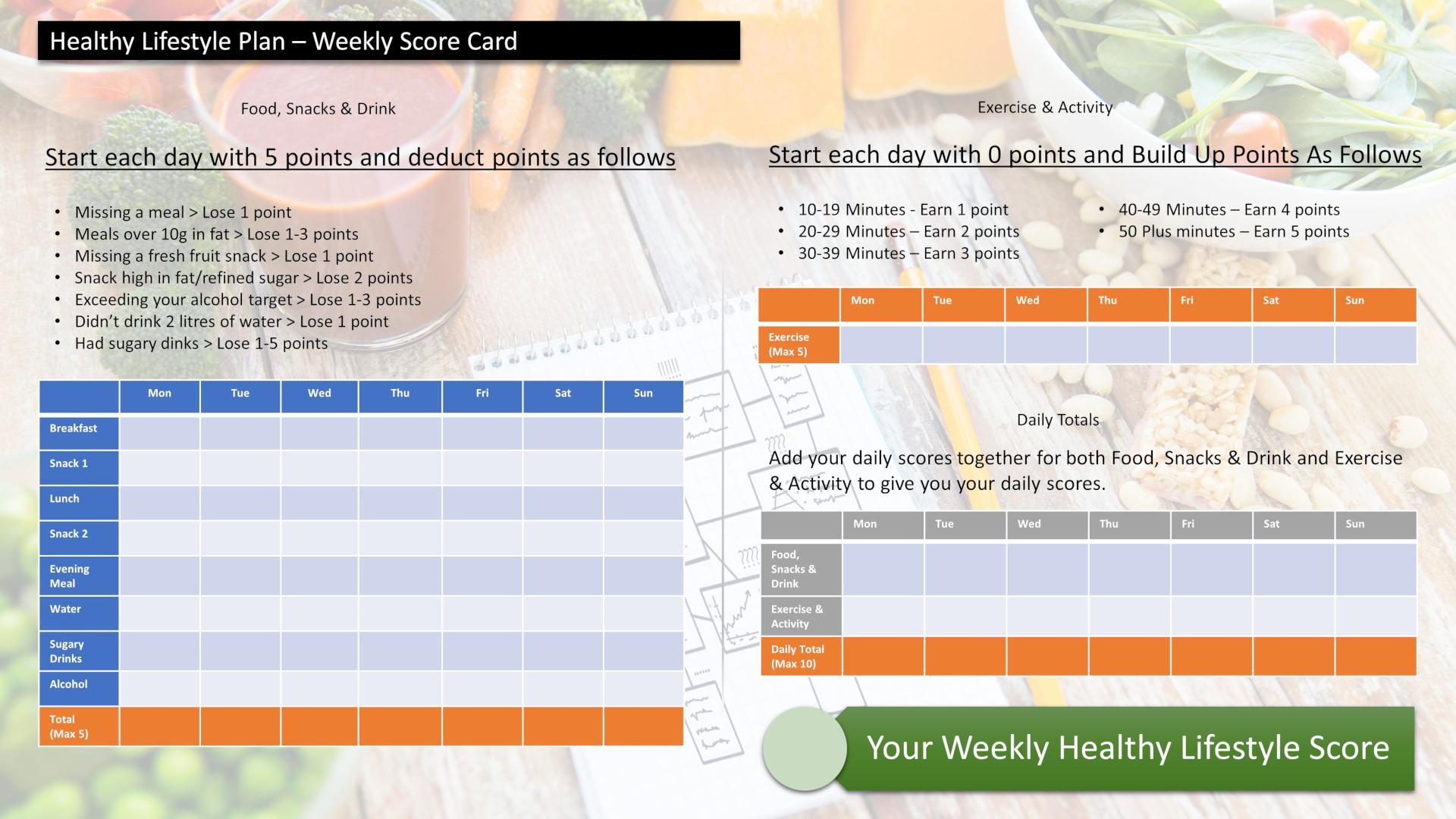 Score your way to good health with our healthy lifestyle plan and it's unique 70 point weekly scorecard!