The power of my thoughts
I recall a time in my life, a dark period prior to deciding it was time to change that I really observed the power of my thoughts.
I made a decision to change and it created a long line of opportunities for me.
My story goes something like this. I was teaching a prep grade, (five and six year old children) and not feeling all too flash about the job I was doing.
My whole life had just been turned upside down after ten years of marriage. A marriage that gave us two incredible children. It now only brought fights and arguments. This situation made us decide that we could no longer go on living like that.
It was a tough decision and one that I probably would take back if I could. Yet at the time it seemed like the only thing left to do.
The period after making the decision was even tougher. I tried going back and mending the relationship but it seemed like the door was well and truly shut in that regard.
The stress that followed impacted on me immensely. I could no longer do my job properly and I was in a constant blame frame of mind. It was never my fault, I managed to deflect blame to everybody else and the truth of the matter is that I was at the scene of the crime every time?
This all culminated to a crescendo whereby I realized that I needed to change. This change firstly began with the decision to change from teaching in the mainstream classroom and commence private tutoring from home.
As soon as I firmly decided to do this the Victorian Education Department began offering a special package called a career transition fund. It was designed to help support teachers who wanted to have a go at something else before it was too late.
How convenient. You would not believe how quickly I applied for it. My application was complete on the very same day the applications were received. Talk about being decisive and acting quickly.
Six months later I was working from home as a private tutor.
This led me to find many clients and created a sense of accomplishment one that I was very pleased about. It also began the healing process for me.
My life was no longer spiraling out of control. I had taken the reigns once more.
The magic formula for this to occur was :
being very decisive
being aware of other opportunities
acting quickly.
believing in myself
having faith and not self doubts
never giving up
As your mind opens up to other possibilities you become receptive to them but only if you are looking to change. The journey I have been on since making that decision to change would have not even begun, if I did not decide to make a change.
I can see my other path quite clearly. It would have looked something like me pulling my head in and being miserable as I worked hard at something I no longer loved. I would have eventually retired not knowing what I know now.
What I have discovered since I used the power of my thoughts to create a new life for me is priceless.
Today I am not reactive to life. I set my intention for each day to turn out just the way I visualize it. Mind you I am still a work in progress because my biggest dreams and aspirations are yet to be fulfilled. I am buoyed by knowing that it is just a matter of time before everything lines up the way it should.
The power of my thoughts will eventually bring about the life of my dreams.
Score Your Way To Good Health - With Our Healthy Lifestyle Plan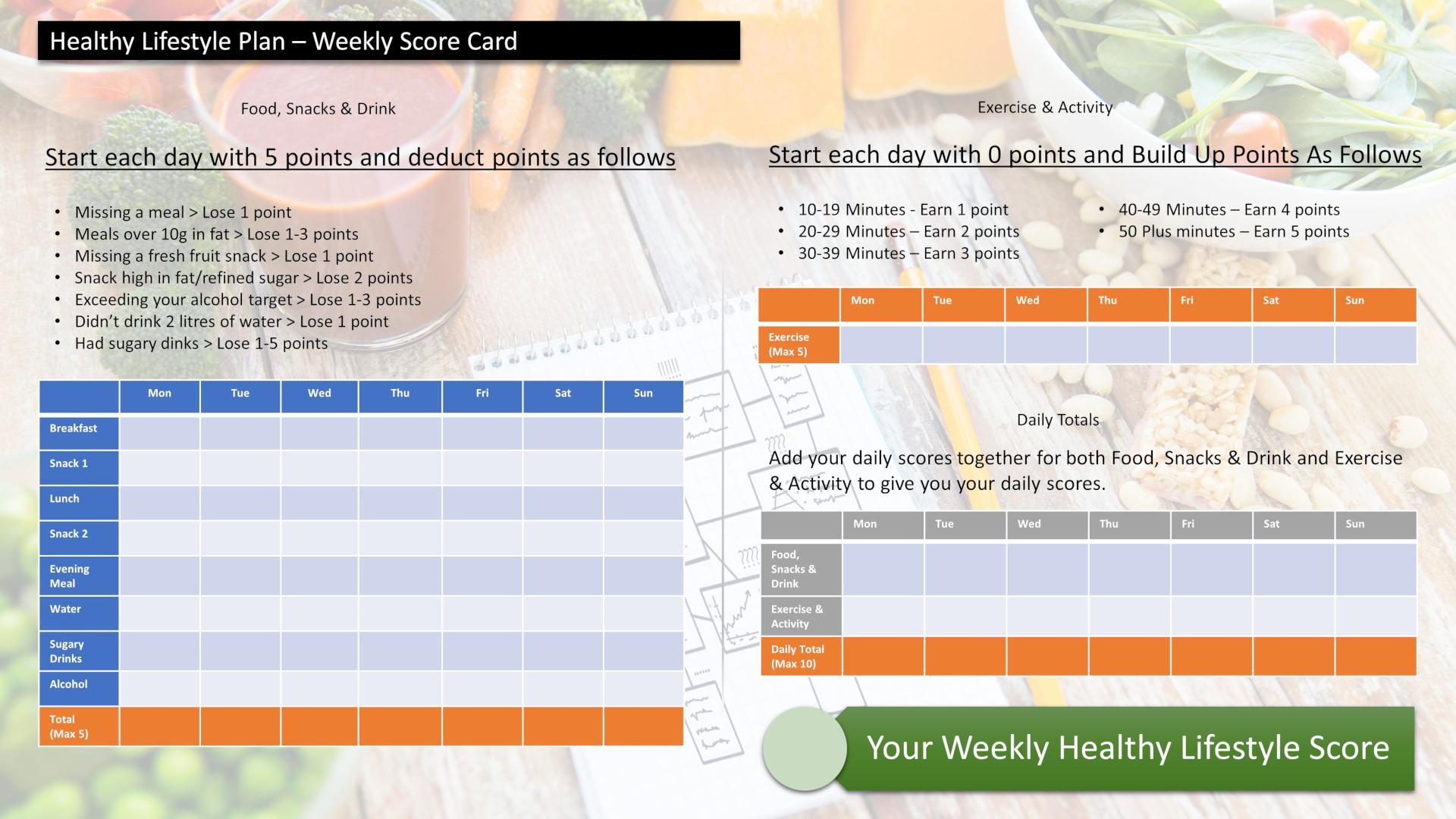 Score your way to good health with our healthy lifestyle plan and it's unique 70 point weekly scorecard!