Are you worthy to receive?
Hello today we are going to explore and investigate how worthy you are to receive the life you have. I have been tutoring a young dyslexic adult and he inspired me to write this post. Our discussion last night was not about his challenges with reading and writing.
The discussion was more about what his life was like when he was younger. As I listened it became clear to me that he was actually identifying the very essence that initiated him to tackle the dyslexia issues he has. It was not just about how he felt when he could not express himself well enough through reading and writing. The discussion always seemed to point back as to how he felt about himself.
This started me thinking about was it the dyslexia that made him dislike himself or was that just a contributing factor?
It seemed obvious that all his decision making from one incident in his life was actually designed to punish himself. He never quite vocalised the incident, however it seems that there was a major event in his life that turned his whole life around.
He talked about being on top of the world. He had his dream job and enjoyed every minute of being a styling hairdresser. I quote his statement to me about what that felt like. " I would wake up everyday, dress up as If I was going to a night club and get ready to meet those amazing people who were waiting for me to create something special with their hair. It wasn't work I felt like a celebrity."
He also talked about the euphoria of being in love for the first time. He met his teacher a beautiful petite young lady who taught him many things including how to love. He said it was a special relationship she had high standards and an amazing aura.
Yes he was on cloud nine. So what changed? What created his life to spiral out of control. He kept talking about one particular incident that took place. Yet he never really vocalised it. I could see he was still feeling the agony of that flash point in his life. He continued to say 'we would probably not have stayed together anyway'. It was like he was doubting himself and asking himself are you worthy to receive this life?
My student kept talking about not being believed as to what happened on that particular day. He repeated many times over 'they didn't believe me, they didn't believe me, even though they were there they didn't believe me'.
It seems that this lack of trust and the feeling of low self esteem due to dyslexia stripped my student of an amazing life. He had it all. He was in a loving relationship, he had his dream job, he was making heaps of money and was prepared to ask his own price for life to pay.
I still don't know what tipped him over the edge. He pines for that magic to renter his life. Yet he will always ask the question are you worthy to receive the life of your dreams?
Clearly to him the answer is no. The decisions he has made from that dark moment in his life have escalated him into creating a life of misery for himself. All his decisions are now based on the fact that he will always ask the question are you worthy to receive this? He second guesses himself and he always makes decisions that are in his comfort zone. Or he makes decisions that are designed to punish himself for not being the person he used to be.
This feeling of self worth or lack of it made me begin to realise the struggles a dyslexic person has. It is evident that like everybody else they need love and somebody to trust and believe in them. Yet even when they have it there is something bubbling away below the surface ready to strip them of their ability to live a brilliant life. It's like they are waiting for that moment for somebody to catch them out. Constantly on guard and ready to defend themselves at all costs. So when any trauma appears in their life it is very difficult for them to get back on top of things.
Are you worthy to receive good things in your life again becomes a question that they struggle with. This hampers everything in their life and places obstacles for them to overcome. As if being challenged to learn at school and in life by a learning issue like dyslexia is not enough.
It's almost like a self fulfilling prophecy everybody thinks I'm a no hoper and wont amount to much so why should I believe any different to what they believe?
The cruel part of all of this is that with a little understanding and compassion on society's part. The people with dyslexia will develop their true potential. One in five people are affected with Dyslexia.
If this inner turmoil of asking themselves whether they are you worthy to receive abundance in their lives is happening to all Dyslexics. Isn't it time we addressed the issues and removed the stigma attached to having dyslexia?
Getting back to my student now. He has decided to beat dyslexia and make a difference to help others work through it. He really believes he is qualified to help other dyslexics and people with trauma in their lives to reach out and seek help.
He shows compassion and understanding as well as a real insight in what it feels like to be in their shoes. I am honoured to be able to guide him to his goals.
When he achieves this goal I am sure he will no longer ask himself are you worthy to receive? Instead he will show the world how to be compassionate and understanding.
Score Your Way To Good Health - With Our Healthy Lifestyle Plan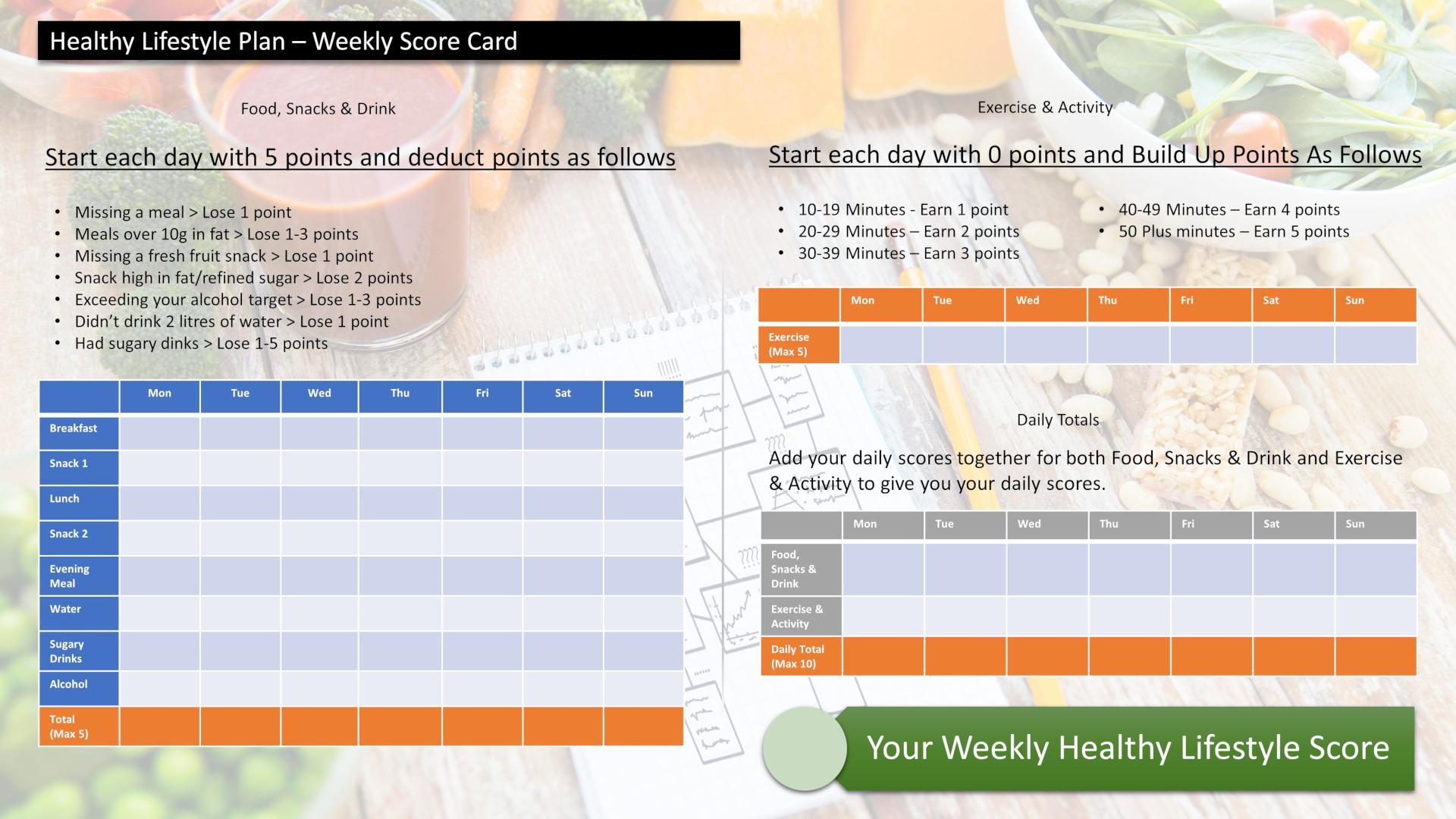 Score your way to good health with our healthy lifestyle plan and it's unique 70 point weekly scorecard!