The power of the mastermind group
Let me see, I have had the blessing of being introduced to a massive global mastermind group. We study the classic book of Dr. Napoleon Hill 'think and grow rich' one chapter at a time. I jokingly say to people that at the age of 53 I have learnt more in the 12 months of being in this group than all the other 52 years put together. That is some power! Or perhaps I was sleeping through the other 52 years?
What being part of a mastermind group feels like
Learning is the beginning of wealth. Learning is the beginning of health. Learning is the beginning of spirituality. Searching and learning is where the miracle process all begins.
Jim Rohn
Suddenly after 52 years it's like waking up from a coma and realising how exciting the world can be. It's quite bizarre really because the power of the mastermind group comes from having minds working together in harmony. Yet most of the member of this mastermind group have not even met face to face.
Is there some psychic power drawing us all together? It's like we are all one big family. We share each other's achievements and growth as well as the pain and sadness of life.
The power of the mastermind can be harnessed by
having two or more minds working together
a spirit of harmony and cooperation must exist amongst the group
the group must have a definite purpose
the group needs a burning decide to succeed
the group must have an organized plan of action to implement
the group must take action
All The Missing Pieces and the power of the mastermind
In recent times a series of events have taken place that have drawn me to working with Larry Lewis and Neil Haywood the men behind this blog. Call it fate, the Law Of Attraction, call it what you will.
Not only is this a situation that has me inspired, motivated and made me more than ever determined to succeed, but it's also as if it was meant to be. The same Psychic power as is present in my global mastermind group seems to be present in our union.
Not only have our paths crossed but the journey has just being elevated. It's like we are climbing an escalator towards our end goals and suddenly the whole thing has lifted off the ground and is speeding out of control to the destination.
Ideas with a definite purpose, backed by a spirit of harmony and burning desire to succeed take on a life of their own. It's as if the project is driving us not us driving the project.
The key is to keep company only with people who uplift you, whose presence calls forth your best.
Epictetus
It feels like our meeting has called on all of us to uplift each other and demand the best we can possibly give. Here is the amazing part. The three of us have never actually physically met. All of this has taken place over the internet. Yet it feels like I have known Larry and Neil for as long as I can remember.
Is this magic communication highway called the internet the medium for transmitting our thoughts to those who are ready to receive them?
I'll give you a quick example of what I am talking about Larry and I can begin a skype text chat and all of sudden we are belting out the keys of inspiration. The thoughts and ideas we have been mulling over crsytalise and extend beyond what either of us had initially thought. This is the mastermind power at work. A third mind is created that takes on board the ideas churns them over shakes them about and presto elevates them to brilliance.
Larry lewis has a way of gleaning the brilliance of a thought or phrase and zeroing in on it to translate it into a blog post idea. His mind is always working on how can I use this to make a difference for the people who read my posts. He is a true servant of inspiring and motivating others through his word to achieve the brilliance and greatness he knows they can.This has led both Larry and Neil to initiate a course designed to help people achieve greatness. The project is called all the missing pieces.
What is All The Missing Pieces about
Most people who have tried to make a success of working online can probably relate to this. You work hard, you learn new things every single minute and there is so much more to learn. The gurus and the heavy hitters make it sound like it's your fault that you haven't reached the level of success that they have. They offer programs , advice and then leave you alone. If you get stuck in this roller coaster you probably find that your credit card has had a working out. If you were now successful you could probably live with that, however you are still missing something to break through and become successful. So you dust yourself off and keep trying.
All The Missing Pieces is designed for you if you can relate to what I just wrote. It's a course designed to inspire you to find out who you really are and what you are passionate about. Imagine having your own personal mentor, life coach and a wealth of resources to grow into a successful online entrepreneur.
Well All The Missing Pieces gives you all of this and more. What more is there to give you ask? Many people get their mindset right and have the enthusiasm and the passion to begin. So what happens next?
Failure and frustration kick in as they take this renewed enthusiasm and find that they are all pumped up with nowhere to go. This sets off that spiralling out of control effect that undoes all the good work the positive mindset course produced. Suddenly you find yourself back into that rat dark rat hole, possibly further down than before.
All The Missing Pieces to the rescue. This is the brilliance of what we have! We want to take your passion, your renewed vigour, vitality, positive mindset and guide it towards a successful online business.
We have the nohow, the passion and the expertise to make this happen for you. We see it as a win win for everybody involved. The only limitations of this system is your imagination, desire, passion and ability to access the internet. If you have all of these key ingredients and you want to establish a successful online presence then All The Missing Pieces is for you.
Now you know why I am blown away about having the opportunity to contribute to such a fantastic project. All in the spirit of harmony, cooperation and through the power of the mastermind at work. It's like the universe agrees that our project should take a life and presence of its own. It's time to buckle in and hang on as we discover where this will take us.
Score Your Way To Good Health - With Our Healthy Lifestyle Plan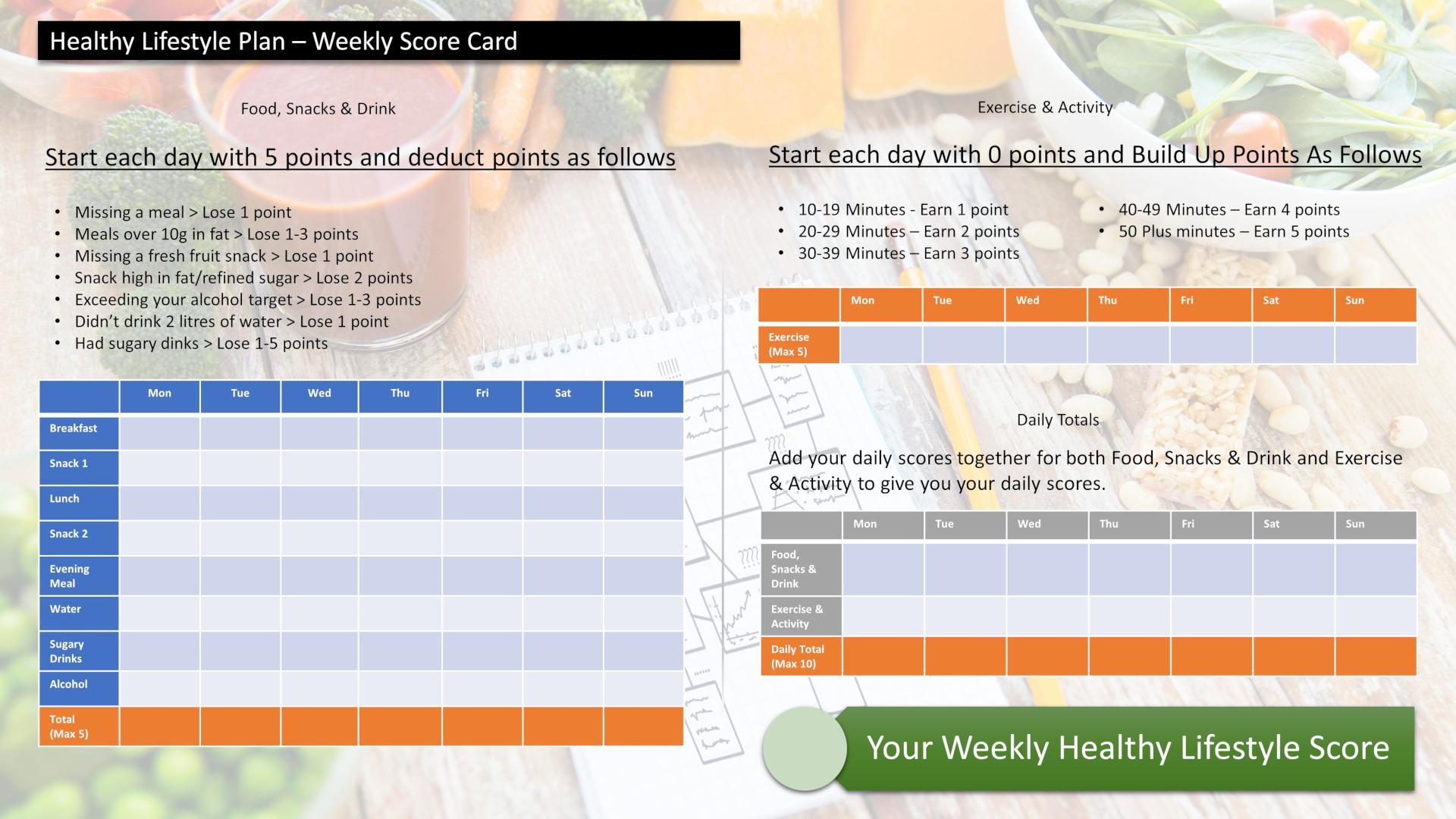 Score your way to good health with our healthy lifestyle plan and it's unique 70 point weekly scorecard!