The spirit of a leader post is written to remind you of what it takes to be a good leader.
Most people are taught to follow and conform to being a follower. Usually it's the rebels who create problems and challenge the system that become the leaders.
Why do they become leaders?
The rebels take control and show they are not scared of upsetting others. This tends to have people gravitate towards them. Sometimes this is seen as standing up for yourself and following through with the principles you live by. However not all rebels are good leaders.
You don't necessarily set out to become a leader.
This is somewhat confusing because how can you lead if you don't set out to become a leader?
The point here is that leadership evolves from the steps you take to get the job done properly. When you do this often enough you build up loyal followers.
No man is a leader until his appointment is ratified in the hearts and minds of his men. ~Author Unknown
In order to become a real leader:
You need to align yourself with real leaders, people who have had sustained results over time. These people are leaders because they have a loyal following.
You grow into a position of authority by providing value and building know, like and trust with your team.
It is not you, that labels you are as a leader it is your sustained results and the following that you have. You cannot lead without having followers.
you need to develop your voice of clarity and focus.
you need to inspire others to find their voice.
Leading by having a position of authority.
This is very interesting because to develop a position of authority takes time and excellence. You need to show people your value and worth. At first the going is tough and you need to prove yourself worthy of acquiring this position of authority. This reminds me of my teaching career. At first you are just learning how to teach and building up a reputation for being able to inspire and motivate students to achieve great results. As you become proficient at this, you are asked to inspire other teachers to take your lead. This means you begin to inspire and mentor them to achieve great results with their students. Finally the whole school community sees you as an excellent teacher. This is when you have arrived and the whole teaching caper becomes very satisfying. Now you have obtained a position of authority and the whole school community value you, know , like and trust you. Leading them is now easy.
Good leaders
If your actions inspire others to dream more, learn more, do more and become more, you are a leader.
John Quincy Adams
This is where Larry Lewis shines. He is leading and inspiring his team through his own example of dedication and hard work to his blog. Larry also shows an unwavering commitment to the success of the Power Of Passion project even under adversity. The whole team is inspired to dream more, learn more, do more and become more. Not because he demands it of us but because he encourages our individual strengths to achieve our roles successfully. He guides us, prods us and ensure us we get the very best out of ourselves.
Larry is a perfectionist and sets high standards.
This level of perfection can be seen at healthylifestylesliving.com.
Look around and see what he is able to achieve. He would like to do it all himself, however he is the first one to delegate when things become too much or he is out of his depth.
This has resulted in a very empowering union with the technological genius behind this blog Neil Haywood. Together they know and understand their roles perfectly. Larry is the writer, the speaker the marketer while Neil is the IT guy. Neil ensures the whole blog functions and rates very high in google. He prefers to work in the background and make it all come together. The union works better than a loving marriage as they both elevate each others efforts to a higher plane. They of course have their disagreements but somehow always come out with a win win situation. This doesn't always happen in a good marriage.
Larry can and will lead his team to inspire, mentor and motivate others to live their lives through their passion. This will become his legacy to the whole world as each person who comes on board this amazing journey will reap the rewards of an amazing life.
This Power Of Passion Project will impact many lives and stamp Larry as having the spirit of a leader.
Score Your Way To Good Health - With Our Healthy Lifestyle Plan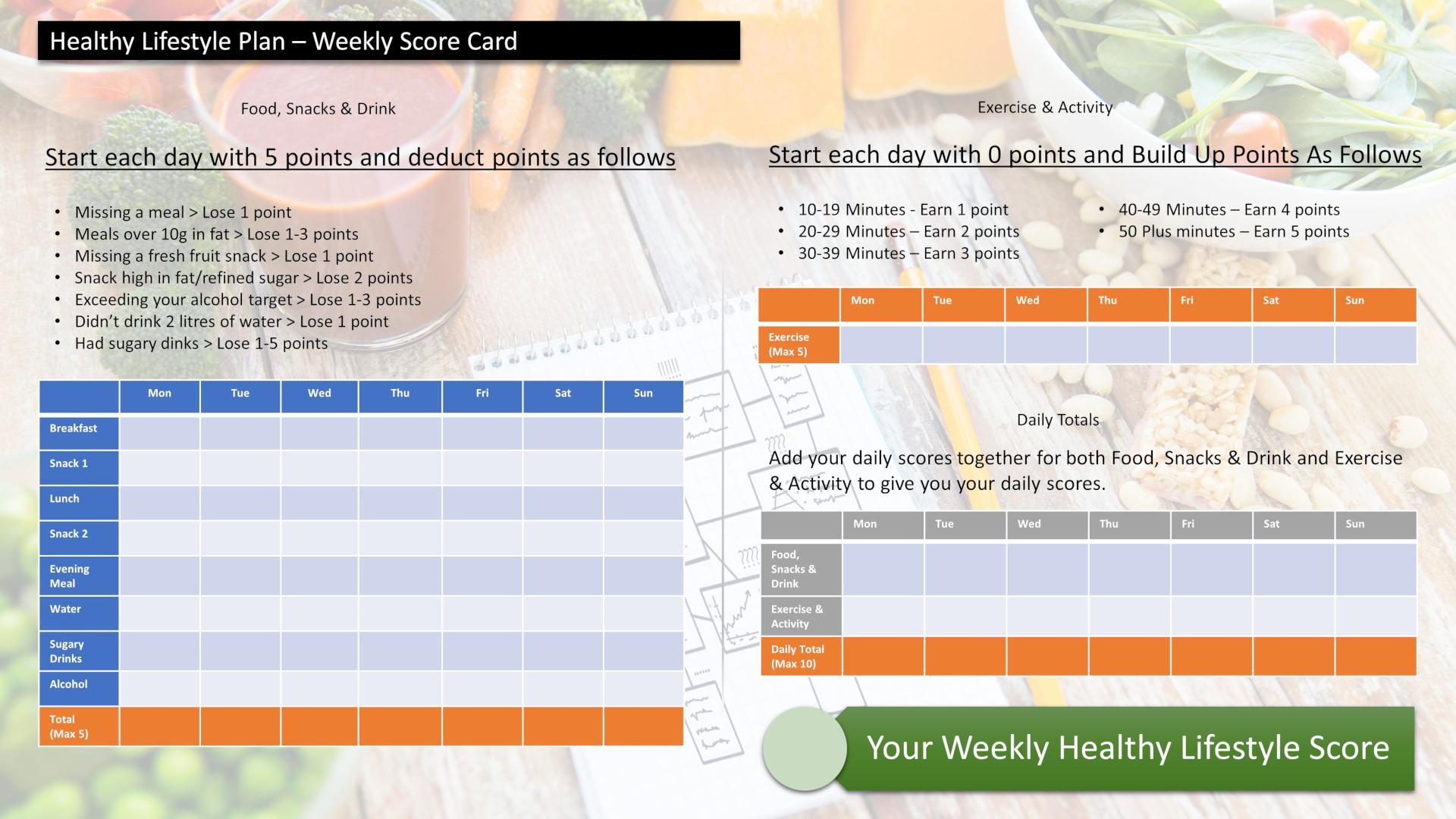 Score your way to good health with our healthy lifestyle plan and it's unique 70 point weekly scorecard!