Never give up |endure to the end
Today I was reading the comments on our face book fan page at " Power Of Passion". Cora Littles had left a comment suggesting some possible tag lines for our page. One of them was The prize sometimes goes to one who can endure to the end.
It made me think deeply about the resource we are creating on Larry Lewis. Com.
Larry, Neil and I are building a member's area for people who have been down and out but are not willing to throw in the towel just yet.
The clients who will benefit from this community are those that hope and pray for another chance to get back on their feet . Often all they need:
Is somebody to believe in them.
Somebody to guide them and point them in the right direction.
They need a helping hand that will start fertilizing the seed of hope within each of them.
Larry's dream has always been to make a difference by inspiring everybody to never give up and live life on their own terms. His dream will manifest itself when the site is launched.
Larry's story of how he recovers from bankruptcy to reinvent himself by building a resource of hope for all who are not prepared to lie down will become his legacy to the world.
He has always had one burning ambition and that is to be remembered as somebody who really made a difference. This resource and community will change lives for the better and make a difference for many people.
My story will be about my roller coaster ride throughout my life. It will portray a person who nearly made it to the the top of the pile and when the last hurdle was put before him instead of rising above it he succumbed.
Why because he somehow sabotaged himself.
One of my wise mentors' favorite saying was "who is at the scene of the crime every time? Unfortunately the answer is always me.
I know it now because it doesn't hurt to write about it and I have stopped looking for other people to blame.
I believe there will be a happy ending for me this time because it feels like I am growing and learning to accept that if I don't give up, I will come out the other side as somebody who eventually won the prize becasue he did endure to the end.
I will not look back and tell you about all the times that I doubted that I would eventually get there.
Instead I will talk about using my experiences as a stepping stone to help others who seem to go through life walking two steps forward and one step backwards.
It might be frustrating and bring about a great deal of regret and disappointment but I am here to let you know that you can still make it.
If I can so can you.
It takes perseverance and a never give up attitude.
The crunch however is that you can't do it all on your own. You need a helping hand.
Who knows how long I would have floundered around jumping from one opportunity to the next if I had not had the good fortune to meet up with Larry and Neil.
Larry and Neil are two English Entrepreneurs determined to make a difference in their own lives and then use their skills and online expertise to help many more do the same.
Together we will never give up and endure to the end so we can all prosper.
Score Your Way To Good Health - With Our Healthy Lifestyle Plan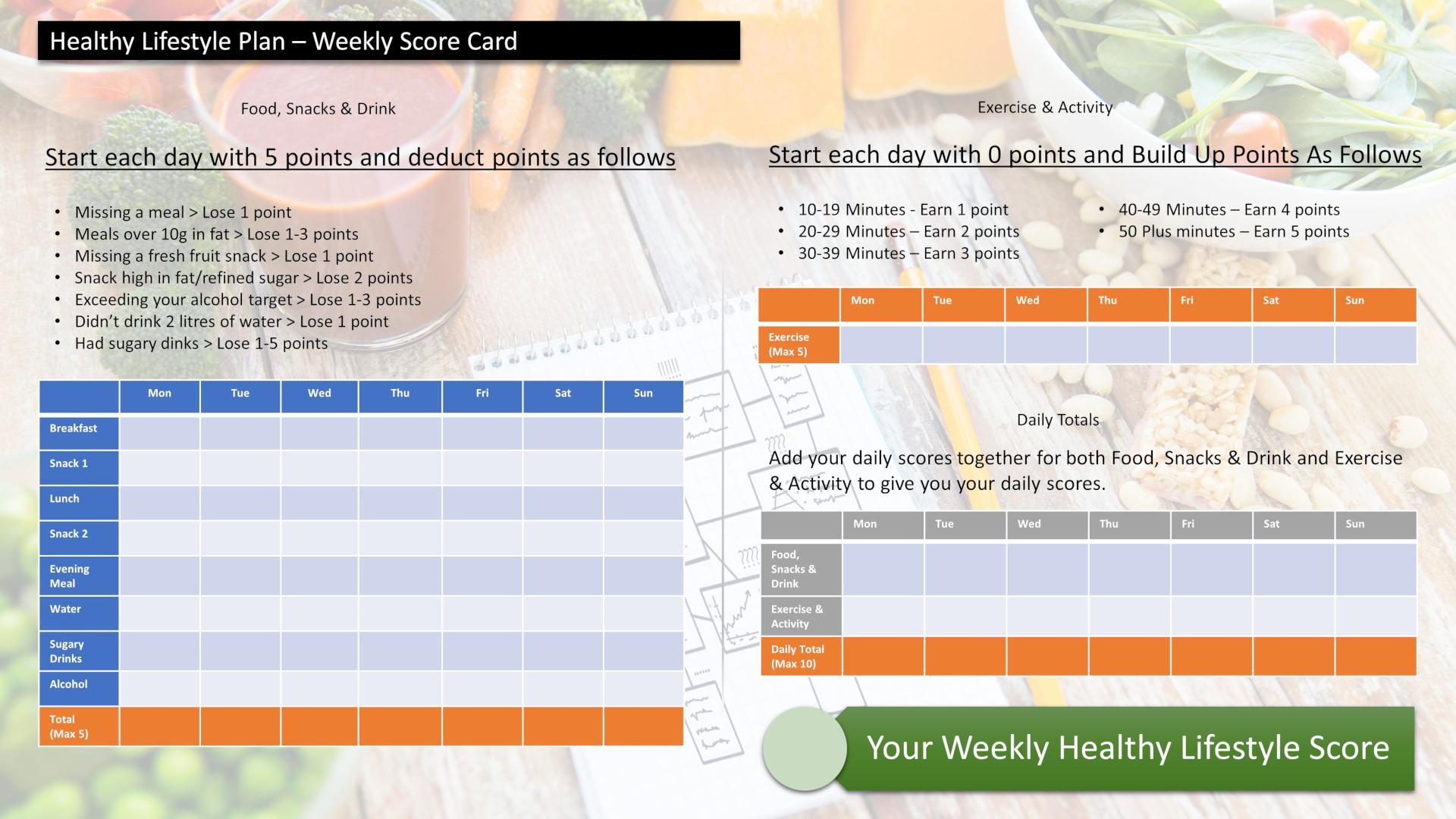 Score your way to good health with our healthy lifestyle plan and it's unique 70 point weekly scorecard!