Is your passion hard to find?
This has to be a very silly question surely? I mean everybody knows what they like right?
Strangely I have a hunch that the answer to is your passion hard to find question is not quite that simple.
Why? Several reasons:
Your insecurities and self doubt make it difficult to unearth our real passion. You are conservative and keep a lid on things.
You see the vastness of the world and feel insignificant or overwhelmed to make a difference.
You feel it's selfish to live out your passion
You are too busy surviving from day to day rather than trying to find what you a passionate about.
You have been programmed to think that it's wrong to do what you love.
You feel the sting of rejection from people who question your desire to live out your passion.
You are afraid to take risks and face failure.
Which excuses resonate with you? Why?
Why do you make excuses for becoming the person you were mean to be. It seems that you are living your life through somebody else's lens of what your life should be like. It is time to say stop it! It's your life and you should discover what your passion is and live it out. No more excuses!
"No matter where you are in life right now, no matter who you are, no matter how old you are – it is never too late to be who you are meant to be."
– Esther & Jerry Hicks
How do you discover your passion so that you can live it out?
To discover your passion you have to get in touch with who you really are. This begins a journey of self discovery.
The inner journey to unlock your passion is about developing clarity and focus with the way you think, what you say and how you act.
When all of these three are in unison then you will discover your true passion. It is a process and could take quite a deal of time, however it is worth investing your time and effort into completing it.
"Don't ask yourself what the world needs, ask yourself what makes you come alive. And then go and do that. Because what the world needs is people who are alive." –
Howard Thurman
Don't feel like you have to do it on your own.
"I challenge you to make your life a masterpiece. I challenge you to join the ranks of those people who live what they teach, who walk their talk."
~ Tony Robbins
The best way to achieve your end goal of discovering your passion and to live it out is to work with a mastermind group. One, two or more like minded individuals you can trust who can motivate and inspire you to achieve your goals and dreams. You may already have such a group to work with, so I encourage you to seek out their advice on what your true passion is. Sometimes you are so caught up with youremotions and the pressure of daily life that you find it impossible to be objective about your passion. A fresh set of eyes from somebody you trust can make all the difference here. Ask for their input from their point of view.
If you don't have a mastermind group or like minded person? Well that's ok! The soon to be launched Power Of Passion Course will introduce you to that community and you will have many people to choose from. Once you feel comfortable about being part of the group you will build up your own mastermind group. Of course there will always be mentors for you to work with if you decide to do so.
The Power of Passion Course
The course is designed for you to work at your own pace to find your passion. You will have all of the resources you need, ongoing support and people who will believe in you to achieve your goal. The course is interactive and will provide you with many opportunities to dig deep within your self and unlock the door to your passion. The unlocking has to be done by you. The reason for that is fairly obvious. The whole process is about you wanting to unlock that inner door. We will provide the keys for you. It is up to you to turn them.
Head on over there and see for yourself, better still subscribe to the course your passion awaits you.
Loddy Micucci encouraging you to take the challenge of becoming the person who you were meant to be.
Score Your Way To Good Health - With Our Healthy Lifestyle Plan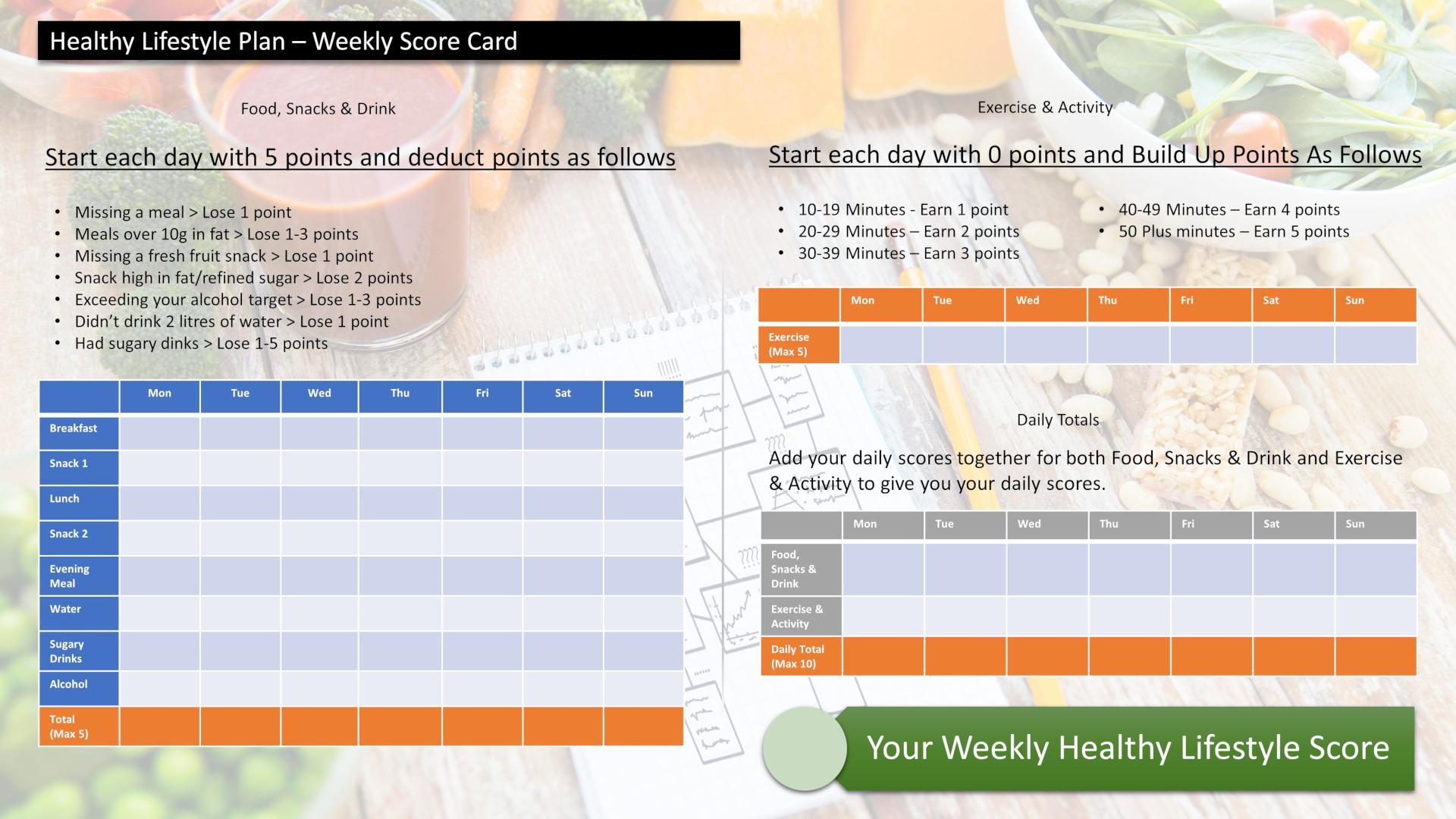 Score your way to good health with our healthy lifestyle plan and it's unique 70 point weekly scorecard!