Detach negativity by living in the positive emotions.
Detach negativity by living in the positive emotions.
Living in the positive emotions helps you to have the right mindset for success in your life. If you can detach negativity from yourself and stop buying into the negative drama around you then it is possible to have the right mindset. Having the right mindset is crucial to your daily existence.
Engulfed by negativity
I learned my lesson the hard way this time. I found myself consumed into my sister's negative drama. She is having a tough time bringing up her sixteen year old teenage son. All the subtle hints and prompts about getting help to deal with a special situation just bounced off, like water off a ducks back. The whole thing is like a ticking time bomb. It upsets everybody in the household to see the amount of anger and frustration building up all of the time. We all get caught in the negative drama. Special functions are worse. Somehow there is always a verbal stouch between mother and son. Then the grandparents get involved usually siding with their grandson and not their daughter. This must infuriate my sister even more. So you can see how family gatherings are no longer the fun loving affairs they used to be. In the end they become like a battle ground. It only takes a little spark to escalate the whole situation to a battle.
Detach yourself from negativity or intervene?
On my personal development journey I have learnt to think of my perfect day when I am surrounded by negativity! This has served me well up until last Wednesday. It was Anzac Day this is a day of remembrance for us, as we pay our tributes to the soldiers who fought in wars to keep as safe and free. Unfortunately instead of peace prevailing in our household war broke out. It was inevitable, the tension had already being brewing as is often the case. I guess it has been getting to me of late. I can see how the whole thing is consuming and generating angst for all concerned. My sister cannot handle the bad language and the uncaring nature of her son. Of course she shouldn't have to. My sister being a very strong personality handles this with a confrontational approach. This approach fuels the whole situation and here lies the problem that escalates a bad situation to worse. She cannot see this. What's worse is she wont accept that this is the case. So we have this constant bad behaviour, confrontation ,anger and then more bad behaviour cycle.
Well on Anzac Day I got drawn into the whole thing and the anger was directed at me. Thinking back on it perhaps I should have minded my own business. This I found very difficult to do and I guess I could see that my sister the parent was as just as much to blame as the son who was exhibiting the bad behaviour. So instead of detaching myself from the negativity I was drawn into it and it became a war between me the brother and my sister.
Needless to say she has now decided that the whole family is against her?
Learning to detach yourself from negativity
Upon reflection and the build up of anger in my system. I now realise that perhaps this may have a positive outcome in the long run. However whilst on one of my coaching calls a wise client said. Learning to detach yourself from the negativity is about knowing that everybody is on a journey. This means that they are at different stages of the journey. So what I can see is not necessarily what they can see. The only way for them to move on is to begin to realise what is going on and seeking help. Asking them to get help for something they believe is not an issue with them will be met by resistance. This was so true.
So instead of intervening I should have been able to detach myself from the negativity and to stay in the positive emotions. This would have calmed everything down and given everybody the opportunity to enjoy the day. It is not up to me to move people on their journey they need to make that realisation for themselves.
Score Your Way To Good Health - With Our Healthy Lifestyle Plan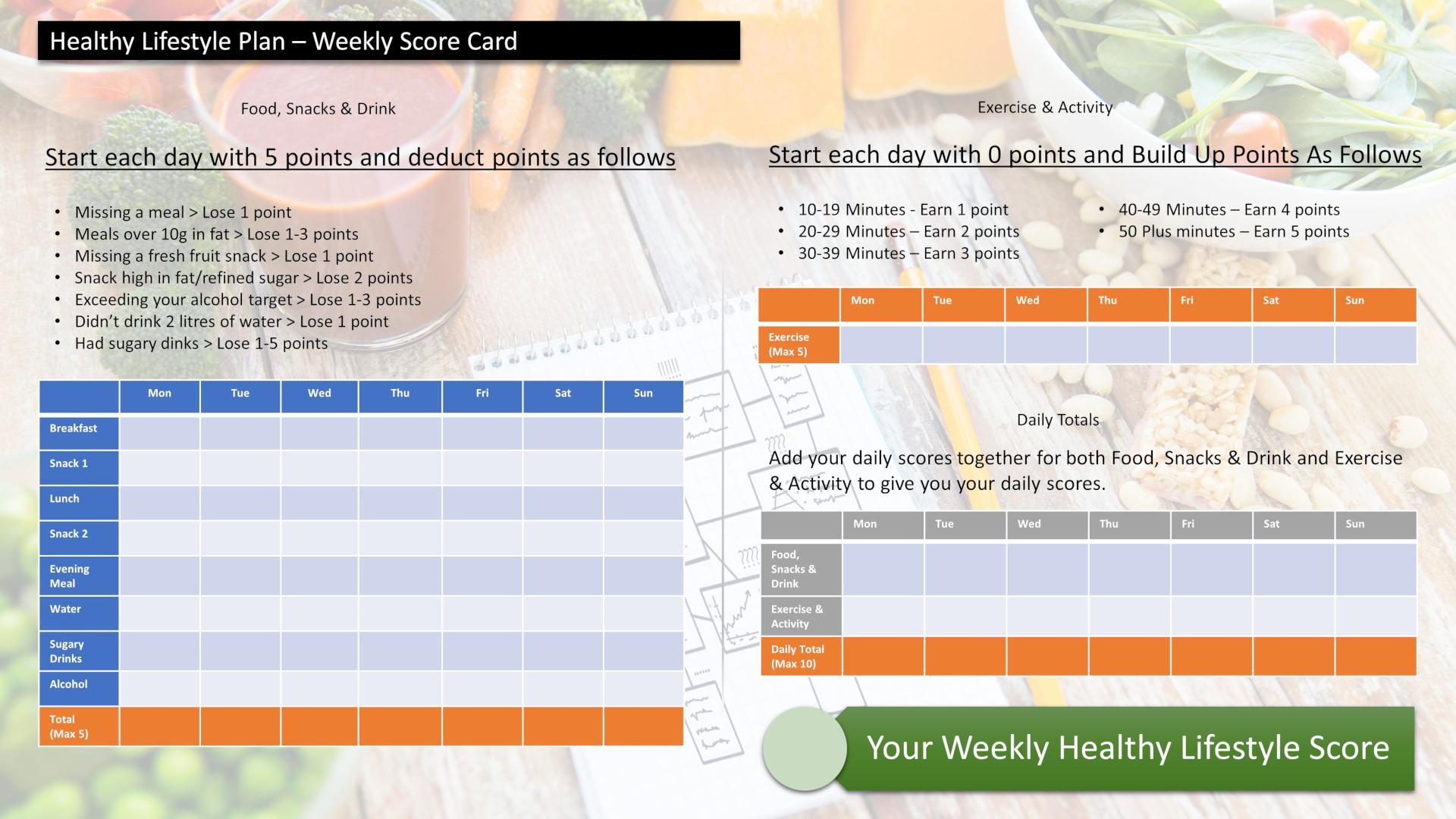 Score your way to good health with our healthy lifestyle plan and it's unique 70 point weekly scorecard!