Can online marketing and blogging coexist?
Hello and welcome to this post. I hope you have been following my other post on finding your passion. If you have then this will make a lot more sense to you. It has been a journey of discovering my passion and finding a way to become very successful on line. Why limit yourself? The internet allows you to have world wide partners and customers. The scope of this blows me away as I blog and make relationships with people from every part of the globe.
Making new connections
The last sixteen months I have been working on a free personal development course called the 30 day mental cleanse and some brilliant free mentoring and training with mentoring for free. It is all amazing because you learn so much and they provide so much value all for free. Having this philosophy behind me and knowing that to provide value and build relationships is attracting success to me in many different ways. Having these thoughts and philosophy led to me a man by the name of John Jarvis. He had an excellent vision. It was to help people succeed on line through free training. Instantly I knew that I wanted the training and I also saw it as an extension of mentoring for free. This seemed like a win win situation. John and the team would provide the training and guide people to be successful on line no strings attached.
Well a good question is 'How would John and his family get paid"? Here lies the magic and the beauty of removing the agenda and sincerely helping people to succeed. When you build up know like and trust with your clients. Guess who they turn to if they are looking for a company or an opportunity? The person who helped them out of course. They know that this person can teach them and guide them to success. This is one of the biggest stumbling blocks for people trying to be successful on line. Picture this you have been jumping from program to program and getting some success, however the real long term finacial stability you were looking for is still very illusive. Then along comes somebody and shows you how to connect all the missing pieces all for nothing. You slap yourself around the forehead and pinch yourself to make sure it's not a dream that will eventually turn into a nightmare? When you realise it's not a dream and that your financial freedom can be achieved. Well then it's a no brainer to finally stop looking and find a home. Yes you have arrived. Of course there is no pressure to do so. If there was then the magic of the system would dissolve and the agenda would rear its ugly head. You can imagine a cobra snake standing up and looking at you hissing and ready to strike.
Fortunately this system has no agenda and therefore no deadly snakes to worry about.
The story becomes even more powerful. Out of the blue John Jarvis makes a powerful alliance with some very successful bloggers and on line marketers. You might know them if you have visited this blog frequently as Larry Lewis and Neil Haywood. The concept grew into using blogging as the vehicle to become successful on line entrepreneurs. Well you can imagine my elation. I had been a hobby blogger for sometime with my network marketing company. I used it as a way to generate leads. I had some success but the illusive goals I had set myself seemed very distant indeed. Little did I know that I was somehow constructing attraction towards myself. This attraction would begin to lighten up my goals and show me the light.
All the missing pieces
Larry and Neil introduced us to a course called All The Missing Pieces. This course is designed as the name suggests to fill in all the missing pieces of becoming successful on line. The magic continued because the course was free to all the founding members of John's group. The idea behind it was that the twelve or so members would become graduates of all the missing people. They would then in turn become the coaches for the next group of people who enrolled into the course. Brilliant, all the teaching and mentoring that I knew and was passionate about was all a major part of the process. The piece of resistance for me was that our blogs would become the central driving force, to achieving our success from All The Missing Pieces Course.
The seas become rough and turbulent.
I had merrily completed the first five modules of all the missing pieces and was salivating at the thought of nearing the half way stage. The next part of the course was about setting up our on line shops and monetizing our blogs. Once I found out about this, then I was sure the seas would part and my pot of gold would be in sight for me to run and grab it. Then something happened that didn't quite make sense. The regularity of the modules and the contact became disjointed, I knew something was not quite right.. Little did I know how rough and turbulent the whole situation had become. It seemed like blogging and on line marketing were in fact poor bedfellows?
Which way to turn?
Now suddenly I was faced with an important decision to make. I think you probably know what I chose because of the fact that I am writing about it on this blog. I will fill you in with the details in my next post.
Score Your Way To Good Health - With Our Healthy Lifestyle Plan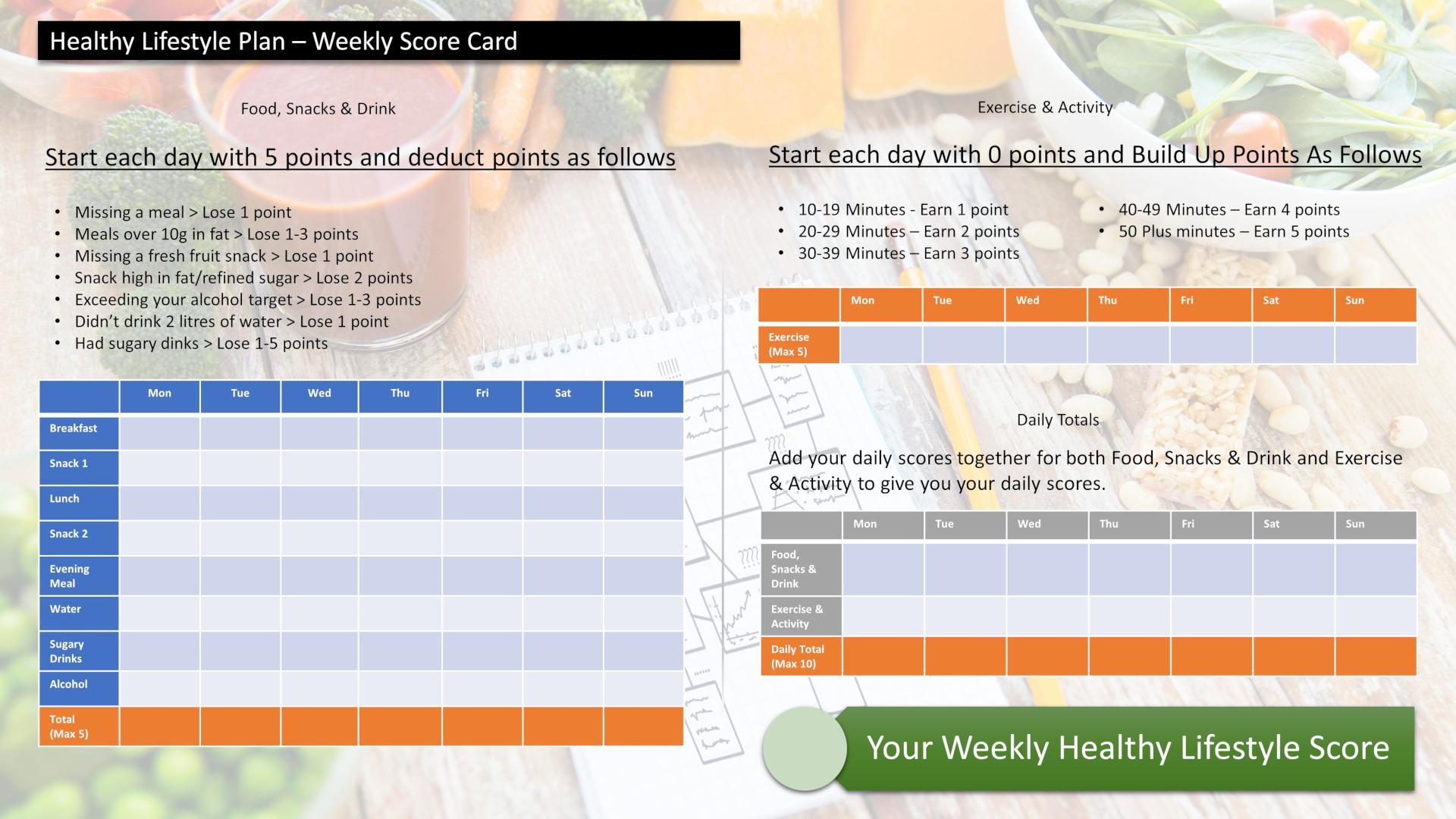 Score your way to good health with our healthy lifestyle plan and it's unique 70 point weekly scorecard!