How Can We Serve You In The Support Group?
The support group concept is designed to serve you according to your needs. We want to provide you with real value for investing your valuable time with us in the Healthy Lifestyle support group.
Most of all it will be a safe place for you to grow and develop at your own pace. Our aim is to provide a wide variety of resources and support to help you grow into the person you were meant to be.
The resources are catered for people who are not quite sure where to begin. In this case we are offering a balanced spread of resources that will cover most needs.
Personal development.
Healthy mind resources and support.
Healthy body resources and support.
Nutrition facts resources and support.
Diet plans resources and support.
Stress relief resources and support.
You may choose several topics from the list or you may have some things that are not on the list.
However to serve you best we are also open to your suggestions and needs. Please indicate to us how we can serve you? Please request these and we will try our utmost to deliver your requests.
To give you an insight as to my passion for doing this, I will write about my own personal journey. This may provide you with the insights you need to get you thinking about the possibilities of what we are offering.
The real impact hit home to me when a complete stranger living in Florida by the name of Michael Dlouhy stated that he believed in me. Wow nobody had really told me that before. I knew that many people trusted and me and respected me. Yet nobody took the time to let me know they believed in me. The sincerity of it really had an impact on me. It took my self belief and feeling of self worth to a whole new level.
Suddenly the personal development course I was doing took a whole new meaning. It became about growing into the person that I was meant to be in a safe, caring and inspiring environment.
The whole course of blocking out negativity and working towards achieving my burning desire grew in importance and significance. It was not just something I was doing to feel good. I belonged to a family of people who were all on a journey to achieve something great in their lives.
We were all traveling on the same road with all its twists and turns. The faith and desire to continue until we reach the end was strengthened by having everybody around me to support and pick me up when I stumble and fall. Just as a toddler learns to walk I will stumble and fall. The love and support that emanates from the family environment allows me to pick myself up and keep trying until I can run.
Yes even when I know how to run that family support, care and understanding is required as I forge my path towards my own greatness. It is there to help me make the course corrections along the way. This is really important because when I try new things. I am taking a risk. This can cause set backs and mistakes do occur.
It doesn't stop when I can run. Yes even when I can run and become very good at what I do. There is another level. It becomes very evident that although I may even learn to fly the journey continues.
I hope this provides you with some insight as to the power of what Larry and I are offering and the passion we have to see you achieve your life's purpose.
Contact us and let us know your areas of need. Send it to coach@larry-lewis.com or directly in skype at either loddy.micucci or larry-lewis.com.
Once we have this information we will tailor make a program to suit your needs.
Waiting to hear from you so we can get started.
Loddy Micucci
Score Your Way To Good Health - With Our Healthy Lifestyle Plan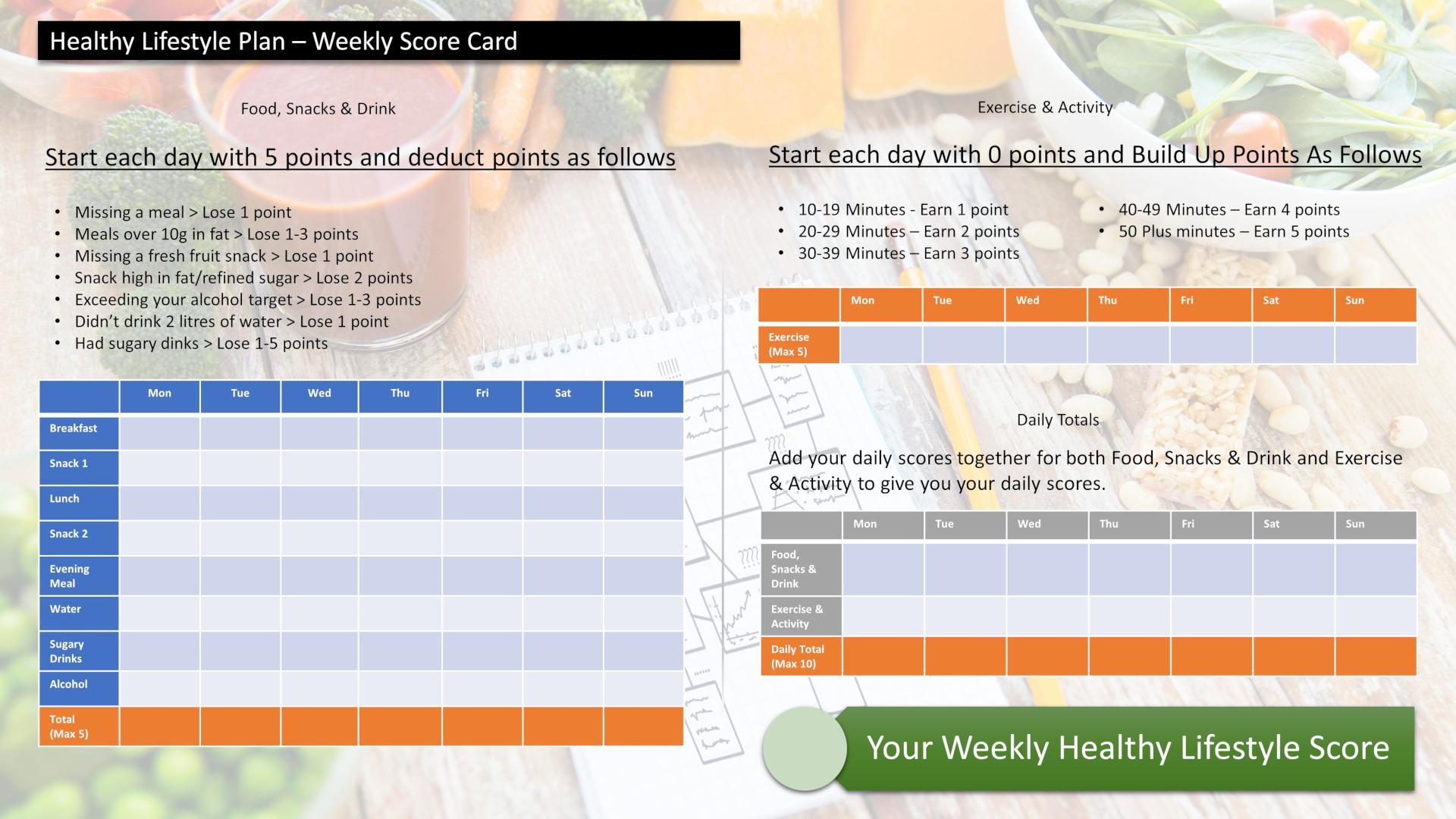 Score your way to good health with our healthy lifestyle plan and it's unique 70 point weekly scorecard!